As London mayor Sadiq Khan plans to vacate Fosters' City Hall, the Tulip appeals its planning refusal. Architects celebrate Trump's exit and seek US inspiration in the form of the High Line, while less promisingly tactics over David Adjaye's Brixton scheme come under scrutiny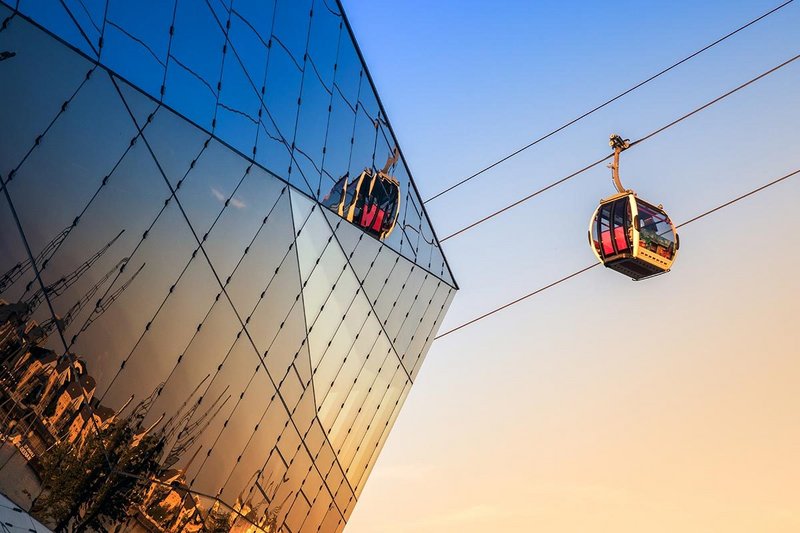 The Crystal, new home to the GLA.

Credit: Istock Victor Huang
County Hall, designed in 1908 by architect Ralph Knott, was the seat of London's local government for 64 years. Its effective replacement, Foster + Partners' City Hall, seems set to serve that purpose for less than two decades.
Sadiq Khan has confirmed that the Greater London Authority will move out of the building, making a new home at WilkinsonEyre's The Crystal in the Royal Docks.
The reason given is to save money. The GLA pays £11 million a year in rates, charges and rent for City Hall, while it already owns The Crystal. With the authority facing a £500 million funding deficit due to coronavirus-related drops in income, the saving would be pretty handy.
The Crystal was constructed in 2012 for electronics firm Siemens, which wanted it to be an exemplar of sustainable design showcasing the latest technologies, many manufactured by Siemens. However, it moved out of the building last year.
The GLA's move is another instance of a general move eastwards by several of the capital's institutions, including the British Council as well as the BBC, Victoria & Albert Museum and University College London, which are all planning outposts around the 2012 Olympics site.
The Royal Docks are a couple of miles south, but Khan is keen for the area to thrive, calling it 'an amazing place' and saying the move could 'turbo-charge' its regeneration.
It is already home to the ExCel centre, currently repurposed as a Nightingale Hospital, and is also one end of the Emirates Air Line cable car, providing GLA staff with the opportunity for a fun commute. And there's a Crossrail station nearby, which may well open one day.
The Crystal is being refitted out by Architecture 00 and will be rebadged 'City Hall'. Khan may also wish to consider renaming the road it is on, currently Siemen Brothers Way, though naming it after one of the previous mayors – Ken Livingstone or Boris Johnson – would seem unlikely.
Tiptoeing through the Tulip
While City Hall may have been Foster's 'glass gonad', there seems to be little debate over what part of the male anatomy his proposed Tulip tower resembles (though it has also been likened to a mushroom, an ear bud and an inseminator).
The 304m-tall structure appeared to have been firmly hacked down by London mayor Sadiq Khan last year when he overturned the City of London's planning approval, but it is proving a hardy perennial – or perhaps a tenacious weed. A planning inquiry is under way into the project after its developer, Bury Street Properties appealed the decision.
When Khan turned down the tower, he said it was of 'insufficient quality', would 'result in very little public benefit' and would harm London's skyline, particularly views of the Tower of London World Heritage Site.
The mayor's design advocates also suggested that it resembled a surveillance tower, or, as the developer's lawyer phrased it at the inquiry, 'a watchtower in a prison camp.
Speaking at the inquiry last week, Fosters' project lead for the Tulip Robert Harrison rebutted this suggestion, saying that, while he was not especially familiar with watchtowers, 'I don't believe there are any that have bars in them … I don't believe there are any which have classrooms within them' – and suggesting he doesn't really understand how comparisons work.
Harrison has robustly defended the scheme calling it 'beautiful, compact and elegantly-proportioned', though he also admitted it was 'inconsistent' with the City of London's vision for an 'eastern cluster' of skyscrapers
Those with time on their hands can watch the public inquiry proceedings live on YouTube.
Inquiries continued...
Should you tire of watching the Tulip inquiry, you can always switch channels to the one discussing the merits of David Adjaye and Ron Arad's Holocaust Memorial, which is due to wrap up at the end of this week.
But proving no less controversial is another Adjaye project, for a 20-storey office building in Brixton. This has won planning approval in the face of virulent local opposition after Lambeth Council's planning committee narrowly backed the scheme with the chair's casting vote.
The building, for property firm AG Hondo, will replace two, single-storey retail units with 25,435m2 of office space plus shops, community facilities and a public square. Following an earlier council meeting in July, the practice had made a number of changes, including 'softening the facade' and adding outdoor public seating.
Opponents include English Heritage, which said the scheme's scale and massing would harm the Brixton Conservation Area, and amenity group the Brixton Society, which described the tower as 'intrusive and dominating the skyline'.
A petition against the proposal has received more than 7,500 signatures while nearly 4,000 individual objections were sent to the council, compared with 1,393 representations of support.
However the nature of some of these positive representations has been questioned.
Local online news service Brixton Buzz reports that Hondo funded 'community group' The Brixton Project to solicit positive comments. The website recounts how one of its team was 'approached by a young woman in Pope's Road [the tower's location] asking us to sign a pre-written letter to Lambeth … in favour of the controversial development'.
The letter stresses the scheme's benefits to local employment while making no mention of its height. In August, the council's planning site showed only seven people had registered their backing.
If such methods of eliciting support sound vaguely familiar, it may be because a similar technique was used with regard to Adjaye's Holocaust Memorial. In that instance, the government paid £118,000 to 'engagement consultant' Big Ideas to help with 'public engagement'.
Clare Annamalai of anti-Memorial pressure group Save Victoria Tower Gardens has written that Big Ideas approached organisations that backed the project and invited their members to answer two questions on a Google form.
It then uploaded these responses to Westminster Council's planning portal in what she calls 'an astonishing, publicly funded subversion of the planning system'. By the end of May 2019, she says, 'there were an additional 2,734 supportive comments on the portal, many of them no more than two words long'.
Architects welcome Trump's defeat
Aside from any architects that may have been hired to work on Donald Trump's border wall, the profession seems to have largely welcomed the election of Joe Biden and, perhaps more importantly, the incumbent's defeat.
The AJ spoke to James Timberlake, whose practice Kieran Timberlake designed the new US Embassy in London. He told the AJ that the election marked 'the repudiation of four years of despised national policies, mismanagement, ignorance and an unqualified administration placing the United States and world at risk.'
Trump refused to attend the embassy's opening ceremony in 2018, strongly criticising the move from its former Grosvenor Square building and calling its new south London site 'lousy' and 'horrible'.
US citizen Stephan Reinke, of London-based Stephan Reinke Architects, told the AJ he looked forward to the White House re-establishing itself as 'a centre for the celebration of the arts, international culture and heritage.'
He also said he hoped Trump's departure would spell the end of his executive order, back in February, that all new US federal buildings had to be designed in a neoclassical style.
Meanwhile, RCKa's Russell Curtis wondered what the Trump Presidential Library might look like.
Getting high in Camden
The success of Diller Scofidio + Renfro's High Line linear park in New York's Manhattan has proved inspirational, with many cities looking to see what disused railway lines can be similarly repurposed.
UK 'High Line' proposals include the creation of parks on derelict railway viaducts in Hammersmith and Leeds, the Peckham Coal Line which would similarly transform a Victorian coal siding, and – perhaps a little tenuously – a 'Low Line' walking route that runs underneath a series of south London railway arches.
Last week, plans for a Camden High Line took a step further as five architects were shortlisted for the scheme.
Among them is 2019 Stirling Prize finalist Feilden Fowles as well as Benedetti Architects, We Made That with Hassell, French firm Agence Ter of Paris; and US architect James Corner Field Operations, which also co-designed the New York original.
But surprisingly perhaps, a submission from Diller Scofidio + Renfro did not make the cut, and nor did designs by Adjaye Associates, Zaha Hadid Architects or AL_A, to name just a few of the impressive list of unsuccessful entrants.
The linear park will regenerate a 1.1km stretch of abandoned railway linking Camden Town with King's Cross and include seating areas, cafés and 'cultural interventions'. The winning practice is set to be announced in February.