Architecture performs poorly in the Black Lives Matter debate. To be inclusive it must actively assist potential students who see no way in, say Timothy Brittain-Catlin and Felicity Atekpe in conversation with Tszwai So
Black Lives Matter mural San-Francisco during 2020 protests.

Credit: Christopher Michel
2020 will be remembered for at least two grievous events: the colossal death toll that came with the outbreak of Covid-19, forcing everyone to go digital; and the brutal murder of George Floyd, prompting campaigns for real changes worldwide.
The Black Lives Matter movement has been reinvigorated, but can we finally see real changes in the architectural profession? Low pay, high tuition fees and high living costs associated with a long education compound the inaccessibility issue in architecture. For many, particularly those coming from an underprivileged background, architecture as a career simply is not financially viable to start with, let alone making it to the top.
The current status quo in architectural education could trace its origins back to 1847, when a group of architecture articled clerks decided to rebel against the ineffective apprenticeship system and established the Architectural Association in London. In recent years, we have seen a return to apprenticeships courses, yet BAME architects remain under-represented in the UK. BAME students are also less likely to progress through conventional architectural education according to the RIBA. That is partly due to the fact that many BAME students are not coming from a background of architecture, and the existing education system is unable to acknowledge that.
'There is a bias towards the overly academic, written stuff, for which it helps to come from a background with a history of higher education,' says award-winning architect Felicity Atekpe, a teacher at Kent School of Architecture who was awarded RIAS Silver Medal in 1996. 'People seemed to be surprised if you did well in architecture school.'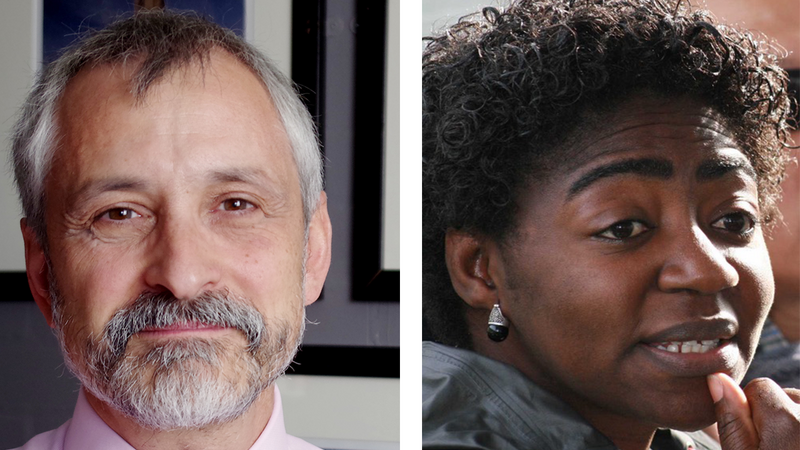 Course leader for MSt Architecture Apprenticeship at the University of Cambridge Timothy Brittain-Catlin (left, credit Howard Griffin) and University of Kent lecturer and architect and principal of White Table Felicity Atekpe (right, credit Felicity Atekpe).
The University of Cambridge is the latest institution launching an apprenticeship course in September, led by architect and historian Timothy Brittain-Catlin, with a view to bringing substantial change to the profession.
Brittain-Catlin, who is of mixed ancestry, had experienced himself plenty of abuse when young, but the revelation of the Windrush scandal completely transformed his attitude to racism in Britain: 'I had no idea how bad this situation was, and now I do.'
For him, the key challenges faced by BAME architecture students and architects are structural – that is, they depend on many deep social factors and cannot be addressed by cosmetic changes, either to an admission system or to a curriculum. 'If you grow up outside an environment where you can see how an investment in education and training really work, you are going to be at disadvantage,' he said.
He has long been campaigning for change, and a more balanced alternative narrative in architecture. One of the projects on which he has embarked to address this is a book with the Twentieth Century Society about 100 British women architects since 1914, with representatives from every decade, and it took him, Elain Harwood and Alan Powers 10 days to find enough great candidates for it. It makes one wonder how long it would have taken the team to compile a similar list on black architects, if it's even possible at all. After all, there has never been a black president of the RIBA, nor a black laureate for the Stephen Lawrence Prize – a potential embarrassment to the prize that has gone largely unnoticed. But Tara Gbolade was identified as a Rising Star by the RIBA Journal in 2018, which is a glimmer of hope.
When it comes to recognising and exploiting the enormous pool of creative talents among black architects, the profession seems to fall light years behind the art and music industries. Here, black musicians and artists have long been held in the highest regard for being trend setters – albeit without the same level of inclusion at boardroom level. In architecture, there are many potential Beyoncé Knowles's and Jay-Zs with no family connections out there in the wilderness – the system has simply failed them. 'Architecture is about your address book, it is not a level playing field,' said Atekpe – an inconvenient truth that Brittain-Catlin acknowledged and concurred.
It's unfair, and it's completely unacceptable, that access to the profession should depend on students having enough money to support themselves for five years of full-time study
The old image of a successful architect's career was of a super gifted young male, setting up his own practice in his 20s or early 30s with true grit and immense talents, and winning successive prestigious projects along the way. His success was all due to 'himself'. 'Some of that might apply to the architecture students I was with in the late 1970s and early 1980s, or at least they thought it did,' recalled Brittain-Catlin. For him, it was an inherent in conventional modernist architectural teaching to emphasise a stream of geniuses talented individuals; the stars of the profession made every effort to live up to it and those young pushy people tried to imitate them. 'It was an utterly dreadful way of teaching architecture – I feel very strongly about that. I wrote a book called Bleak Houses a few years back which drew attention to what we have lost by that whole false image.'
Brittain-Catlin believes that the alternative narrative is a degree of normalisation. The architectural profession and its training should be like real life, not about an image of performance: 'There will always be great creative stars and performers. We don't have to design a system around them.'
Brittain-Catlin refers to the conclusions of the Farrell Review in 2014 – that without maintenance grants and under the current funding system, the economics of studying architecture simply do not stack up. 'It's unfair, and it's completely unacceptable, that access to the profession should depend on students having enough money to support themselves for five years of full-time study', he says. He also feels that there is not enough variety, or imagination in many Part II courses: 'It's time that architecture school curriculums were tempted out of their comfort zones.' He wants to encourage talented BAME students into the kind of training where they are immediately in control of their finances and can feel confident about where they are going over the long term, as well as offering them the strongest possible personal academic support.
Is the future of architectural education a return to its apprenticeship roots? Brittain-Catlin thinks it could start a revolution in the same way the AA founders once did: 'I think it's likely that in time, full-time graduate architecture courses will become more specialised – that is, aimed perhaps at 'designers', as at Columbia University for example.' But he also stresses that there are things that are better done in architecture schools than anywhere else and this was something he wanted to introduce at Cambridge, namely an intellectually stimulating environment away from doing menial drafting jobs during the residential weeks.
This vision seems to be shared by the employers, who are key to making apprenticeships work. Although little has changed since the death of Stephen Lawrence, Brittain-Catlin remains hopeful about the future: 'I have seen more of a response from architecture schools to what has happened over the last few days (since the death of George Floyd) than to anything else in the 40 or so years that I have been following them. So yes, there will be real changes.'