With the price of professional indemnity cover rocketing, a roundtable brought together architects and insurance industry representatives to examine what can be done about costs and exclusions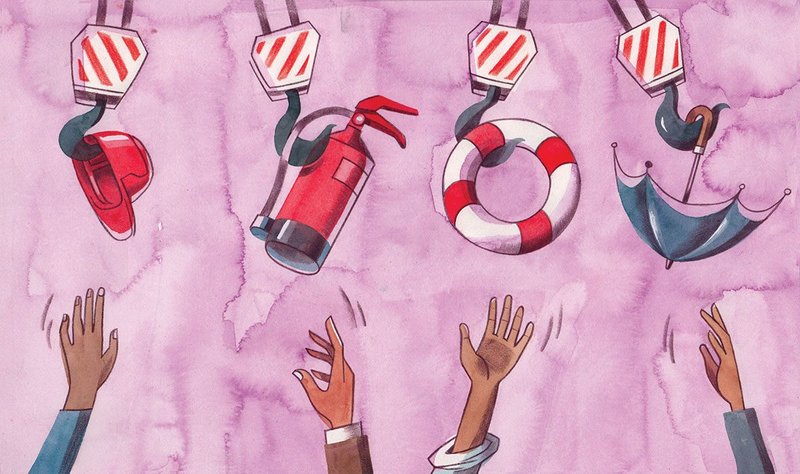 Credit: Toby Morison
Problems with professional indemnity insurance (PII) will not disappear, despite the best efforts of professionals, professional bodies and the insurance industry. These were the main conclusions of a roundtable discussion convened by RIBA Journal and chaired by Adrian Dobson, executive director professional services at the RIBA.
The discussion followed the paper that Dobson presented to RIBA Council, showing that not only had PII premiums risen but there were increasing numbers of exclusions for cladding, fire and basements. It also responded to a survey of members that highlighted widespread problems with PII.
Indu Ramaswamy, a director at Allies and Morrison with responsibility for contracts and insurance, explained the situation at her 300-strong practice. 'In the last two years,' she said, 'we have seen our PII premiums rise by 70 per cent.' As a result, the practice had reduced its level of cover while keeping it high enough to honour the level in contracts. But, she said: 'We had to write to clients with high levels of PII, warning them that it might not be commercially reasonable in the long term.' In addition, she said, when negotiating PII for new contracts, there have been exclusions. As a result, 'we have lost contracts, particularly where we have been novated. Some contractors refuse to carry on with us.'
The other architect in the discussion was at the opposite end of the scale. Maggie Mullan is a sole practitioner based in Liverpool, with clients who are a mix of blue-chip organisations, educational bodies and local authorities. Her PII, she said, had gone up by about 25 per cent, an increase that was made more difficult by her fluctuating workload during the pandemic. And she is very worried about future uncertainty and had been looking at the 'nature of claims'.
Paul Dinwoodie, executive director at insurance broker Gallagher (which owns the RIBA Insurance Agency), was the first, but not the last, to use the term 'perfect storm'. One of the reasons PII costs had risen, he said, was simply that previously they had fallen too low.
The Lloyd's review of 2018 showed that PII was the second worst-performing form of insurance and recommended there be a reduction in capacity. Insurers took note and prices started to rise. The Grenfell tragedy, said Dinwoodie, provided 'an opportunity to increase rates'. It led to 'the realisation of the black hole of potential liability'. The insurance industry panicked and realised it had been losing money for years.
Paul Berg, partner and group director at broker Griffiths and Armour, confirmed this. Historically premiums had been between 1 and 3 per cent of turnover but had fallen as low as 0.6 per cent. The fact that they were rising again was not bad in itself, he said, but wondered: 'Can architects afford to pay them? This has to go back to procurement prices.' And he said: 'Excesses are a serious problem. If margins are as tight as we believe, there will be a real vulnerability for many firms.'
Dinwoodie added: 'Architects are taking on ever-increasing liability for reducing fees. Eventually the insurers will say: no – the rate you are paying on the turnover that you are earning is unsustainable.'
'Eventually the insurers will say: no – the rate you are paying on the turnover that you are earning is unsustainable'
What can the architectural profession, or insurers, do? One solution that has long been touted is the adoption of integrated project insurance, but this is usually only used on mega-projects. The Dudley College Advance II project pioneered the use on smaller schemes but, despite a favourable report in 2018, there has been virtually no follow-up. (Bauman Lyons' recent Museum of Making at Derbyshire Silk Mill was an exception). And Berg, long an advocate of integrated project insurance, no longer sees it as the answer. 'I don't believe that the industry was able to align to take this insurance model forward,' he said.
Instead, he argued, 'we need to align consultants' scale of liability with their scale of benefit'. This, in the medium term, should mean an end to joint and several liability, argued Sam Peat, who is at the heart of discussions. She is managing director of Tindall Riley, which manages the Wren Insurance Association, and is chair of the Construction Leadership Council (CLC)'s PI committee. Citing the example of Australia, which is moving towards proportional liability, she asked: 'How is it fair that our members will pay 100 per cent when they are only 1 per cent responsible?'
Dinwoodie, however, thought this change was unlikely to happen since the current arrangement provides clients with security when subcontractors go bust – an all too frequent occurrence.
In the short term, Peat said, 'We need to unlock things. The insurance industry will not fix things overnight. The only way to unlock claims is for remedial work to be done, and to decide who will pay.' She was referring to the money that needs to be spent on defective cladding and other problems revealed in the wake of Grenfell. Fortunately, she said, 'we [CLC] have good representation on a group from MCHLG and BEIS [the housing and business ministries]. We are saying we need a quick fix that is well defined so that it uses taxpayers' money well. If government could intervene to cover for the safety risk, to get the work done, we could get back to pre-Grenfell ways.'
Some rise in premiums may be inevitable but other increases are not. 'Post Grenfell,' Dinwoodie said, 'insurers are petrified. Where the law is not clear, nobody knows where this liability will be. Insurers have no interest in insuring a risk that they can't price. We need clarity over liability.'
There was a feeling that the current situation is untenable. If architects' practices are unable to get PII, or if they fail, the burden will have to be carried elsewhere in the industry. 'If we are talking longer term and big ideas,' said Peat, 'the industry will have to pay decent prices for decent fees and pay a decent amount for PII.'
Meanwhile, a further potential problem has recently arisen, as Dobson explained. The Building Safety Bill, introduced to Parliament on 30 June, makes mention, unlike the draft, of the Defective Premises Act 1972. The bill looks to more than double the limitation period over which designers may be liable for buildings that are 'not fit for habitation'. Dobson said: 'There could be complex unforeseen circumstances.'
Ramaswamy said that previously Allies and Morrison had not worried about the bill. 'It seemed such a high threshold, we thought the risk was minimal,' she said. 'But now we are questioning whether it means buildings where cladding has to be taken off. It poses more questions than it answers.' Dobson said the RIBA would give evidence to the scrutiny committee about this. But if the government doesn't listen, this could make existing PII problems even worse.
Professional indemnity insurance has moved from being a minor nuisance to a major problem. A solution must come, before it breaks the profession.
ACTION POINTS FOR ARCHITECTS
> Budget for increased PII premiums
> Make sure you understand the detail, and in particular the exclusions, of a new or renewed policy
> Be open with clients about the restrictions on your insurance
> If a client's lawyers try to change the terms, tell them firmly that you have the insurance that you have and it can't be changed
> Be aware that your professionalism, honesty and openness may lose you some work – particularly from contractors.