Could Hollywood glitter give Cardross seminary a happy ever after? Biden restores design sense by reversing Trump's classical architecture decree, just as Boris backs the idea of a roundabout deep in the Irish Sea. And Baca thinks mini Dubai with a lily-shaped island of 40 homes near King's Lynn
Is a bright future finally in sight for St Peter's Seminary at Cardross? The celebrated brutalist building, constructed in the 60s and closed less than two decades later, has been the subject of much speculation and many false dawns, but its new owners have now proposed it become a hub for the UK film industry, with architect Carmody Groarke signed up to design the transformation.
When the US film industry chose to build its studios in southern California, it was because of the warm and sunny climate, not a quality readily associated with the seminary's home 20 miles up the Clyde from Glasgow.
Weather, however, will not be so much of a factor since the new hub would focus on animation. Instead, what will facilitate production and draw clients will be a high-capacity data centre, to be built in the seminary's undercroft.
This will apparently enable the state-of-the-art render farm needed to make animated films, exceeding the capacity of US animation giant Pixar.
Since last July, the seminary building – designed by architects Isi Metzstein and Andy MacMillan – has been owned by the Kilmahew Education Trust along with the surrounding Kilmahew estate. The trust took it off the hands of a heartily relieved Archdiocese of Glasgow, which had described ownership of the Category A-listed building as an albatross round its neck.
A year earlier, the church's attempt to dump responsibility of the building on to the Scottish government had been roundly rejected, despite it being widely regarded as one of the best examples of brutalist architecture in Scotland. Demolition seemed to be on the cards.
The previous decade had seen two proposals for the seminary come to nothing: developer Urban Splash had hoped to turn it into a mixed-use housing and leisure development, while arts organisation NVA sought to use it as an art space, hiring architects McGinlay Bell and Avanti to carry out the £10 million transformation. Neither organisation was able to make its proposals stack up financially.
The Kilmahew Education Trust is run by wife and husband team Ally and Stuart Cotton – formerly an educational specialist and a tax inspector respectively. Exactly how they are funding their ambitious project is not entirely clear.
Asked by the Architects' Journal, last August, what their investment in the scheme was, Ally replied: 'We've invested more than 18 months to this project already.' Further pressed to explain the financial model, she replied: 'Our model is based on investing in our many outstanding universal values and intangible assets.'
Thankfully Carmody Groarke's initial sketch of the scheme is rather more tangible, showing the seminary buildings converted into creative industry workspaces alongside performance and events spaces, catering and the all important data storage.
The Cottons' stated ambition is for an animation business 'which is competing with Aardman in the UK and Pixar in the United States'.
Also involved in the project is Dan Pearson Studio, the landscape architect which picked up £300,000 for its work on the ill-fated Garden Bridge scheme. It will presumably be hoping that this project has a more successful outcome.
But if the film business fails to blossom, doubtless the data storage would still be very useful for many alternative – if less glamorous – enterprises.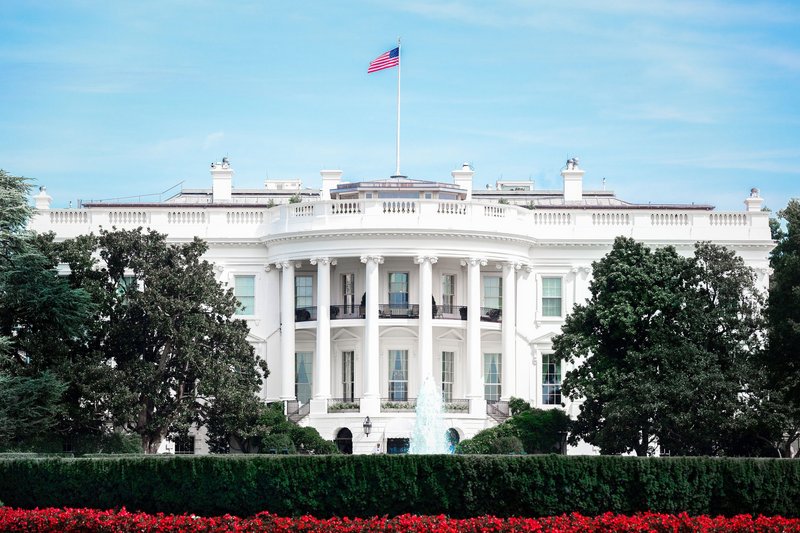 Biden has rescinded Trump's order on classical architecture.

Credit: iStock uschools
Biden restores architects' design integrity
Donald Trump's architectural reign of terror is over. A mere 65 days after the then US president signed an executive order demanding new federal buildings favour classical and other traditional styles, his successor has overturned it.
Despite fears that Joe Biden might be unduly preoccupied with rejoining the Paris Agreement, rescinding the Muslim travel ban and tackling the coronavirus pandemic, he found time to reverse the rule in an executive order revoking five of Trump's earlier decrees.
Trump's original order had always seemed a little pointless given that he had lost the election five weeks earlier and knew he only had days left in power. Couldn't his time have been more productively spent pardoning a few more convicted felons?
The American Institute of Architects welcomed Biden's move, saying that it had restored 'freedom of design choice that is essential to designing federal buildings that best serve the public'.
Meanwhile, a pro-Trump news organisation, One America Network, is blaming an architect rather than the former president for the storming of the Capitol building earlier this year.
The network claimed that culpability for inciting the attempted insurgency lay with Pierre L'Enfant, who designed the layout of Washington DC some 200 years earlier and died in 1825. It reported that he designed the city so that all roads led to Capitol Hill, thus creating a route for the protesters to march from their rallying point to the Capitol.
PM backs roundabout below Isle of Man
While Boris Johnson has never been shy about revealing his own classical education, it hasn't influenced his own architectural proposals, which generally involve crossing water in some way.
His latest pet project, according to the Sunday Times, is an underground roundabout beneath the Isle of Man.
While this might sound bonkers, it is in fact the logical conclusion to the prime minister's undiminished enthusiasm for a physical link between Northern Ireland and Great Britain.
His original penchant for a bridge seems to have gone by the wayside after it was pointed out that the harsh weather conditions across the Irish Sea made it a little impractical.
But a proposal for a tunnel running between Belfast and Stranraer in Scotland has also come up against practical issues. In this case the presence of Beaufort's Dyke, a 32-mile trench where 1.5 million tonnes of munitions were dumped after the Second World War, which would be hazardous to dig through.
There is also the little issue of Stranraer not being the most geographically useful place in which to end, meaning it would also need a multibillion-pound high-speed rail link to connect it to the rest of Britain.
Anxious, no doubt, not to come across as lacking a positive can-do attitude, government officials have instead suggested four tunnels – starting at Stranraer, Belfast, Liverpool and Heysham in Lancashire. The four would meet under the Isle of Man at what would be called Douglas Junction.
Any idea that the officials are in fact simply taking the piss could, in turns out, be correct. The Sunday Times quotes one source saying: 'Just as Hitler moved around imaginary armies in the dying days of the Third Reich, so the No 10 policy unit is condemned to keep looking at this idea, which exists primarily in the mind of the PM.'
And architect Alan Dunlop, whose original bridge suggestion kicked off the whole farrago three years ago, told the AJ that the latest idea 'does not sound credible'.
Baca plans artificial island on Norfolk lake
Is Norfolk the new launchpad for trailblazing architecture? Following Mikhail Riches and Cathy Hawley's Stirling Prize-winning Goldsmith Street housing scheme in the county town of Norwich, Baca Architects has designed a water lily-shaped island containing 40 residential apartments.
The proposal, which has been submitted for planning, is part of a £35 million, 80ha 'eco-wellness resort' around Ashwicken Lake, a former sand quarry near King's Lynn.
Designing buildings that interact with water is nothing new for Baca, which has described its work as 'aquatecture'. Its previous projects include an 'amphibious' house on the Thames, designed to float during a flood; and 11 flood-proof homes in Stratford Upon Avon, which completed last year. In January it won a competition to design an Underwater Ocean Discovery Centre in Western Australia.
When it comes to botanically shaped artificial islands, the Norfolk scheme isn't quite in the same league as Dubai's 560ha Palm Jumeirah, though it is probably a lot less controversial.
On a similar theme, Bjarke Ingels' BIG last year set out a masterplan to create three lily-shaped islands off the Malaysian coast, each designed for between 15,000 and 18,000 residents.
Mikhail Riches wins Somerset housing via London framework
Mikhail Riches, meanwhile, is building on its Norfolk success, having won planning for another Passivhaus-certified housing scheme, this time in Somerset.
The 52-house development, for North Somerset Council, is set for a site in Nailsea just outside Bristol.
As well as being zero-carbon, the homes will be at least 10 per cent above national space standards and – in contrast to Goldsmith Street's brick structures – will embrace modular construction, using prefabricated panels throughout.
The project is also notable because the council appointed Mikhail Riches though the Greater London Authority's ADUP2 framework. The framework, primarily used by London authorities, includes 60 architectural practices, with Mikhail Riches one of 12 in the housing and mixed-use lot.
ADUP2 is due to expire later this year to be replaced by a new Architecture + Urbanism Framework.