Goldschmied hypes plan for mutual insurance society for architects to tackle rocketing PII premiums post Grenfell. And while construction watches Sunak's budget actions belie his green words, Morris+Co wins Munich mixed-use scheme ahead of Chipperfield and London mayor reconsiders Adjaye's Brixton tower
The cost of professional indemnity insurance (PII) has soared so high over the past few years that it is forcing some architects out of business. Could former RIBA president Marco Goldschmied have the answer?
Goldschmied, who was president from 1999 till 2001, has suggested that architects set up their own mutual insurance company, sharing the risk between them. And he has called on the RIBA to run the scheme.
Ever since the Grenfell Tower fire in 2017, insurance companies have been increasingly jittery over the risk of offering PII, fearing they could face hefty bills from claims relating to cladding and fire safety. Some companies have even stopped offering PII policies to the construction industry altogether, while others have hiked up premiums.
A year ago, the RIBA reported that premiums had increased by 300 per cent since Grenfell. And in January, an Architects' Journal survey suggested premiums now amounted, on average, to 3.9 per cent of practices' total turnover, compared with 2.3 per cent in 2019, and affecting practices completely uninvolved in designing high-rise buildings.
And more than half the practices said the policies they are able to buy contained exclusions relating to fire-safety, which could seriously limit the work they are able to take on.
Goldschmied, however, believes the cost increases are a vast over-reaction, and that the insurance industry doesn't 'seem interested in engaging with a thorough assessment of the levels of risk involved'.
He told the AJ that: 'The insurance industry is attempting to exploit the Grenfell tragedy for financial gain,' arguing that architects were 'sitting ducks' because under ARB rules they are obliged to have indemnity cover.
His solution is a mutual insurance company, whereby practices would team up, effectively sharing the risk while not being overcharged.
As an example, he points to the Wren Insurance Association, which does exactly that though only for larger practices. As a former managing director of Richard Rogers Partnership, Goldschmied is likely to be familiar with its workings.
On its website, Wren describes itself as 'a members-only organisation providing professional indemnity insurance for the benefit of a select group of architects', giving the impression of being akin to an exclusive club.
But while that 'select group' presumably has the financial clout to provide the necessary security, Goldschmied thinks a mutual for smaller practices would need to be backed by the RIBA since it would need substantial capital reserves to get started.
He says he has the support of RIBA president-elect Simon Allford and has also discussed the idea with Jack Pringle who chairs the RIBA board. Pringle said the institute was considering the idea as well as lobbying for a government-backed scheme.
The AJ argues that if the RIBA was able to offer cheaper insurance, 'it would undoubtedly benefit from a renewed relevance among practices'.
Budget dampens profession's hopes despite green promises
Last week's budget saw chancellor Rishi Sunak announce a 'green industrial revolution' that would help not only tackle the climate crisis but rebuild the Covid-riven economy.
Yet even a cursory glance at the actual measures suggests the substance of the Budget failed to match up to such professed ambitions.
RIBA president Alan Jones summed up the architecture profession's disappointment, saying that the measures 'do little to reassure me of the government's commitment to reach net-zero or drive a green economic recovery'.
The UK Green Building Council's Julie Hirigoyen said the Budget largely ignored the huge part greening our buildings could play in delivering a post-Covid economic recovery and said the government's plans looked more like 'build back business as usual'.
Sunak made much of his super deduction tax break. This encourages investment by letting firms offset 130 per cent of the cost of plant and machinery against profits. But it emerged that there would be no bar on the tax break being used to invest in carbon-intensive industries.
Treasury minister Kemi Badenoch defended this, saying the government wasn't going to 'strangle our economic recovery with regulation that's not necessary'. It all sounds rather too reminiscent of George Osborne's axing of zero-carbon homes legislation six years ago on the grounds that it would stifle economic recovery.
Nor was there any joy for those keen to see an end to the VAT anomaly that charges a higher rate for refurbishing existing buildings than for new-build. Previous governments had claimed EU rules prevented retrofits from being VAT free, yet oddly the Treasury does not appear to want to take advantage of this obvious Brexit dividend.
Which is a shame since scrapping the tax on retrofits and refurbishments was one of the calls of the government's beauty commission, whose report was lauded by housing secretary Robert Jenrick.
But perhaps Jenrick was too busy securing funds to restore a castle in his own constituency of Newark.
The Times says Newark will receive £25 million as part of the government's £1 billion Towns Fund and that Jenrick favoured spending some of it on restoring Newark Castle's gatehouse. According to the AJ, Twickenham-based Martin Ashley Architects has been appointed for a major restoration of the 12th-century castle including its gatehouse.
The Town's Fund is meant to be a key plank in the government's levelling-up programme, addressing deprivation in parts of the North and Midlands.
Yet the Times's analysis showed that of the 45 towns for which Sunak announced funding last week, 40 are in Tory constituencies. Boris Johnson claims this is because the Tories won so many seats in the last election, yet in the list of England's most deprived towns Newark is number 270 and the constituency is a safe Conservative one.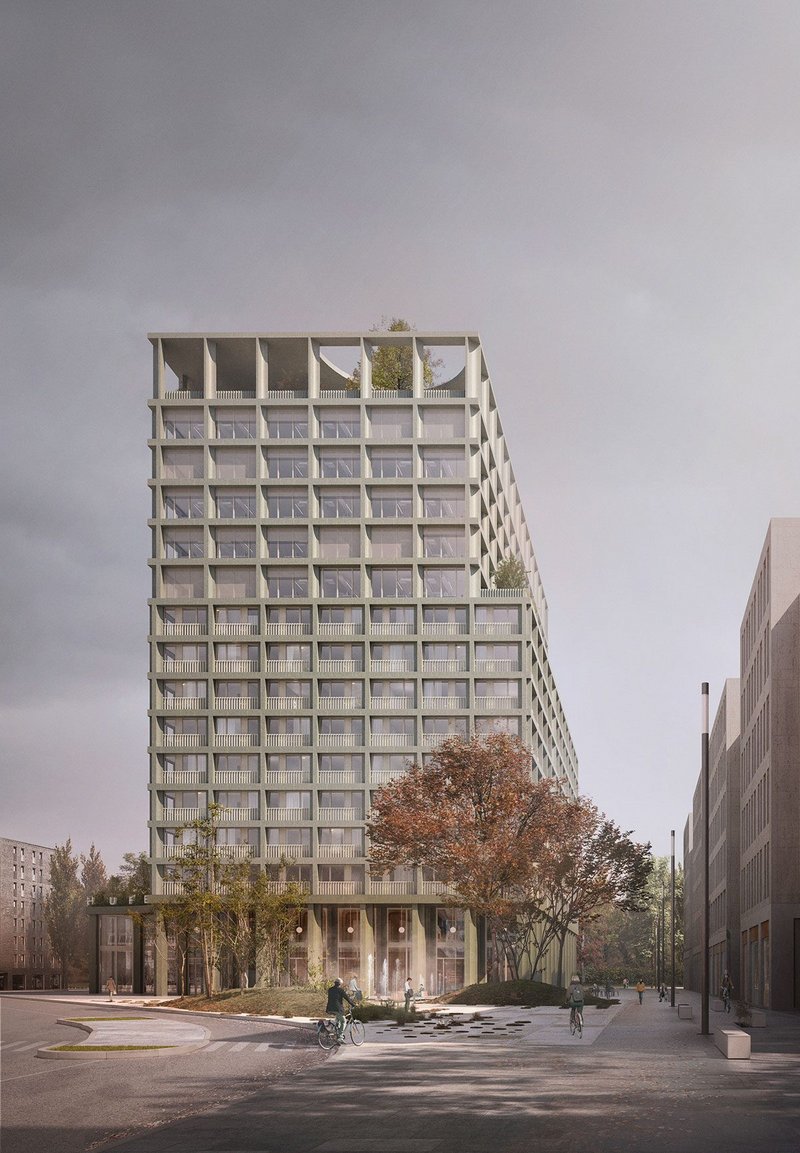 Morris+Company's Chipperfield beating Munich scheme.

Credit: Morris+Company and Forbes Massie
Morris+Company beats Chipperfield to Munich scheme
Morris+Company has set out a marker by winning an international competition to design a major mixed-use development in Munich. Significantly, the practice beat David Chipperfield Architects as well as eight other shortlisted teams.
The practice formed in 2018 after its principal Joe Morris and former partner Mary Duggan 'amicably demerged' their award-winning practice Duggan Morris in order to pursue 'diverging professional interests'. Of the 50 staff at the time of the split, Duggan took only nine with the rest staying with Morris.
As well as winning 11 projects in its first year, Morris + Company also opened a studio in Copenhagen, which was responsible for winning the Munich project.
The 16-storey building will comprise retail, hotel and office space and is being designed in collaboration with Berlin-based practice Kirchberger & Wiegner Rohde.
Morris+Company said the building would create a new landmark in the city and described it as the practice's 'largest pan-European collaboration to date.
London mayor gets cold feet over Adjaye's Brixton tower
David Adjaye's controversial 20-storey office building planned for Brixton is not out of the woods yet. London mayor Sadiq Khan has ordered a public hearing on the proposal despite previously saying he wouldn't contest Lambeth Council's backing for the tower.
Lambeth's planning committee narrowly approved the scheme in November, requiring the chair's casting vote to get it through.
Opponents of the scheme include English Heritage, which said the scheme's scale and massing would harm the Brixton Conservation Area. A petition calling for the tower not to be built has received 8,400 signatures.
Khan now says he will make a decision on the building himself. The mayor's office says this is because an administrative error meant that not all public representations about the proposal were referred to it by Lambeth.
Which sounds like a bit of a loophole, since the mayor says he is concerned about a tower being built in an area not designated for tall buildings and the adverse effects it might have on the area's character – all issues that had already been widely raised when Lambeth approved the scheme.
Adaye, winner of this year's RIBA Gold Medal, has argued that the tower would reflect Brixton's multiculturalism as well as providing high-quality jobs that local 'young kids can see and aspire to'.