Post-Brexit materials certification set to slow building-led bounce back, but moves to help overseas architects work in UK could combat staff shortages. Climate remains controversial in Derby and for Grimshaw profits, but Grenfell bereaved press for tower to become vertical forest memorial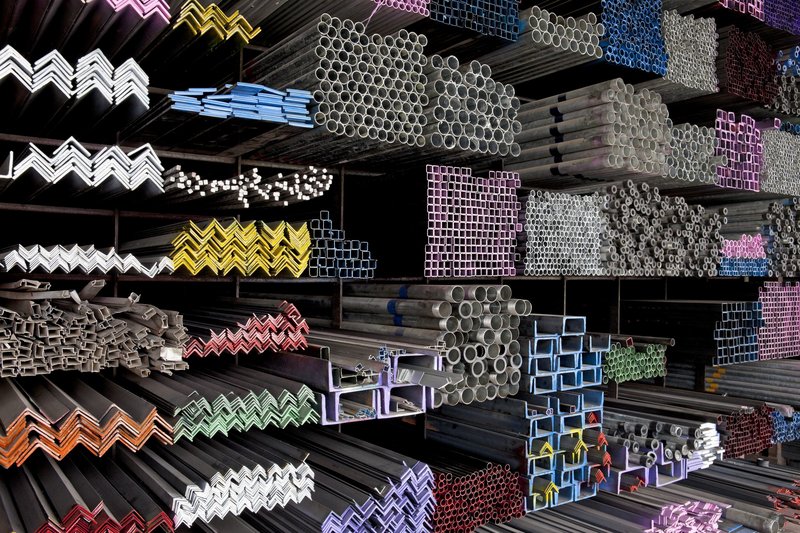 Could there be more delays ahead for imported construction materials?

Credit: Istock enviromantic
Nearly five months after Britain left the single market, there are mixed signs as to how Brexit is affecting architecture.
On the positive side, the government has announced a Professional Qualifications Bill, which will recognise overseas titles such as 'architect' – easing the way for non-UK architects to work in the country.
On the negative side, Building Design reports that all the great buildings these overseas architects are set to help design may have difficulty being built if the country runs out of construction materials.
An already existing shortage of materials caused by the pandemic could be exacerbated on 1 January next year when the UK is set to stop recognising the European CE certification of products.
Instead, products will need a UKCA marking, which can only be obtained by having the product tested at a UK facility – a process that can cost as much as £50,000.
BD reports that Construction Products Association chief executive Peter Caplehorn believes the UK does not have adequate testing capacity, meaning the construction industry could rapidly run out of materials.
In a worst-case scenario, he said, this could prevent large parts of the construction industry from operating.
Already this month, Aecom has said some EU suppliers of materials had stopped exporting to the UK because of the new non-tariff barriers.
All of which could rather scupper the government's hope for a construction-led boost to the post-Covid economy.
Moves to make it easier for overseas architects to work in UK
Looking rather rosier in the post-Brexit era is the recognition of overseas qualifications, which many practices argue can't come a moment too soon.
The end of freedom of movement between the UK and EU countries has made it far harder for architects to work as non-nationals and, the AJ reports, as workloads increase there are signs that British practices could face staff shortages.
Business secretary Kwasi Kwarteng said the new law would 'ensure skilled professionals from around the world are able to have their qualifications recognised in the UK, allowing us to attract the brightest and best as we build back better'.
RIBA chief executive Alan Vallance welcomed the news, saying it would 'help the UK attract the talent that enables our sector to thrive, and will enable the country to enter into mutual agreements that open opportunities for UK-trained professionals to work abroad.'
Crucially, while freedom of movement only applied to EU citizens, the new changes will benefit architects from countries throughout the world.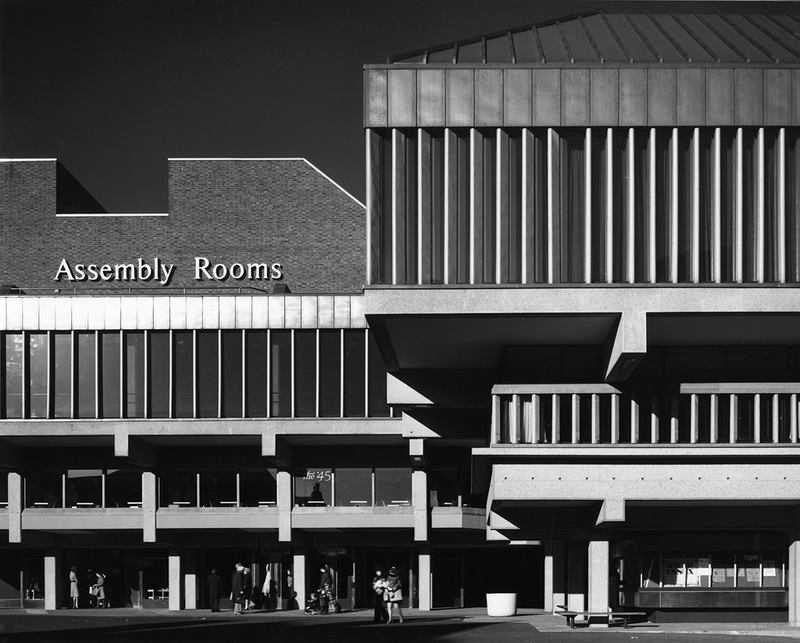 Casson, Conder & Partners' Derby Assembly Rooms – still at risk.

Credit: Keith Gibson Architectural Press Archive / RIBA Collections
Derby Assembly Rooms still at risk
Among the 10 buildings on the Twentieth Century Society's latest at-risk list, published earlier this month, is the brutalist Derby Assembly Rooms. Just how at risk it is was underlined last week as communities secretary Robert Jenrick declined Derby Council's request to call in its proposed demolition. Perhaps unsurprising given Jenrick's hostility to buildings of this period.
The 1977 building was designed by Casson, Conder & Partners, the practice founded by Hugh Casson, director of architecture for the 1951 Festival of Britain. It has been unused since a fire seven years ago destroyed the building's plant room in the adjacent multi-storey car park.
The council originally planned a £23 million refurbishment but scrapped the idea after costs rose by more than £10 million. Instead it plumped for demolition and a new £43 million performance venue in the Becketwell area of Derby, which is being designed by Corstorphine + Wright.
Demolition has been strongly opposed by the Twentieth Century Society, which calls the building 'a 'fine and rare regional example of a brutalist entertainment building', adding that it is 'in good condition and untouched by the fire'.
Historic England, meanwhile, has said the plan would erode the character of the city's medieval Market Place. The building has had a certificate of immunity from listing for the past five years though this expires later this month.
Jenrick, however, has said he is happy for its future to be locally determined.
The course of action also raises questions about the environmental harm caused by demolishing rather than retrofitting existing buildings. Derby Council declared a climate emergency in 2019 and says it is working 'to reduce emissions from our estate and operations'.
A local campaign to save the building has been led by architect Robert Evans of Derbyshire-based practice Evans Vettori. He said he hoped there would be a rethink as people became more aware of the importance of retrofitting buildings in the battle against climate change. 'It will be a travesty if, having declared a climate change emergency, the council allows it to be bulldozed,' he told the AJ.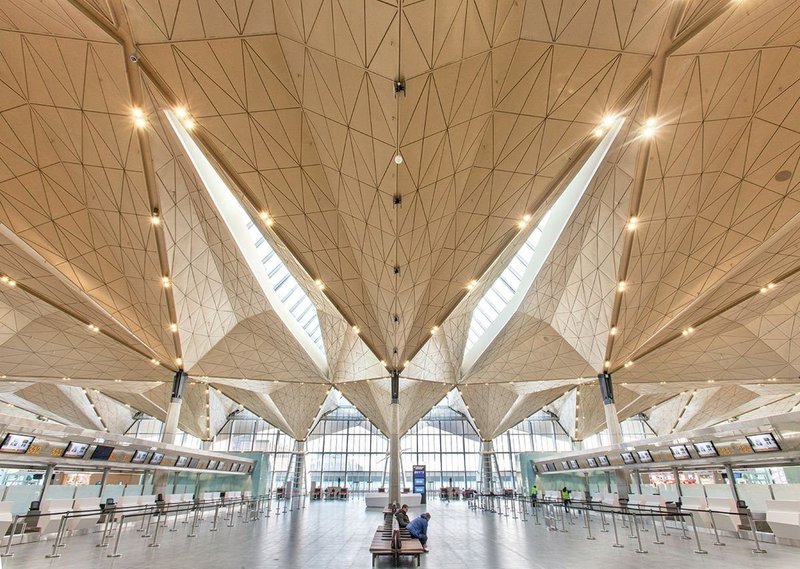 Grimshaw's has reported that slowing in aviation has contributed to a downturn in profits.

Credit: Yuri Molodkovts
Grimshaw's involvement in aviation industry hits profits
Practices working in aviation have been struggling, alongside the sector, thanks to the restrictions of the pandemic. At the same time as a downturn there they are having to juggle sustainability pledges.
Grimshaw is one of the practices that has been criticised by environmental campaigners for its continued involvement in the aviation industry despite air travel being a major contributor to the climate emergency. And now this allegiance appears to have hit its profits, which have fallen by 42 per cent.
The practice was the architect for Heathrow's £14 billion third runway expansion, while current projects also include developments at New York's JFK and Newark airports.
Even before the first lockdown, a Court of Appeal in February 2020 halted the practice's work on Heathrow's third runway on environmental grounds. That led to it laying off 20 employees.
And while the Supreme Court reversed that decision last December, the collapse in air travel during the pandemic meant much of its work in the sector was put on hold.
In total, the practice believes that coronavirus and the suspension of work on Heathrow led to a loss of approximately one third its revenue.
During the 18-month reporting period to October 2020, the company had a turnover of £118 million, which when calculated on a monthly basis represents a 7 per cent increase on the previous 12 months, but profit per month fell from £798,000 to £459,000.
Announcing the latest figures, however, the practice said that it was 'now seeing significant growth and improving profitability'.
The practice has defended its aviation work, saying it can help the projects be more sustainable, and unlike Fosters and Zaha Hadid Architects, it has remained a signatory of Architects Declare, saying it would 'rather be part of a group which is trying to effect change than to stand outside'.
Grenfell bereaved propose turning tower into 'vertical forest'
A proposal to pull down Grenfell Tower has been strenuously rejected by relatives of the fire's victims, who have instead proposed turning the structure into a 'vertical forest'.
Last week the government said it had taken advice from structural engineers about the tower's condition and needed to consider whether it should be 'carefully taken down to maintain safety'.
But some bereaved relatives have gone so far as to say they would pursue legal action to prevent the building being pulled down.
The Observer reported one relative, Hisam Choucair, who lost six members of his family in the fire, saying that taking down the building would obliterate the memory of the tragedy, adding: 'The ashes of our loved ones are in the fabric of that building.'
And the newspaper said one favoured option among the bereaved was a living tower based on the vision of Italian architect Stefano Boeri. His practice designed a pair of residential tree and shrub-covered towers in Milan, known as Bosco Verticale or 'vertical forests'. The project completed in 2014 and Boeri has gone on to design similar structures throughout Europe.
But while these are residential blocks, Grenfell would exist as a memorial, covered with 72 different species of plant, one for every person who died in the fire in June 2017.