Latest ACM-clad housing block fire sparks fury at inadequate action post-Grenfell. Plus Urban Splash saves Brick by Brick, Caruso St John goes neoclassical and how much concrete does a temporary pavilion need?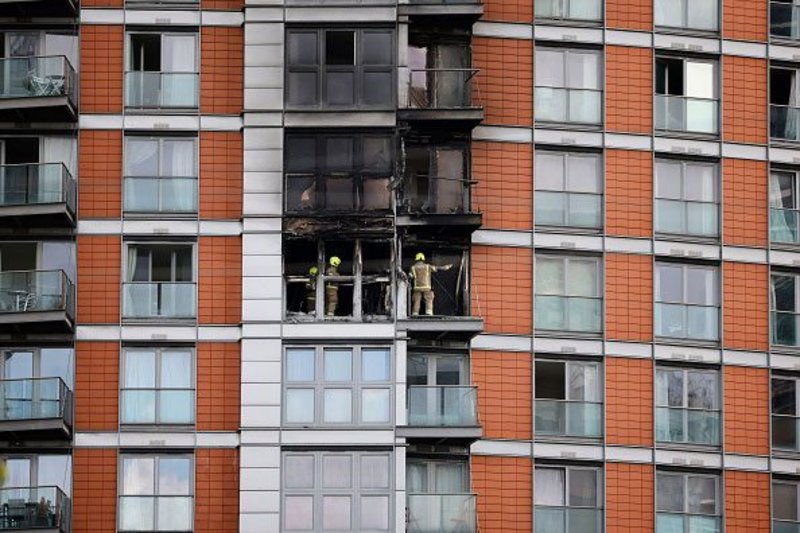 New Providence Wharf in East London shortly after the fire.

Credit: TOLGA AKMEN via Getty Images
On Friday morning, a 19-storey residential building designed by SOM caught fire, with 125 firefighters and 20 fire engineers required to bring the blaze under control.
Two people were taken to hospital to be treated for smoke inhalation while a further 42 people were treated at the scene by ambulance crews.
The building, part of developer Ballymore's 1,535-home New Providence Wharf block in Poplar, was covered in ACM cladding similar to the type that aided the spread of the Grenfell Tower fire.
Ballymore said that the cladding had not combusted and that fire damage was limited to one flat and two balconies. Ironically, enabling works to replace the cladding had started a week earlier, delayed by a wrangle over who should stump up the cost of nearly £12 million.
The developer offered a maximum contribution of £500,000, leaving leaseholders with a bill of around £13,000 each.
This sits rather oddly with Boris Johnson's announcement in February that 'no leaseholder should have to pay for the unaffordable costs of fixing safety defects that they didn't cause and are no fault of their own'.
And last month the government instructed Conservative MPs to vote against an amendment to the Fire Safety Bill that would have ensured leaseholders of flats with combustible cladding did not have to pay to make their homes safe.
The Ministry of Housing said it had been urging Ballymore to replace the cladding for the past two years. However, its sanctions don't appear to have extended any further than 'publicly naming Landor, their subsidiary, as one of the companies that has consistently failed to take action'.
Campaign group Grenfell United was unimpressed, tweeting that 'the government promised to remove dangerous cladding by June 2020. It has completely failed its own target and every day that goes by lives are at risk'.
Last July, Inside Housing reported that Grenfell-style cladding had yet to be removed from the walls of 246 tower blocks.
Urban Splash set to buy Croydon Council's housebuilding arm
Developer Urban Splash is set to buy Brick by Brick, Croydon Council's beleaguered arm's-length house-building company, whose financial under-performance was partly to blame for the local authority declaring itself bankrupt last November.
Since being set up in 2015, Brick by Brick has gained a reputation for hiring well-regarded architects, such as MICA Architects, HTA, vPPR and Mae. It also has its own in-house practice Common Ground.
However, it took longer to become self-funding than expected, and last autumn it emerged that it owed the council almost £200 million – though it maintained that it had strong revenue forecasts.
Manchester-based Urban Splash was founded in 1993 and has made a name for itself with its regeneration of disused industrial buildings and Victorian terraced houses. It has always placed a strong emphasis on design quality.
Among its most notable projects is the Stirling Prize-nominated regeneration of Sheffield's brutalist Park Hill housing estate, working with architects Hawkins\Brown, Studio Egret West and, more recently, Mikhail Riches.
According to Property Week, the developer has been seeking opportunities in London for some time. It reported that the deal was at the final due-diligence stage and, if it went through, would wipe out almost all of Croydon Council's debt relating to Brick by Brick.
Brick by Brick has 20 schemes comprising 429 homes set to finish by October, with a further nine totalling 501 homes due to complete by 2023.
Whose vision asks Jenrick
It is surely a good thing for architects to have visions of what the built environment might be, but not, argues housing secretary Robert Jenrick, for them to impose those visions on other people.
'The built environment … shouldn't just be something which is the dream of an architect,' he said in an interview for the Roger Scruton Foundation on the topic of The Future of Building Beautiful. He argued that the power of building design needed to be clawed back from architects and planners who ignore the views of the public.
Is this a genuine desire to give the people what they want in the face of a metropolitan liberal elite that would impose ugly modernism? Or is it more about making architects scapegoats for the less attractive parts of the built environment?
Community consultation is in fact already championed and practised by many architects. It was very much in that spirit that London mayor Sadiq Khan introduced estate ballots, whereby proposed regeneration schemes must be backed by residents before they can be implemented. Oddly Jenrick has previously condemned such ballots, calling them 'onerous' and saying they were 'jeopardising housing delivery'.
Under Jenrick's forthcoming changes to the planning system, councils will create design codes for neighbourhoods, overseen by the Office for Place, which is headed by Nicholas Boys Smith, co-chair of the Building Better, Building Beautiful Commission.
A 'fast-track for beauty' proviso will allow developers to partly bypass the planning process if their proposals comply with the local design code.
Of course another way of bypassing planning scrutiny is to make use of permitted development rights – championed and extended by Jenrick – which allow developers to convert office and commercial buildings into housing with absolutely no obligation to conform to any sort of local design code.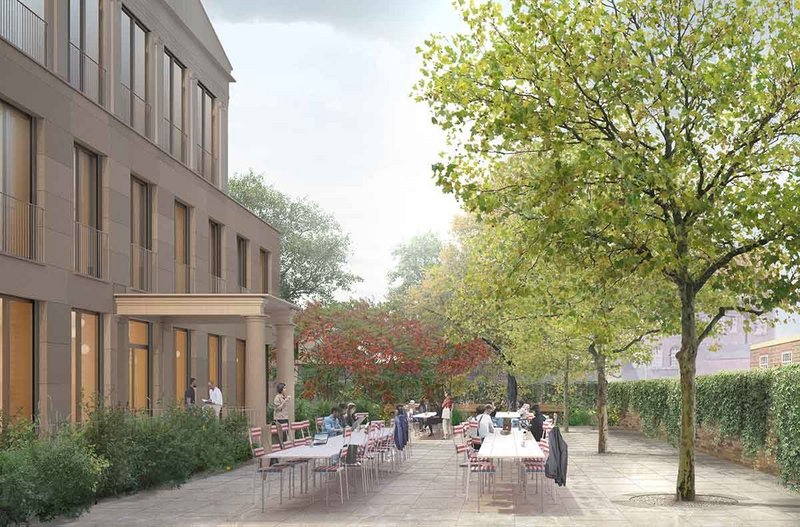 New Student Centre, Downing College, Cambridge by Caruso St John
Caruso St John goes neoclassical
Those who loathe the revival of traditional architecture might have been heartened to learn that a student bar and junior common room at Downing College in Cambridge by arch-traditionalist Quinlan Terry is to be demolished, replaced by a new structure by Caruso St John.
They may be somewhat surprised to learn, however, that the Stirling Prize-winning practice's replacement is firmly in the neoclassical oeuvre.
The practice – known for its elegantly refined architecture – will replace Terry's 1980s Butterfield Building with a larger, three-storey student centre inspired by the college's existing neoclassical structures, in particular, the neo-Greek East and West Ranges, designed in 1804 by William Wilkins.
But Caruso St John is quick to stress that Wilkins' buildings achieve their classical structure 'through proportions and a reduced tectonic expression, rather than with decorative embellishments'.
Meanwhile, Terry's architectural legacy at Downing remains strong with no threat posed to his other buildings at the college: the Howard Building, West Lodge Garden, Maitland Robinson Library and Howard Theatre.
Foster's GLA building features on at-risk list
The Twentieth Century Society has published its annual list of the top 10 buildings at risk, with the most notable inclusion being Foster + Partners' City Hall, which only completed in 2002.
The building, near Tower Bridge on the south bank of the Thames, is home to the Greater London Authority, but London mayor Sadiq Khan has announced that the authority is leaving the building, moving to The Crystal at the Royal Docks in east London – a move he says will save the GLA £61 million over five years.

The Crystal, designed by WilkinsonEyre, is owned by the GLA but has been largely unoccupied since technology firm Siemens moved out in 2019.
City Hall, on the other hand, is owned by St Martins, a property investment company owned by the state of Kuwait, and a break clause in the lease means the GLA is not obliged to stay there.
Which leaves St Martins with a building designed for a very specific purpose in which offices surround a central debating chamber for the Greater London Assembly's 25 elected members.
While St Martins has not expressed any intention to demolish Foster's building, the Twentieth Century Society is concerned the landlord may struggle to find a replacement tenant. Historic England has, however, turned down an application by the society to have the building listed.
Also in the top 10 at risk buildings are The Lawns, designed by Isi Metzstein and Andy MacMillan working for Scottish practice Gillespie Kidd & Coia. The two were best known for designing the Brutalist St Peter's Seminary at Cardross.
Metzstein, who died in 2012, was also responsible for founding the Macallan Club, an exclusive group of architects whose buildings had been demolished during the lifetime.
Could Norman Foster shortly find himself eligible for membership to this less than desirable fellowship?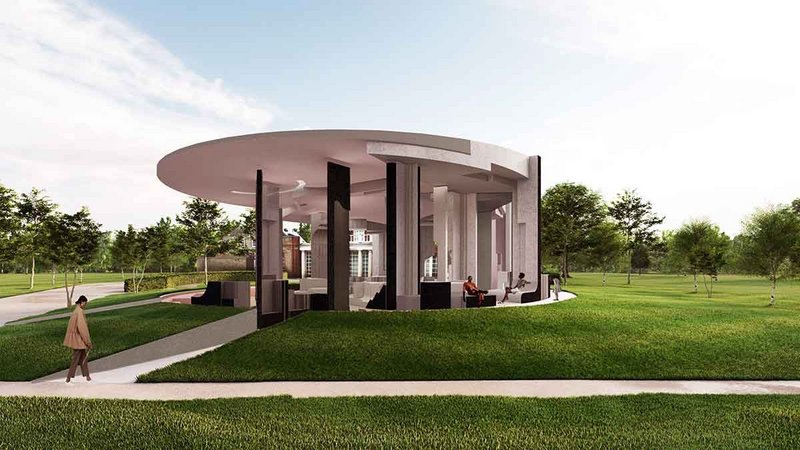 Serpentine Pavilion 2021 designed by Counterspace (render).

Credit: Counterspace
Serpentine Pavilion in concrete controversy
Even before it has been unveiled, this year's Serpentine summer pavilion has been hit by controversy, with critics accusing it of excessive use of concrete.
The pavilion has been designed by South African practice Counterspace, and was meant to be built in 2020 but the pandemic led to its postponement.
Construction is now under way and, it transpires, is using 95m3 of concrete, poured into the ground to support the temporary structure.
Among those criticising the quantity of concrete involved are architects from IF_DO, which designed the first Dulwich Pavilion; and O'DonnellBrown, which created its own 80m2 pavilion in Strathclyde Country Park, using just 4.5m3 of concrete for foundations.
O'DonnellBrown principal Sam Brown told the Architects' Journal that the Serpentine figure seemed like 'a disproportionate amount of concrete for a small-scale temporary pavilion'.
Last year, the Serpentine's artistic director, Hans Ulrich Obrist, said the gallery would respond to the climate emergency by placing ecology 'at the heart of everything we do'.
The Serpentine will not welcome this latest furore, coming after its previous pavilion made headlines when it was revealed that its architect, Junya Ishigami, was using unpaid interns at his Tokyo studio.
Aecom, which is also working on this year's pavilion, has defended the amount of concrete used, saying it was needed for 'safe public use' and would be recycled after the pavilion was dismantled.
Pringle keeps his new practice in the family
Finally, congratulations to former RIBA president (and current RIBA chair) Jack Pringle, who at the age of 69 has announced the launch of a new practice he is setting up with his two daughters, Maxine and Frankie, aged 36 and 33 respectively and both graduates of the Bartlett.
Last year Pringle left his previous practice, eight years after selling it to US giant Perkins & Will.
This is not the first time his daughters have been referenced in the architectural media.
Back in 2016, speaking about his enthusiasm for yacht racing, he revealed that he had taken his daughters as inspiration when naming his own 12m-long yacht. He combined their names to come up with the appellation Mankie.
The new practice has the more straightforward moniker of Studio Pringle.