RIBA puts ban on unpaid overtime on its to-do list and AHMM's Richmond House plan for temporary government is cheaper, quicker option. And cheers! – Glyndebourne finds a practical use for discarded champagne corks and oyster shells
RIBA considers banning unpaid overtime
Architecture has long had a reputation for lengthy working hours, but the RIBA may be ready to intervene, if not to stop extended working days then to ensure that employees are at least paid for the extra hours.
President Alan Jones has said the RIBA is considering requiring every chartered practice to pay overtime.
It follows the launch last month of the Future Architects Front, a group campaigning against the poor treatment of architectural assistants, part 1s and part 2s.
The launch followed a survey of 150 architectural assistants which revealed salaries as low as £16,000; practices asking job applicants to work two days free; and assistants being on zero-hours contracts with no job security.
One respondent wrote: 'Over lockdown, I was expected to work 90-hour weeks, would get messages at 3am asking me to do drawings and then, as soon as the project finished, was put on furlough until the end of my contract.'
In an open letter to the RIBA, the front called on it to do more to 'tackle the culture of exploitation', in particular providing effective oversight for the architectural assistant role of as well as ending unpaid overtime.
In his response, Jones said the front's evidence 'clearly suggests standards are not being upheld consistently in practice' and that the RIBA was planning a review of the employment guidance given to practices, with compulsory paid overtime one of the changes it would consider.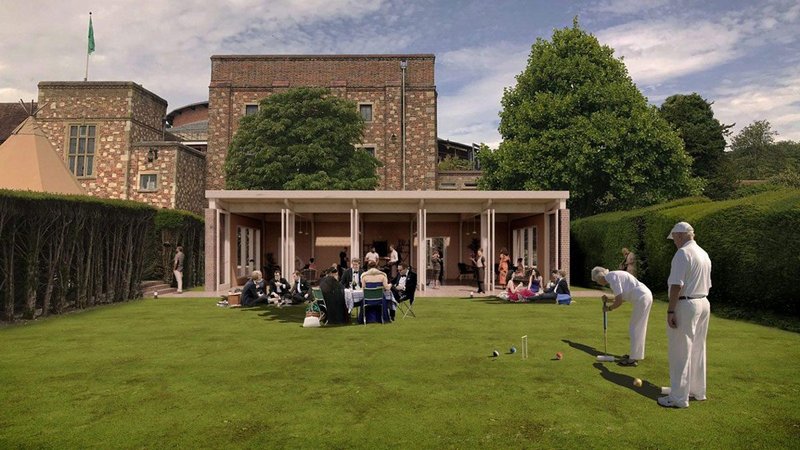 BakerBrown's Holloway Croquet Pavilion at Glyndebourne.

Credit: BakerBrown
Opera backs circular economy in its own special way
Compelling evidence that elitist cultural enterprises really care about the environment is provided by the news that Glyndebourne Opera House is to build a pavilion on circular-economy principles – constructed, naturally, from discarded champagne corks and oyster and lobster shells.
The structure has been devised by sustainability stalwart BakerBrown Studio and will be used as a dining area, as well as to showcase the circular-economy concept – which seeks to eliminate waste – and the importance of using local and waste materials.
Construction materials will also include grass clippings and underfired brick from a nearby brickworks. The oyster shells will be used for the roof finish, while the corks will be broken down and combined with mushroom-based material mycelium to create insulation.
The pavilion will also be designed so that when it reaches the end of its life it can be taken apart and its material reused.
Glyndebourne's previous green initiatives include the construction of a 67m-high wind turbine which provides all of its electricity needs.
The organisation also has a strong history of commissioning architects. Hopkins designed the opera house building and Nicholas Hare Architects its production hub, while Carmody Groarke created a previous temporary pavilion in 2015.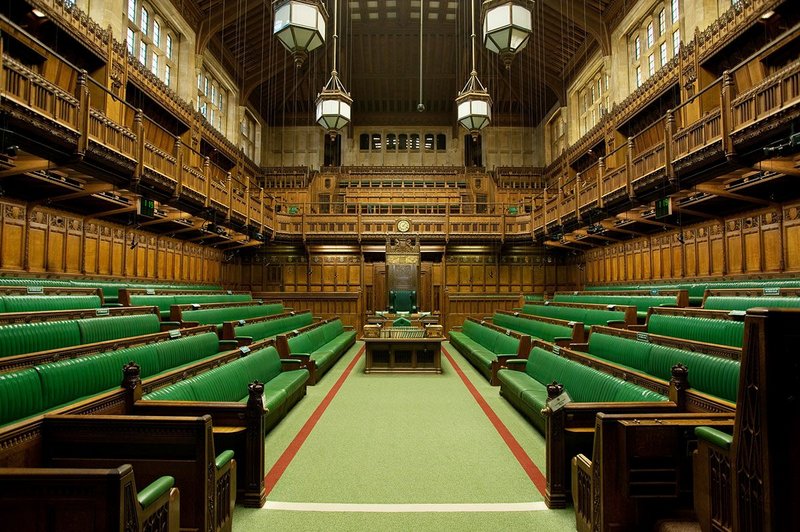 House of Commons decant confirmed.

Credit: UK Parliament Jessica Taylor
Review backs AHMM's temporary House of Commons building
A review into the £4 billion refurbishment of the Houses of Parliament has backed AHMM's substitute House of Commons, to be built in grade II*-listed Richmond House by gutting its interior – a strategy that has enraged heritage campaigners.
The project seemed in jeopardy last May when the review launched with a remit to look at 'simpler, quicker and cheaper' alternatives to AHMM's proposals.
Among the alternatives considered were building a pop-up structure in the Richmond House's courtyard; and erecting a bespoke modular building on the Horse Guards Parade Ground.
But now the review has concluded that when it comes to simplicity, speed and cost, AHMM's proposal can't be beaten.
It also confirmed the earlier conclusion that a full decant of the Palace of Westminster while the BDP-led refurbishment takes place, while set to cost £12 billion, would nevertheless be substantially cheaper (and faster) than options that kept MPs and peers on site during the work.
Since every week the work is put off costs the public purse £2 million, this would suggest the sole result of the 10-month review will have been to increase costs by some £80 million.
One of the positive aspects of AHMM's scheme, according to the review, was that it would create office space near Parliament which could be used by the parliamentary estate for years to come.
Which is interesting because Richmond House is already offices – the substantial change will be the addition of a 650-capacity debating chamber. Just how this would provide any long-term benefit to the parliamentary estate is unclear. Perhaps if a future government were to illegally prorogue parliament, it could provide a useful alternative venue for MPs to gather.