Simon Aldous's take on the week's architectural news stories: Permitted development backtrack; Adjaye wins Gold Medal; Royal Academy's endless summer; Foster's positives of the pandemic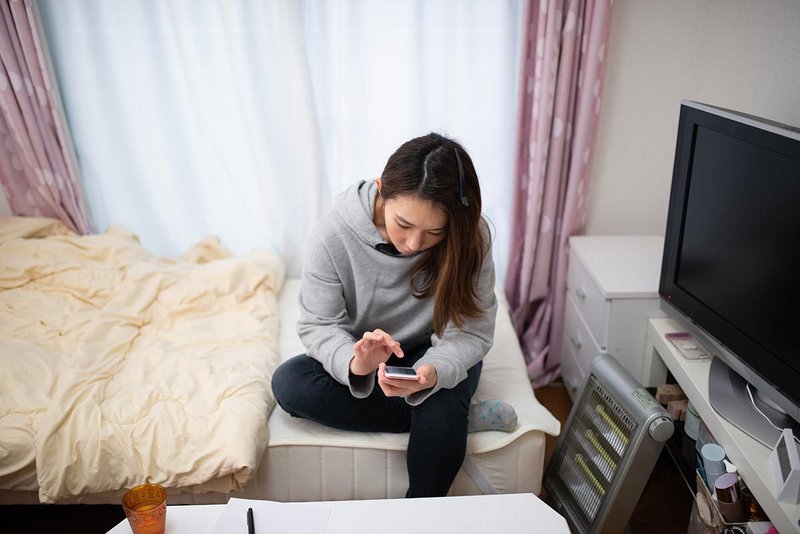 Permitted development housing has become notorious for its cramped living conditions Credit: iStock/monzenmachi
Has the government started to get cold feet over its proposed expansion of permitted development rights (PDR)?
The PDR system allows certain developments to bypass the planning process and, in the past six years, has allowed some 65,000 flats to be created from converted commercial buildings. That they don't need planning permission has led to some very low-quality housing, memorably described as creating the slums of the future.
But in a sign of backtracking, while the homes may continue to be badly designed, poorly insulated and sited in areas never intended for human habitation, they will no longer be poky. Housing secretary Robert Jenrick has announced that future conversions will have to meet national space standards, which the RIBA had long campaigned for.
This, he said, was to tackle 'the minority of developers abusing the system'. Interesting use of the word 'minority' there as research had shown that national space standards were met by only 20% of PDR homes.
This retreat from a full-on laissez-faire arrangement comes after Jenrick had already made the massive concession of no longer allowing PDR homes without windows. Right-wing economists must be shaking their heads in despair.
Writing in the Observer last month, Rowan Moore looked at Shield House, a PDR scheme in Harlow, Essex, where flats are not only tiny but 'freezing in winter, boiling in summer, and prone to mould'. The converted office building is also sited in a commercial zone, 'never meant for human habitation' and meaning, as is the case with similar PDR schemes, that it is isolated from facilities such as shops or schools – as well as any decent public transport connections to them.
The attraction of PDR is that at a time of continuing housing shortage, it offers a privately funded alternative to providing decent social housing.
However, the government is facing a parliamentary revolt from Tory MPs who fear its proposed overhaul of the planning system – including the expansion of PDR – will undermine local democracy. While the MPs are often happy to be lobby fodder for all manner of monstrosities, they do tend to become a little sensitive over new development in their own constituencies.
There's also the matter of how these new rules appear to jar with Jenrick's recent appointment of Nicholas Boys Smith to oversee the creation of design codes to be embedded into local plans.
Boys Smith, working with the late Roger Scruton, co-chaired the Building Better, Building Beautiful Commission. That provoked the suspicion of many architects, wary of the co-chairs' traditionalist leanings. But when the alternative is the horrific free-for-all of PDR, the profession may find itself welcoming design codes with open arms.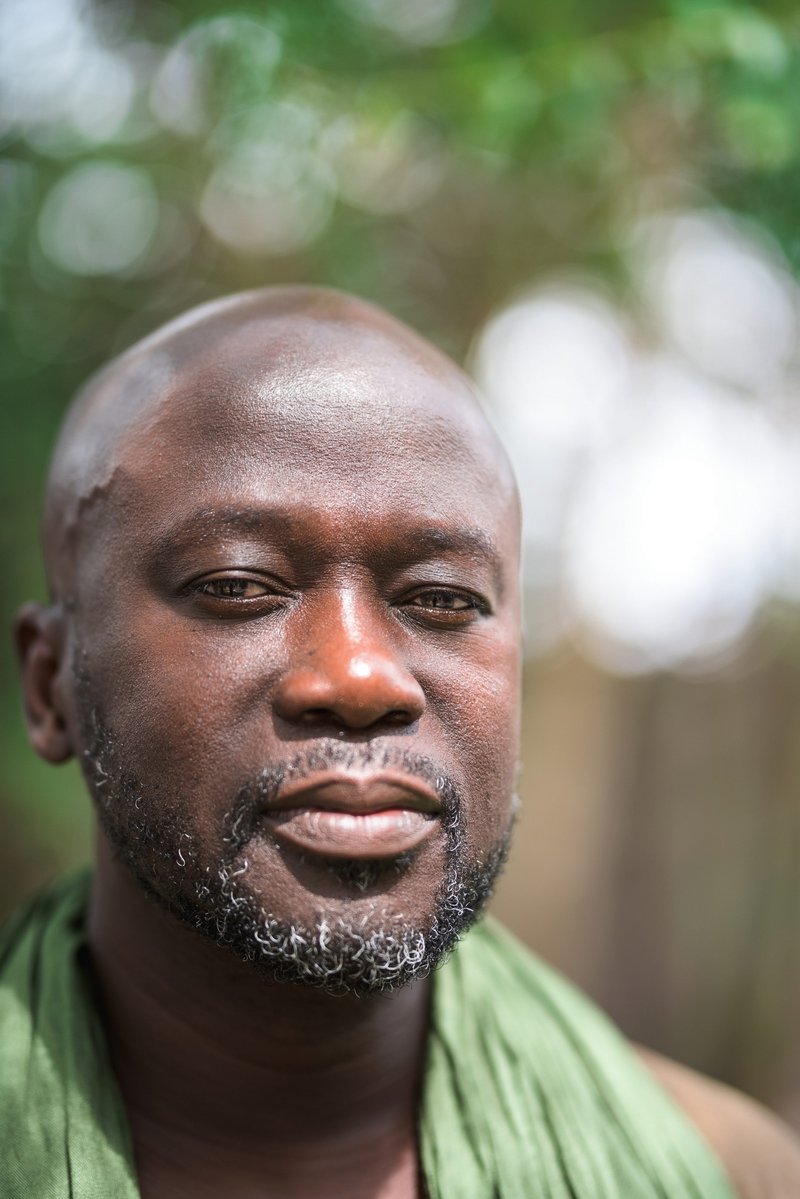 David Adjaye is the first black architect to win the RIBA Royal Gold Medal in its 173-year history

Credit: Chris Schwagga
David Adjaye wins Royal Gold Medal
The RIBA has awarded its 2021 Royal Gold Medal to David Adjaye, making him the first black architect to win the gold medal in its 173-year history. The award comes at a time when, as the Guardian's Oliver Wainwright points out, the latest ARB figures show the number of registered black architects has dropped to around 1%.
Welcoming the choice of recipient, RIBA Journal's Hugh Pearman remarks: 'It's good to find a Royal Gold Medallist with a lot more still to give'.
After an initial run of well-received small projects, Adjaye's initial forays into building on a larger scale met 'a luke-warm reception' according to Wainwright. However, in the past decade he has delivered on his initial promise, notably with National Museum of African American History and Culture in Washington DC; while his National Cathedral for Ghana and William Street residential tower in New York are both hotly anticipated.
But while Adjaye is creating outstanding buildings throughout the world, arguably his highest-profile UK project remains in doubt. His competition-winning National Holocaust Memorial, designed with Ron Arad, has been in limbo for nearly a year after the government called it in last November. Objectors say the scheme is inappropriate for the small London park in which it is to be sited. Adjaye has argued that 'disrupting the pleasure of being in a park is key to the thinking.'
The call-in was seen as a way of stopping Westminster City Council blocking the scheme. Since then, though, little has happened. A public inquiry due to start in May was delayed because of coronavirus and is now set to open today.
Adjaye will be one of the few people to receive any kind of prize from the RIBA this year. Shortly before announcing his gold medal, it revealed that it was scrapping this year's Stirling Prize for best UK building, citing practical issues with visiting the buildings during a global pandemic. It means last year's winner, Mikhail Riches' Goldsmith Street, is not only the first council housing to win the prize, but the first building to remain reigning champion for two years.
It is perhaps disappointing that the RIBA couldn't take the lead from the Great British Bake Off. The popular cake-based TV show has been able to take place this year by putting all the contestants, presenters and crew into quarantine, and then lodging them all in a hotel for the duration of the proceedings to minimise risk of infection.
Who wouldn't have loved to see the architect judges in kept in close confinement for a couple of weeks before visiting each temporarily evacuated shortlisted project, armed only with a plan of the building?
Royal Academy's long long summer
It may be cold and wet outside, but that summer feeling is still apparently alive at the Royal Academy, whose Summer Exhibition opens today, 6 October – the month traditionally considered to be part of autumn.
Summer, insists the academy, is a state of mind, not a time of year. And indeed, despite the show running till January, the institute has resisted the temptation to add an ice rink or Santa's grotto as might be found at other events at that time of year.
Alas, the state of mind argument doesn't seem to have washed with David Adjaye. He had been lined up to curate the show's architecture room, but the rejigged schedule meant he now had buildings to design, medals to collect and – possibly – public inquiries to attend.
Stepping into his curatorial shoes is Eva Jiřičná, who took care of the architecture room seven years ago so was familiar with the ropes. Judging by the identity of some of the contributors, she could well have curated this show 30 years ago. Among the academicians featured are Richard Rogers, Michael Hopkins, Norman Foster and centenarian Trevor Dannatt.
Meanwhile, there is little doubt that winter is coming for some 150 Royal Academy staff who face the chop as the organisation seeks to save £8 million a year. It is blaming the Covid-related collapse in revenue with its doors closed during the lockdown and visitor numbers now severely restricted. Others are blaming the millions it borrowed to fund the David Chipperfield-designed £56 million expansion into Burlington Gardens.
And some academicians are suggesting that, rather than cutting jobs and outreach activities, it could solve its financial woes by selling Taddei Tondo, its prized Michelangelo marble believed to be worth at least £100 million.
Senior academician Peter Cook, who sold his own Archigram archive to a Hong Kong museum last year, told the Architects' Journal: 'The academy should be there to help make things happen and not just sit there as a sort of museum, primarily looking at the past.
It's a route that the Royal Opera House has decided to take, choosing to sell an £18 million David Hockney painting to stay viable. The academy, however, 'says it has no intention of selling any works'.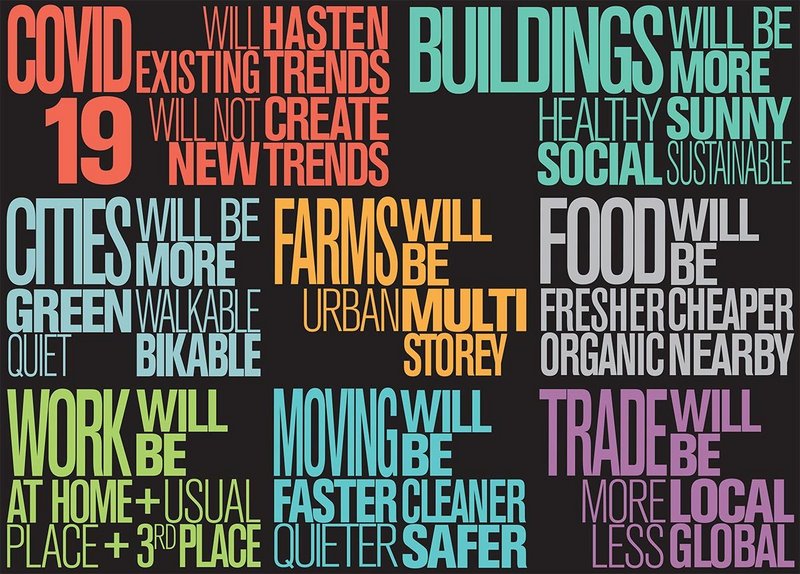 Norman Foster's Royal Academy submission argues that the coronavirus pandemic will accelerate existing positive trends Credit: Norman Foster
Foster rides the Covid wave
In an attempt to make the Royal Academy architecture room a bit more timely, Jiricna invited contributors to look at how architecture might be affected by the coronavirus. One of the few to take up the challenge was Norman Foster, whose submission developed the ideas in his recent Guardian article.
He argues that the pandemic will merely accelerate existing positive trends, such as cities becoming more green and walkable with a shift against car ownership and less reliance on central workplaces in favour of 'time spent operating out of home or a third place – an Alpine eyrie or digital Starbucks in the high street'.
He also embraces the concept of the '15-minute city' developed by Paris-based academic Carlos Moreno, where work, home, shops, education and healthcare are all within walkable distance of each other.
It's an optimistic view from an architect whose business seems to have weathered the pandemic pretty well. This week Foster + Partners announced it had increased its staff by more than 100, taking its total headcount to 1,434 – 90% of whom are based in the UK where the practice remains the country's largest employer of architects.
Foster's latest company accounts, published last week for the year ending April 2020, show global revenue reaching a record £272 million, fuelled by increases in work in the Middle East and United States. Pre-tax profits, however, fell by 45%.
It's quite a bounce-back from the situation in April when the practice asked every staff member to take a 20% pay cut while furloughing staff unable to work from home.
Read our review of the Summer Exhibition at the Royal Academy