We need more, better homes – now. Geoff Pearce, executive director of regeneration and development for Essex-based Swan Housing Association, is opening a factory for the offsite modular construction of its homes using cross-laminated timber. We asked him why and how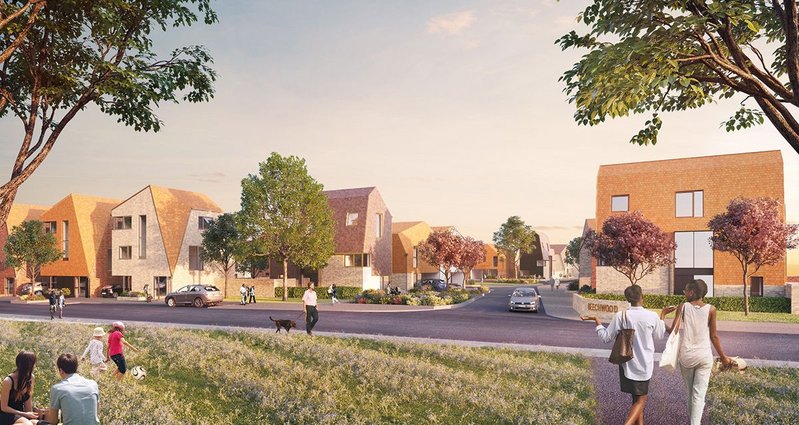 These homes at Beechwood West in Basildon will be factory built by Swan Housing.
Are you the first housing association to make its own homes this way?
I think we're the first to go into modular construction from our own factory. Though there's a housing association in the Midlands which does panellised construction.
Isn't this a real leap for a social housing provider?
We're slightly different to most in that we have our own in-house construction management team anyway, directly procuring homes rather than going through a contractor. That means we are fairly used to being close to the supply chain, and off-site construction is something we can manage.
Who are your architects and engineers?
For the first project at Beechwood in the Craylands Estate, our architects are Pollard Thomas Edwards and btpw partnership. The next will be the regeneration of Basildon's Laindon Centre (PTE with CF Møller) for which we now have planning permission. Our brief was to design for modular construction. Then we engaged Arup to look at the pros and cons of different methods.
What made you decide on CLT?
Our initial thought was to build in light-gauge steel frame. But in the Arup study CLT emerged as very rigid and dimensionally stable. We don't want any cracking, for instance, on the fully-finished modules which can be up to 5m wide and 15m long – the maximum for road transport. They are designed for stacking up to 12 storeys. Beyond that, craning the modules gets trickier as CLT is quite heavy, and you have to start reinforcing the lower floors.
How fast can you build?
For houses it's typically 12 weeks from end to end, from foundations to finished, of which six weeks is the factory production of the modules. We don't do cladding in the factory, that's typically a brick skin done on site. We still have brickies! There's not a massive time or cost implication for that.
What's your factory's capacity?
We can do 20 modules a week, 1,000 a year, translating to 300 homes. We're not ruling out expanding if need be, perhaps working with other partners. Our pipeline of homes is 3,500 – overall 50% social and affordable –but we won't use modular construction for all of them.
When do you start?
Factory production will start late spring for delivery of completed homes this autumn.