The office is moving into our homes, here's how to maintain work/life balance, keep the two separate, and create the right sort of space. Some practices were already planning this when lockdown made the idea urgent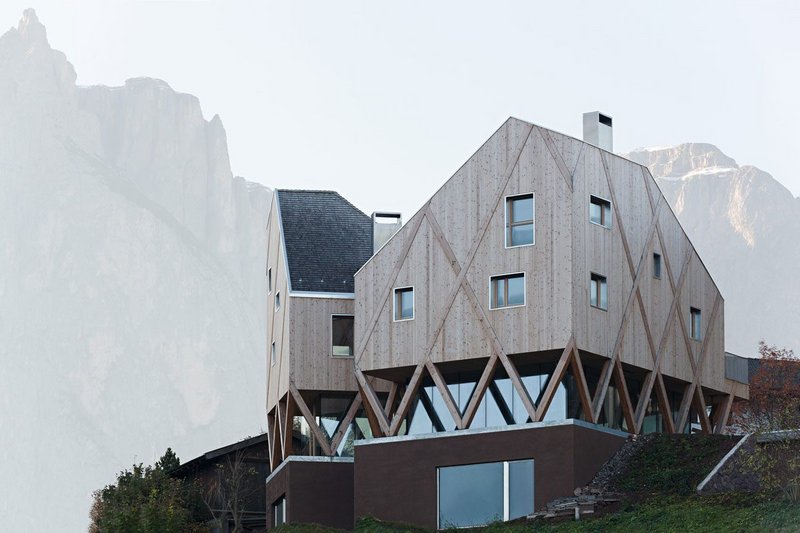 Villa Kostner has a work space beneath one of the timber volumes.

Credit: Modus Architects
We have learned a lot during the pandemic about the way that offices will change, probably irrevocably. But what about the other side of the coin? When not working in the office, those employees are working at home. And beyond entirely justifiable complaints about overcrowded homes and lack of equipment, there has been little discussion of what working at home can be like.
If working away from the office is to become a part of many people's lives, then designers need to turn their attention to ways to make it work. Fortunately, there are exemplars because many people have always worked from home. Writers are a great example. Virginia Woolf, in her 1929 essay 'A Room of One's Own' stressed the importance of having one's own room – and a little money – to be a successful writer of fiction. Many young professionals, sharing over-priced flats in city centres during lockdown, would have concurred. It is worth remembering that while lightweight laptops and near-ubiquitous wifi may make it technically feasible to work almost anywhere, working well is another matter. Ergonomics, removing distractions and the ability to create some kind of demarcation between work and leisure are all essential. A bed is not an ideal workplace.
Another writer famous for working from home was George Bernard Shaw, with his rotating writing shed at his house at Ayot St Lawrence in Hertfordshire. Being able to chase the sun made this particularly appealing. In a contemporary interpretation, when Bristol-based architect Richard Castor Jeffrey designed the office for his practice, Fit Architects, at the bottom of his garden, he made sure that the window framed a particular view.
Castor Jeffrey's office is considered but modest, whereas the Shoffice, designed by Platform 5 Architects for a garden in north London, acts as a sculptural form that enhances rather than detracts from the space. Again, views are paramount, and an external deck is a vital part of the snail-like shape.
Both these function as offices, but not everybody who works at home has a desk job. When a photographer and film-maker living in Leyton in London wanted a studio in their garden, they commissioned Platform 5 Architects to design it. The result, the Holloway Lightbox, has a pixellated facade of coloured fibre-cement tiles that incorporate wood waste.
There is a great argument to be made for the division between home and work that walking across the garden provides, but for many working within the home is the best solution. Some people need a lot of space that is best provided in a purpose-built building, such as the Kostner House in Italy's Tyrol that Modus Architects designed for an artist. At first sight, the building is misleading, since it consists of two timber clad volumes that crash into each other. An automatic assumption would be that one of these spaces is the studio. In fact the studio is in one of the two partially glazed boxes that sit below the timber enclosures.
This house, although unconventional, does provide fairly rigid separation between working and living areas. But two schemes closer to home have more blurred lines. These are live-work schemes where at least some of the spaces do double duty: Stolon Studio designed and developed Forest Mews in south London as a collection of live-work spaces, and nearby Kaolin Court, which mixes living and working with some overlap between the two. The founders of Stolon Studio are married architects Jessica and Robert Barker who started their practice from their own home, and now live in Forest Mews and work at Kaolin Court.
Forest Mews in particular is secluded, set around a courtyard with no externally facing windows. The ground floors of the houses are configured to make home-working easy, with a kitchen/ living/ dining room at one end and an office at the other. Between the two are a downstairs lavatory and a room that does double duty as a kitchenette for the workspace and a laundry room for the house. In this way there is a deliberate distinction between working and living.
Equally important are the outside spaces, with semi-private individual courtyards opening into the public space of the shared courtyard. There is plenty of greenery. The fluidity of public and private space allows some socialising and relief from the solitude of working alone, while the secluded nature of the development avoids distraction. 'We have learnt about the sharing of space and how it works,' Jessica Barker said. 'Some people get the idea of the shared outdoor space and some don't.'
Kaolin Court is also arranged around a courtyard, but there are two units facing the street. One is the Stolon Studio office, with a member of the team and his family living above; the other is a live/work unit occupied by a fashion designer who resides above his workshop. There is a strong relationship between these units and the purely residential spaces behind; when the architects were working late one evening (pre-Covid) one of the residents brought them some banana bread.
Stolon is carrying out research into working from home within a sociable setting. Barker said, 'Many of our house designs are constructed to feel open, but are not 'open plan'. Based on our research, we have resisted this, as providing the sanctuary of a home and a quality work space is in conflict with an open-plan.'
She believes that we would benefit from more such developments in the present situation. 'We would welcome the prospect for Stolon's approach to feature on the high street,' she said. 'With a planning system on the back foot, there is a concerning trend of empty commercial space being turned over to residential under permitted development, slowly burning through the shops and offices of our town centres. If there was the support for these units to be given over to responsible live/work, there could be a sliding scale, responding to need – offering housing and employment opportunities together with the visible activity so vital to the communities, confidence and wellbeing of our towns and cities.'
It seems there are plenty of great models for working at home – provided that you have, or can afford, an adequate amount of space.
---
Ruth Slavid is the author of New Work, New Workspace – Innovative design in a connected world, published by RIBA Publishing