Paulo Mendes da Rocha engaged and empathised with the ambitions of students at the RIBA's annual Royal Gold Medal crit
When the Royal Gold Medal is awarded the recipient is brought into the RIBA family as much as possible over the course of a week. One of the most interesting events is when students, awarded for their work through the RIBA President's Medal, present it to the Royal Gold Medallist. This year, Paolo Mendes Da Rocha sat in on the three winning projects and, in the most gentlemanly way, complimented the younger generation while adopting enough distance to see some of the complexities of their work.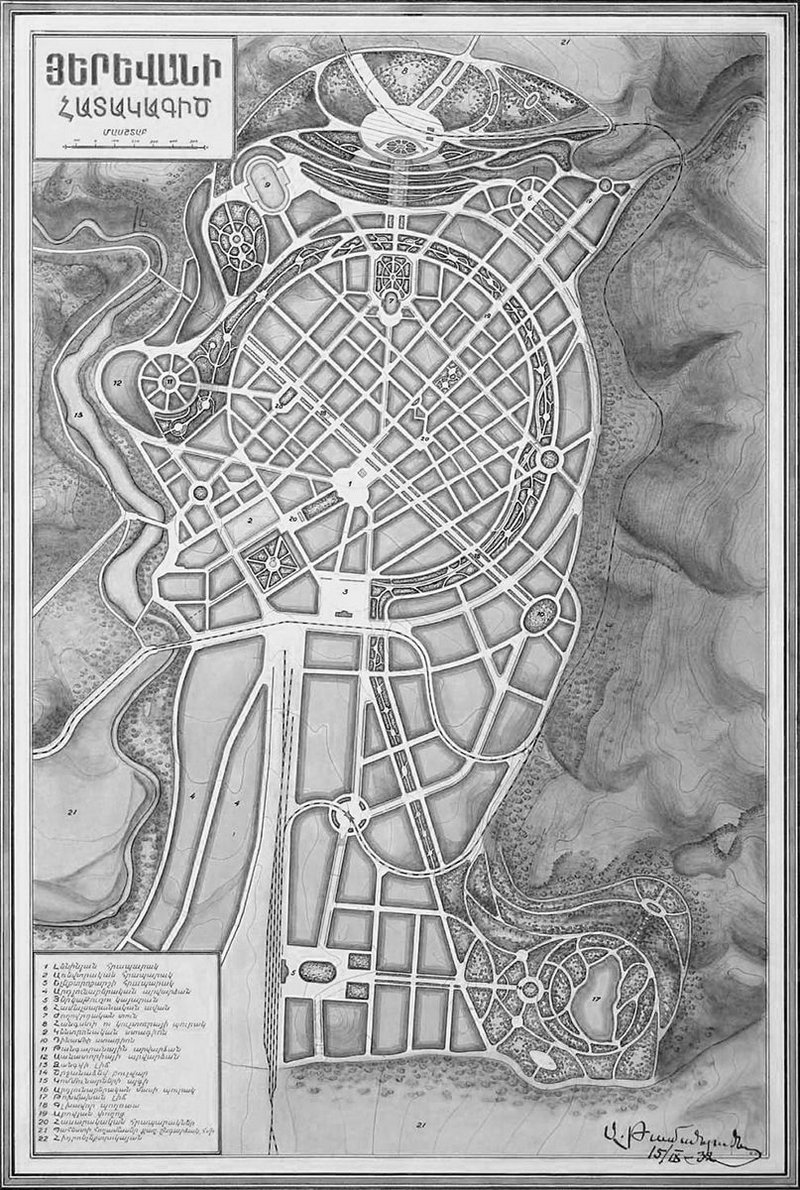 1924 masterplan of Yerevan Armenia as explored by Roy Khatchadourian.
The whole event was characterised by the low babble of simultaneous translation. But this didn't seem to put off dissertation medallist Roy Khatchadourian. Russian-born, he spoke of the opportunity to look further into his Armenian heritage 100 years on from the Armenian genocide. He took a novel approach to gain access, working in a London practice with an Armenian office to build up contacts and finding out first hand about how the capital city of Yerevan is seen today. He also delved into archives to discover how the 1924 plan by Alexander Tamanyan has helped build a national identity – which appears on the sides of buildings and even the currency. Remarkably, Mendes Da Rocha had visited Yerevan and found it very emotive – also approving of history as told through construction.
Bronze medallist Allan Chong of Newcastle University had taken an exploration of heritage to its illogical conclusion, inspired by Rem Koolhaas' comment that preservation is overtaking us, and by artist Rachel Whiteread's way of working. 'Extraction and projection' was Chang's working method, taking spaces from Sir John Soane's Museum and reworking from there. Describing his project he said: 'Space is the main character in the story.' Mendes Da Rocha put his finger on its complex narrative and delicate designs. 'It is very beautiful. It is almost impossible to understand if we don't build it. It must be built so we can appreciate it!'
The last of the medallists to take to the stand was Thomas Chee of the Chinese University of Hong Kong, whose project 'Crafts Vault' won the 2017 Silver Medal. He looked at how to preserve craft skills in the future by building an outpost of the Victoria and Albert Museum to show and teach future generations. 'Stimulating,' pronounced Mendes Da Rocha. He drew parallels with the city, which has been his own subject over his long career. 'The greatest museum is the city itself which presents a good deal of history… it is very important in the project, you are exposing people.' It seems there is not such a cultural distance between good architecture across the world.
---