Flexible spaces that allow for social distance, quarantined books and fewer touch points will need to maintain the sense of welcome and community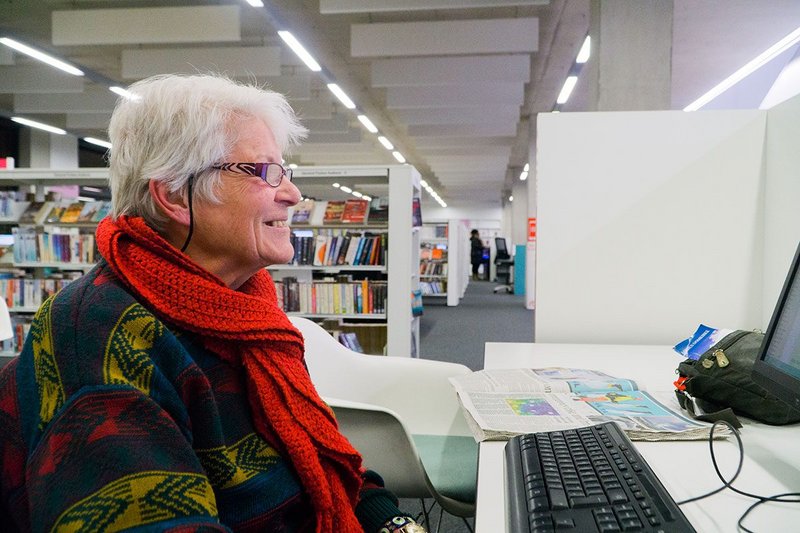 Library IT facilities play a key role in helping people to get online who may not otherwise be able to do so, both through training and the provision of public computers.
Over the past few decades, the nature of what a library is has transformed. No longer just spaces of books or learning, they are places where people of all backgrounds come together, helping to foster stronger and more resilient communities. For some, libraries serve the most basic of needs: they offer shelter, warmth, and toilet facilities, as well as the company of others. They are also a place for study and quiet escape from what may otherwise be noisy, overcrowded households.
The Covid-19 crisis, and the closure of libraries, along with other social infrastructure such as churches and youth clubs, has had a profound impact on our communities. According to Libraries Connected, the national umbrella body for public libraries, there were more than 226 million library visits last year, suggesting that over 50 million visits were lost in the three months of closure.
Public places such as libraries will be key to the social recovery from Coronavirus, but the nature of those spaces has to change. Before the outbreak of the pandemic, library design was about bringing people together, with large spaces for community gathering, collaborative working and shared learning. In the pre-vaccine era, in an environment where we need to be physically distant from each other, and coming together in large groups poses a public health risk, how should libraries respond?
Libraries saw a 600% increase in digital membership over lockdown, and a fourfold increase in the number of ebooks borrowed, as well as an increase in home delivery services for the elderly and vulnerable. While digital services will inevitably play a far more significant role, they alone are not the answer. A tablet at home is no substitute for the social benefits of being physically present in a library and being part of that community.
Aas part of a wider Covid-19 project funded by Innovate UK, IF_DO worked closely with Libraries Connected and its services recovery team to develop a Safer Libraries guide to help with the reopening process.
In the short term, the aim is to provide as broad a service to as many people as possible, while ensuring a safe environment for both staff and customers. In order to do this, we focused on three principal factors: space, surfaces, and ventilation.
Space to allow for necessary physical distancing through the removal of soft seating, spreading out of book stacks and IT stations, and restricting the number of people in the library at any one time.
Surfaces should be sterilised and touch points reduced to mitigate the risk of transmission, such as quarantining books between borrowers, and cleaning IT equipment between users.
Ventilation rates and the flow of fresh air should be increased, with a review of HVAC systems and the changing or upgrading of filters, standalone air filtration units, and the opening of windows and doors.
These factors will be key considerations into future as well. It is likely that the elimination of recirculated air, and the demonstrated air quality benefits of standards such as Passivhaus and heat recovery ventilation, will become a far greater consideration for the commissioners of libraries and other public buildings. Increasing technological change, and self-service check-in and check-out of books via phone apps (already the case in some parts of the world) will become the norm, reducing the need to touch shared surfaces.
It is the need for greater flexibility in library spaces that has emerged as one of the greatest lessons for library design. Libraries have tended towards maximising public floor area and minimising back-of-house space, but with significant storage space now required for the quarantining of books, that will need to change. Being able to easily adjust the ratio of customer-to-staff areas, or to rapidly reconfigure shelving layouts to allow for easier one-way systems has become essential.
When, and indeed whether, a vaccine will be developed is unknown, and we must therefore not assume that this is a one-off health crisis. As Ayub Khan, the head of universal services for Warwickshire County Council, has noted, the implications for library design are huge, 'it's not just the physical aspects we have to consider. We must expect people to be warier of public places from now on and need to design spaces they can feel safe in.'
How libraries can return to being the all-welcoming places they were before the pandemic is one of the biggest concerns for senior librarians. They are used to bringing people together, so actively keeping people apart goes against their natural instincts. It will require sterilising the space but not the experience.
---
IF_DO's Safer Libraries guide, developed in partnership with Libraries Connected and CILIP, the UK's library and information association, along with other guides, can be downloaded from the Covid-19 Safer Spaces website
Thomas Bryans is director and co-founder of IF_DO