A circular economy means being able to reuse a building's components to build. Two projects in the Netherlands are leading the charge towards truly recyclable structures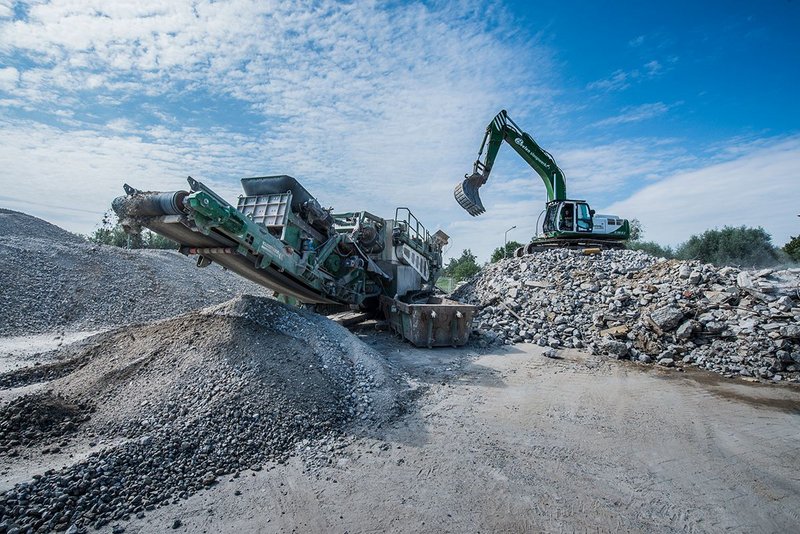 Work in progress on the site
Planet Earth works as a 'circular metabolism' or 'closed loop', where 'waste' from one system is 'food' for another. In other words there is no such thing as waste in the natural world. However, since the industrial revolution, or earlier, humans have practised a different mode of existence, namely a 'linear economy' where we take material and make it into things and then throw them away – perhaps only moments later. Humans are are the only species to process raw materials into stuff that is difficult or even impossible to unpack back into raw materials again. The consequence of this is visible to all of us as rubbish in landfill sites, polluted atmosphere, massive floating islands of plastic, or old smart phones left in our kitchen drawers – all dumb products or materials with no end of life strategy – all part of the human-made geological epoch known as The Anthropocene.
Projects addressing the massive challenges of turning linear metabolisms onto circular systems are discussed in the final 'Step 4' published in my Re-Use Atlas. Put simply, they are products, buildings, materials, etc, designed for perpetual re-use. No waste is generated in the design, manufacture, use and re-use of these products. Buildings designed to these principles are 'material stores for the future'. Products are 'designed for re-manufacture'; but crucially, where BMW claims its cars are 80% recyclable, they are not recyclable into more BMW cars. In a circular economy they will be a resource for future cars.
Two recent RAU Architects building projects that are worth considering are both in The Netherlands. They are the new HQ for Alliander in Duiven, which involves the re-working and extension of existing buildings, and a new-build extension to Brummen Town Hall. Both projects are extensions to existing buildings, although the latter has the added challenge of conservation of a designated monument.
The original town hall in Brummen was designed as a stand alone villa in 1890. As with many municipal buildings the original fabric had been altered and extended to such an extent as to almost obliterate the original valuable architectural heritage. RAU Architects' approach was to restore the original fabric of the villa using materials that matched the original 19th century specifications which support the idea of designing for re-manufacture to ensure that it was clear to discern this from the new additions surrounding it. It should be noted that materials from the original extensions were mostly 're-manufactured' – that is, stone was crushed and the block work used for the facade of the basement.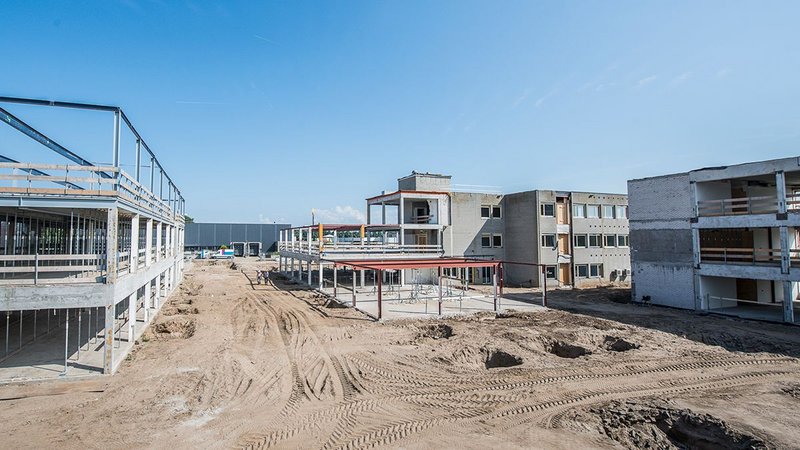 Aggregates from buildings demolished on site, being reused for new buildings on site
The new extension is designed to use as little material as possible, incorporating prefabricated, and modular supporting structure, timber floors, and facade. This all helps reduce the initial ecological footprint of the development and allows for simple dismantling at the end of the building's life. This approach also reduced construction time significantly. However, what is more unusual, and hopefully more ambitious, is the design of the new timber columns and beams. They have been designed as popular sections and lengths to ensure the widest options for re-use at the end of their life at Brummen Town Hall. They are not designed for the specific situation on site. Many other components and materials used on site are 'Cradle to Cradle' certified, which means that during their whole lifecycle they have a minimum environmental impact. The lighting and flooring are on the Turntoo-type lease agreements mentioned in previous articles.
The second RAU Architects project is its headquarters building for energy network company Alliander in Duiven, The Netherlands. At first glance this looks like a brand new building. However it is actually another retrofit and extension of an existing structure, an overcrowded 30-year-old office building. It was originally designed to accommodate 600 people but the new brief asked for facilities to be expanded to make room for 1,500 people.
On this occasion the original buildings are not immediately apparent, as their facades, including the windows, have had an additional layer or 'skin' of second-hand low-grade timber overlay. This provides additional insulation which reduces heat loss and gain. The timber has been 'cooked' or heated up in a controlled environment, which adds to the material's weatherproofing. In addition, the insulation used with this new layer of cladding was made from shredded clothing, some of which came from the client, Liander.
A new roof over-sails both the original and new enclosed accommodation, allowing for well light communal social spaces and environmental 'buffer zones'. Large windows open onto a new central atrium, helping create better levels of natural ventilation, air quality, and increased levels of natural light and therefore greater levels of wellbeing.
RAU says that despite what appears to be a wholesale rebuild, the following statistics make this an unusual construction project:
90% of the materials that comprised the original buildings were re-used for the new project.
50% of all materials are re-used from the old buildings.
42% of the remaining 50% 'new' materials are tagged 'recyclable' by NIBE (the Dutch Institute for Building Ecology). This is how they determined future use.
Therefore a total of 92% of all materials used can be labelled 'Circular' in use.
Second-hand salvaged timber was specified for the new-build elements as well as the retrofit elements. Re-use on the site included concrete and steelwork stripped out of some of the existing buildings, and asphalt from the roofs, toilets and ceiling plates. Even doors were turned into furniture. The steel structure for the new mega-roof was designed with the help of a roller-coaster construction company which has experience in designing with a minimal amount of material. The resulting structure was 30% lighter than normal, using 35% less material and allowing for disassembly at the end of the building's life. 'Raw material passports' are given to all materials supplied to this development. RAU says this will ensure that the potential for this building to be a material depot for future developments will be met.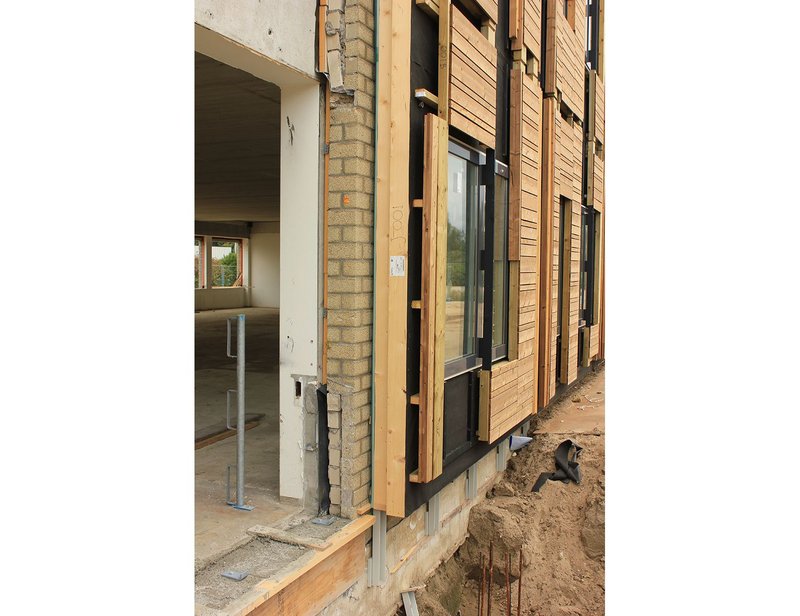 Detail of existing building, overclad with insulation and reclaimed timber
By creating the infrastructure, structures, systems and knowledge to support an authentic circular system, RAU Architects appears to have ensured that this building will in time become a valuable material resource for future generations who may not have access to the raw materials we tend to take for granted today.
Not content with just designing buildings, in 2010 Rau formed 'Turntoo' together with Sabine Oberhuber, a company dedicated to working on new 'circular' business models. The company now develops 'closed loop' systems; products and services for private and public organisations that it hopes will 'facilitate the continuity of life on Earth'. Its ambition is to develop an open network of companies that act as 'closed loop' suppliers for its architectural projects. Once constructed, the buildings can be considered as 'material depots' for future schemes. Turntoo has also created the concept of 'material passports' for second-hand material flows and components. By researching a particular waste source Turntoo adds value to it: 'information turns waste into valuable material'. A material passport is a fascinating concept that will document all the materials used in a building, categorised by their exact specification including level of toxicity, location in the building (structure, skin, etc), their function, and their ability to be dismantled for reuse or recycling. The project is still in development.
Perhaps the most famous partnership Turntoo has developed is its 'circular lighting' concept with Philips Lighting. The idea is simple, but quite possibly brilliant. Instead of buying light fittings, customers lease light – or, to be more precise, they lease the appropriate lux level for the function required. Leasing lux for 10 or 15 years instead of buying light fittings puts the responsibility for the maintenance, performance, and disposal of said fittings firmly with the manufacturer. The idea is that this will encourage far greater levels of corporate responsibility. So, for example, as manufacturers will have to deal with the light fittings at the end of their functioning life, perhaps they will be more inclined to design them for re-manufacture: perhaps they will consider their products as a material resource to re-use in the future?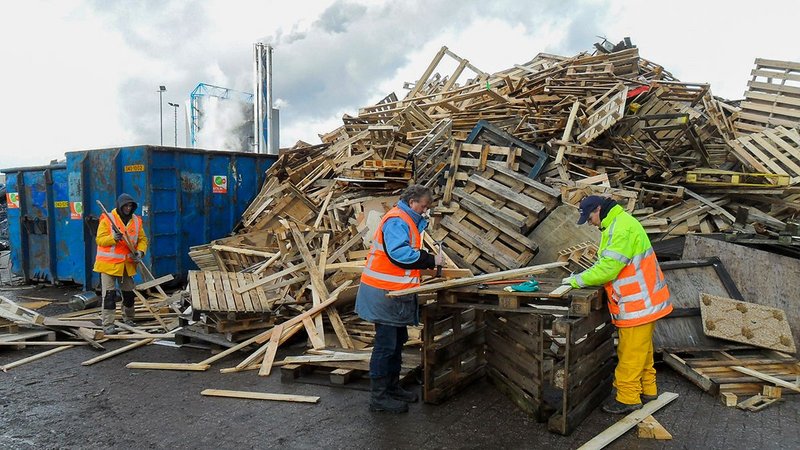 Low-grade timber salvaged from pallets and used to overclad existing and new buildings
Many 'pathfinder' designers have had to invent systems, products even, that enable their visions to be realised. Michael & Patty Hopkins developed hi-tech, prefabricated steel and neoprene cladding systems for their early buildings, because the established supply chain couldn't deliver on their futuristic designs. Turntoo critically unpacks conventional procurement methods, material specifications, contracts with suppliers and maintenance agreements. Rau Architects has established a reputation as an imaginative architect testing ideas of sustainable development. However, it is with Turntoo that it has the potential to create the mechanisms (specifications and contractual agreements) and crucially the new concepts (leasing products, material passports, buildings as material stores) that the design and manufacturing industries need if we are to start changing well established unintelligent linear processes into genuine circular closed loop systems.
So is the architecture community up to this task of designing for re-manufacture? Although it is still a peripheral occupation, consultancies such as The Agency of Design, Arup (Foresight), C2C Expolab, ROTOR, Superuse and Architype, together with academics such as my colleague Professor Jonathan Chapman and Professor Dirk Hebel of ETH Zurich, and of course The Ellen MacArthur Foundation and the RSA, are all making progress testing this concept. While researching my book I was struck how many multinational organisations were taking these concepts very seriously. Interface Floors, Armstrong Ceilings, Adidas, etc. are all putting the weight and reputation of their brands behind the concept of closed loop systems, and crucially they are making money from proving that there is no such thing as waste, just stuff in the wrong place.
---
Architect Duncan Baker-Brown is author of The Re-Use Atlas: A Designer's Guide Towards a Circular Economy