Feeling overwhelmed by carbon zero demands? All that's needed are a few simple actions to take advantage of the help that's out there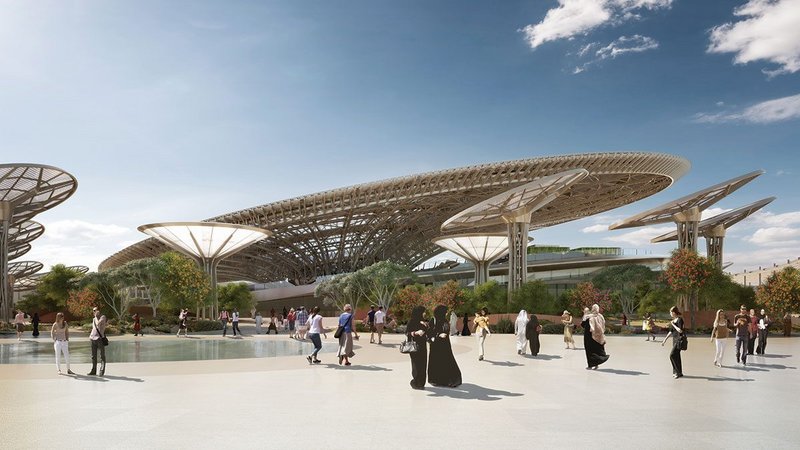 Grimshaw's Dubai Expo 2020 Sustainability Pavilion. Perhaps not the most sustainable project, creating expo pavilions, but this draws attention to natural world, ecology and technology. It captures water from the humid air, as well as solar power.

Credit: Grimshaw
Anyone attending the numerous seminars and activist groups around construction and climate emergency, before Covid-19 caused a temporary halt to them, would be overwhelmed by questions about units of measurement and debates about the methodologies used. So how can you start designing for net zero in operation and embodied carbon?
There are simple actions to get you designing for climate emergency, even before your office has the skills to operate and evaluate the available tools for a full lifecycle analysis. This work is coming from practising professionals in construction. LETI (London Energy Transformation Initiative) is a group that banded together and essentially crowdsources its guidance. It has shown the power of cross-disciplinary working, and reading its documents the Climate Emergency Design Guide and Embodied Carbon Primer will give you the rules of thumb for different areas – from building substructure, through superstructure, to internal finishes.
The pathway of incremental reductions in emissions has been mapped out in the RIBA's 2030 Climate Challenge initiative. Then there are the key design principles from the its rigorous piece of work, the RIBA Sustainable Outcomes Guide 2019, which ties design aspirations and actions to UN Sustainable Development Goals, a framework that has international standing for business and government. The design principles for reducing operational and embodied carbon are produced as print-out-and-keep posters (see downloads below).
Get your clients on side
Client priorities – cost, buildability, programme, tested technologies – often frustrate the best intentions, report practices, even those with established sustainability credentials. Aligning yourself to your clients' drivers can make this easier – which is why the Sustainable Outcomes Guide is so valuable. However, many sectors have their own tools. Peter Fisher of Bennetts Associates explains that adopting assessment tool Science Based Targets has helped its conversations with big developers which also use it. In the investment world asset managers and investors are no longer just ticking the corporate social responsibility box in the annual report for the environment. The environment has become a business risk that must be addressed, and so the conversation changes with tools like real estate benchmarking GRESB playing an important role. Notably, leading London developers are investing in developing a Building For Performance rating tool based on Australia's NABERS.
Beyond those developers that retain their assets are hundreds of others, from housebuilders and householders to local authorities and cities (the majority of which have declared climate emergency), schools and hospitals. Penoyre and Prasad has pledged to give all clients a net zero design option at stage 2, for free. This kind of practical pledge and setting targets for the practice – and talking about them – is essential. The RIBA 2030 Climate Challenge does this and practices from Haworth Tompkins to Studio Bark and Pad Studio are among those that have signed up.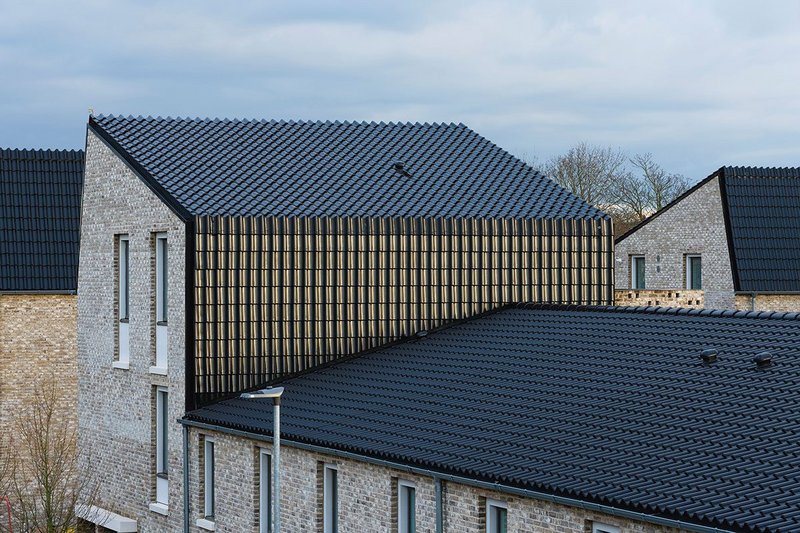 The traditional form of contract of housing at Goldsmith Street, Norwich, allowed Mikhail Riches to thoroughly check the sustainability of the products it specified, as with these tiles.

Credit: Tim Crocker
At Grimshaw Architects, Paul Toyne, one time ecologist and director of sustainability at contractor Balfour Beatty, is grappling with project choices – particularly tensions around work in sections such as transport and aviation (air travel being one area where there is no low carbon option in prospect). With Grimshaw promising net zero carbon ready buildings and infrastructure by 2025, and to deliver socially and environmentally regenerative buildings by 2030, it needs to ensure it has clients who buy into that.
'This is difficult,' says Toyne. 'At what stage do you say "no" if it is an unsustainable outcome?' His plan is to make it part of the conversation with the client, from what it says in the bid to the negotiation of the contract, which could include a requirement for shared access to post occupancy data on bills. 'We need to have the tools and capacity for clients to have confidence in value.'
Do it yourself
Another starting point for many practices is their own operations. Grimshaw has set itself challenging targets on this to have carbon neutral operations by the end of this year – ahead of projects. Changing to renewables tariffs, renegotiating leases and setting up simple video conferencing or offsetting will have a smaller direct carbon impact than bringing in a project at net zero, but they bring the lessons home, as pointed out by Edmund Fowles of Feilden Fowles at a recent RIBA Climate Challenge 2030 event. 'It is an educational tool for the team, we can only learn through actions and going through it ourselves.' It can become a small-scale demonstration project to show clients. Fowles might have added that doing this as the organisation that bears the costs is also important to understand.
Get interested in embodied energy
We have got some way on dealing with carbon in use (operational carbon) but have neglected the substantial embodied carbon that goes into buildings as they are built. This is making up a bigger percentage of carbon as the energy grid has decarbonised, with coal-fired power stations closing in the UK.
The fundamental questions on embodied carbon have to be whether a new building is needed and then what can be re-used – from foundations and frame to doors and windows – a case made strongly in the latest Heritage Counts report. LETI says it is possible to reduce the embodied carbon of buildings by 10-20% with simple cost neutral measures, though more than that is needed to keep on the pathway to reducing greenhouse gases.
Fisher of Bennetts also says embodied energy is where it gets exciting for architects thinking about new build. Here you have to really consider materials, starting with the foundations, which come at a huge carbon cost. If you make the building lighter you can reduce the carbon in the foundation. Building lean and keeping things simple is also critical – from the envelope to self-finishing surfaces and the M&E kit inside. Just put less in.
Doing the rounds on the sustainability lecture circuit are some dire pictures of recommended dull simplified boxes of buildings, though they are offset by more inspiring exemplars like RIBA Stirling-prize winning Haworth Tompkins' Everyman Theatre, and Goldsmith Street housing in Norwich by Mikhail Riches. But people do warn that the way we look at buildings (like fashion) will have to change. One academic has even proposed a new term to describe buildings that are ugly through the way they harm the environment, defornocere.
The goal should be understanding and reducing whole life carbon – not only where things come from but also how they change through their lifecycle, including how maintenance can be programmed in concert with changing leases. Capturing that information on whole life carbon data is what Simon Sturgis, sustainability expert, has been working on for the London Plan, which will be published later this year. Approximately 150 referable schemes (mostly larger or taller) that go to the mayor's office each year will be required to submit information on durability and flexibility, on design for disassembly (for example using lime rather than cement mortar on brickwork) and on low carbon materials and operational energy.
Over the years it has been medium sized buildings with passionate clients that have been leading the low carbon charge. But to avoid increased extreme weather events and the other impacts of the climate emergency, architects of all building scales and types need to be designing for net zero.
---
Stirling sustainability
Annalie Riches, co-founder at Mikhail Riches, explains three things that made a difference to Goldsmith Street's sustainability credentials
Learning from a previous project
Goldsmith Street is the result of learning from another project, Clay Field. We need to learn from what we do through post occupancy and desktop analyses so we can do better next time. We are now trying to learn in turn from Goldsmith Street – testing the effectiveness of the approach and analysing the carbon footprint. We need to share our research freely.
Making the most of what is there
There are freely available natural resources that every site has: wind, rain, sun. There may also be materials. We need to harness these and mitigate their effects. In Goldsmith Street it was solar gain during the winter.
Being in control of the process
It's clear from the government-proposed changes to Part L that it really does not care about the climate crisis – however most people do. We must persuade our clients to do better and to procure projects under traditional contracts. We need to ensure that contractors are building to ambitious targets because design and build does not guarantee us the power to do that. Goldsmith Street was procured as a traditional contact, which allowed us to monitor environmental performance and specify materials that had to be used in construction.