Young architects learn fast when running a project, and that's just one of the benefits says RIBAJ Rising Star Charlotte Knight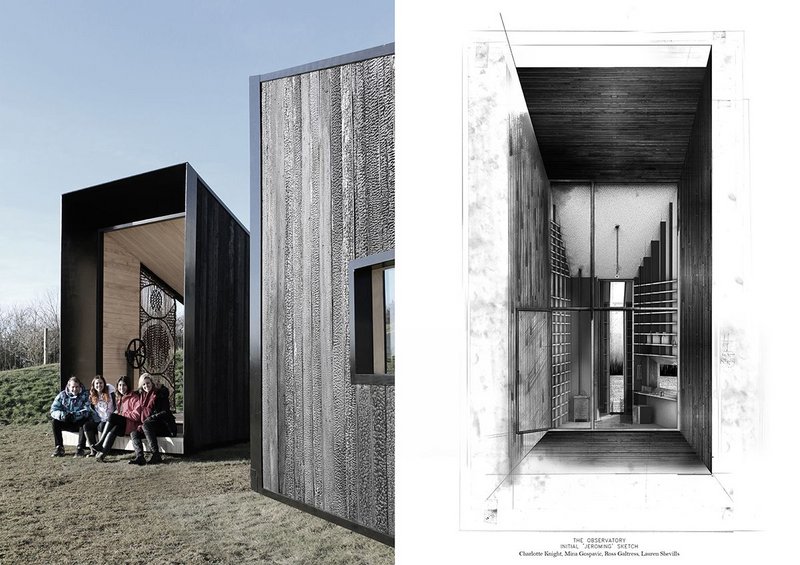 The Observatory as built and perspective drawing of the study within.

Credit: Charlotte Knight
Small projects can be very rewarding for the individuals involved, but are often commercially challenging for large practices. So, how can one measure their worth? One way is to review their impact on practice profile, staff engagement, business efficiency and graduate progression, all of which ultimately feed the business of a practice.
As an example, The Observatory was a small, collaborative and charitable project won by four architectural graduates working at Feilden Clegg Bradley Studios (FCBStudios). The practice supported the graduates and made the scheme one of its own. The project gathered unexpected momentum and was enriched by exhibitions, debates, community workshops, lectures, events, publications, international press and research. The Observatory, a mobile studio for artists in residence, went on to win four awards including an RIBA South Award and was shortlisted for the Stephen Lawrence Award 2016. For the client, SPUD, the project was so successful that, in collaboration with Arts University Bournemouth, it has run residencies into an unexpected third year. For the practice, the project was considered a great success and although this was hard to quantify, it had a large impact on publicity and networking. The Observatory projected the practice ethos, set a new precedent for running small scale projects in the practice and demonstrated what graduates can achieve given the opportunity.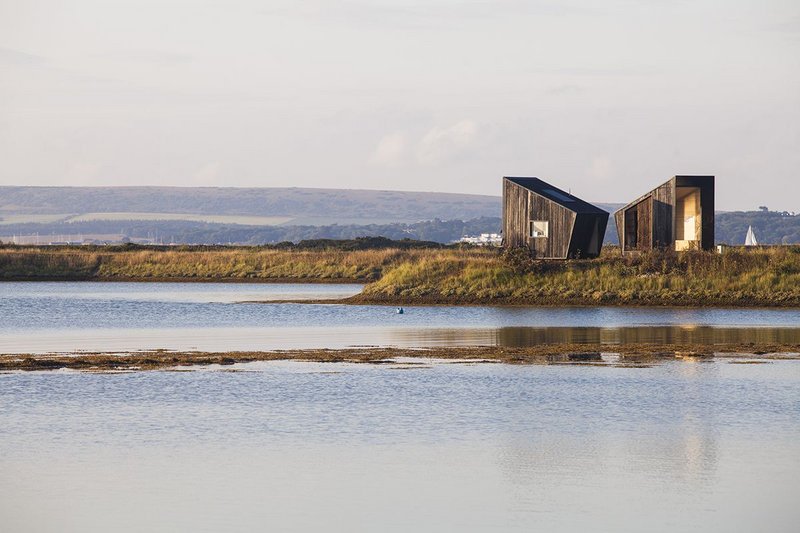 The Observatory at Site Two, Lymington.

Credit: Matt Dunkinson
The graduate team who designed The Observatory went on to use their new knowledge, ability and skills to enter other open call competitions with the aim of bringing work to the practice. Their Pea Soup House idea won a competition that was part of the RIBA 'Constructing Communities' exhibition for the London Festival of Architecture 2016. The team included architects, artists, structural engineers, chefs and researchers. Its aim was to gather communities together through serving food while disseminating a message about London's poor air quality. Publications, including broadsheet newspapers and a broadcast on the BBC London evening news, spread the playful but important message of Pea Soup House by engaging the public and creating a focal point for local air quality initiatives. Press coverage, internal debates and the new networks established had a lasting effect on the practice's ability to communicate its culture of supporting on-going education for architects, which has since acted as a useful recruitment tool.
In both The Observatory and Pea Soup House, FCBStudios invested in its staff. The outcomes demonstrated the importance of offering opportunities to young graduates. It also encouraged staff engagement through collaboration and inspiration. There was little financial incentive but both proved that small projects are vital to the on-going evolution of architectural practices. This begins with young architects being exposed to competitions which encourage creativity, innovation and research and also offer great value for clients. In a very short space of time this can lead to further works stages including client engagement, design development and on site experience, which rapidly increases the graduates' experience.
Small projects help bridge the gap between university and practice. Architecture firms could eventually reap the rewards of giving young staff opportunities to run them. Challenges that don't always materialise in larger scale projects can foster talent, and enable graduates to transfer experience, knowledge and skills onto those larger projects, thus improving the business efficiency of the practice.
Of course, due consideration should be given to the commercial viability, level of liability and risk on small projects, but these should be considered against the positives. It could be acceptable for projects to be acknowledged as 'loss leaders' from their inception. So, can small projects be successful and sustainable within the business, with staff working predominantly within contracted hours? Clearly a balance must be struck; however, with well-organised practice management, efficient resource planning and the clear definition of scope it is possible. Practices that encourage and support graduates to pursue their interests and take a few managed risks will find rewards. Good things come in small packages.
---
Charlotte Knight is one of the RIBA Journal's Rising Stars 2016. She is Part II architectural assistant at Feilden Clegg Bradley Studios.
RIBAJ Rising Stars is a scheme to reward up and coming construction professionals: To nominate someone or put yourself forward for RIBAJ Rising Stars 2017 click here