Technical advances are making 3D printed concrete a reality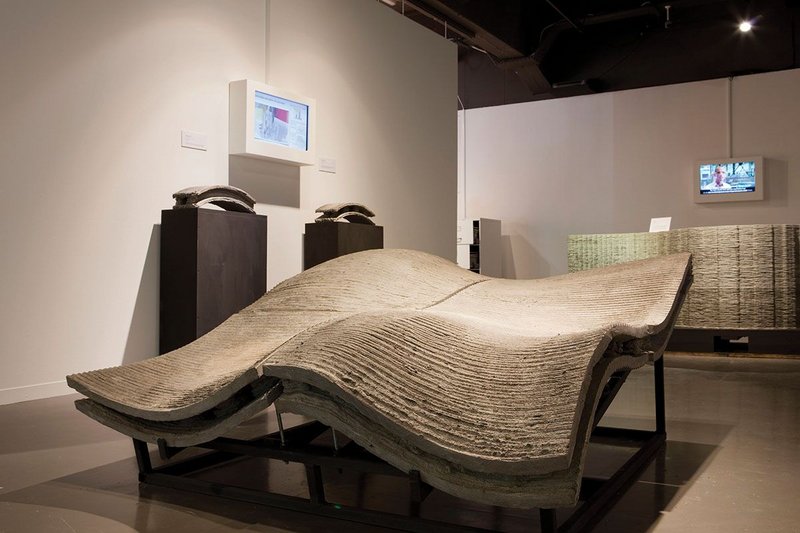 Exhibition of 3D printed concrete samples.
What: 3D printed concrete
Where: Skanska UK/Buchan Concrete, Burton-on-Trent
Developments in 3D printed building construction still leave a little to be desired aesthetically, so the race is on to establish attractive and permanent solutions. One area of focus is on the ability to 3D print concrete – an achievement which would do away with costly labour, formwork and waste, both on and off site, and implement a step change in the construction process.
While research teams in France and China are busy seeking solutions, Skanska in the UK is competing to develop techniques capable of printing building and infrastructure components, from junction pieces for drainage, copings and bridges to facade panels. The 36-month long research project is in the properties testing phase and will end up with a marketable product/process. Reports are promising.
'Much of the technology already exists,' explains Robert Francis, director of innovation and business improvement at Skanska UK. 'Our work focuses on the manufacturing process, specifically the delivery of the concrete in the robot – the system of delivery, the concrete mix and the computer programming needed to convert 3D digital drawings into robotic language. We are interested in the rate of flow, how it integrates and how it behaves over 20 years.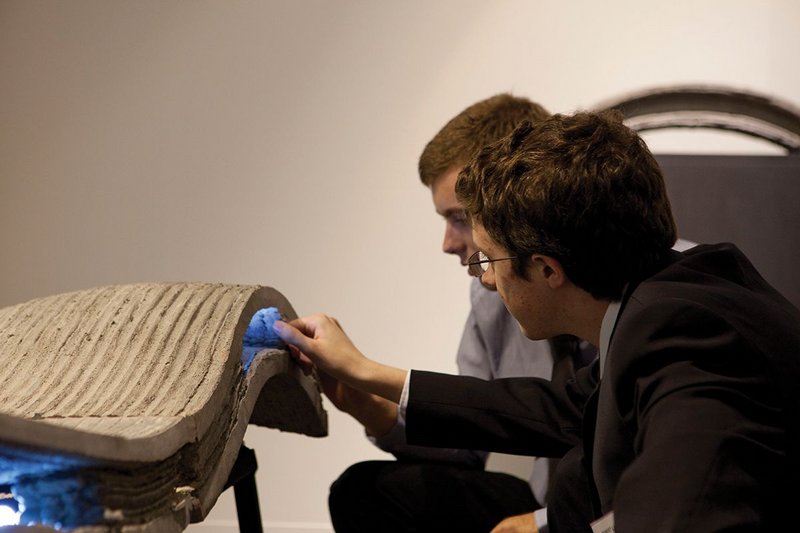 Testing is in progress to determine the concrete's properties.
Partnered with Loughborough University, Foster+Partners, Lafarge Tarmac, ABB Robotics and Buchan Concrete, the research is taking place at Buchan Concrete's facility near Burton-on-Trent, as well as at Loughborough and the BRE Innovation Park in Watford. Using real-life applicable designs provided by Fosters, a computer controlled robotic arm deposits a continuous bead of specially formulated grout to produce any desired shape.
Results indicate to a high compressive strength of up to 100N/mm2 and inherent tensile strength of 10N/mm2. Tensile strength can be supplemented by the addition of steel reinforcement through ducts, and alternative reinforcement techniques are being investigated. Meanwhile, one of the process's most transformative aspects is the speed at which items can be produced. The testing robot being used by Skanska is printing at a rate of 600mm per second – which, for example, can fully construct the panel in the above image in a matter of only three-four hours in total.
Skanska's ultimate aim is to produce prefabricated 3D printed components and deploy 3D printing robots for on-site construction. The next six to 12 months will be spent researching how to get the robots to site.
---
Skanska 3D printing technical specification
Compressive strength of up to 100N/mm2
Tensile strength of 10N/mm2
Printing rate of 600mm per second
---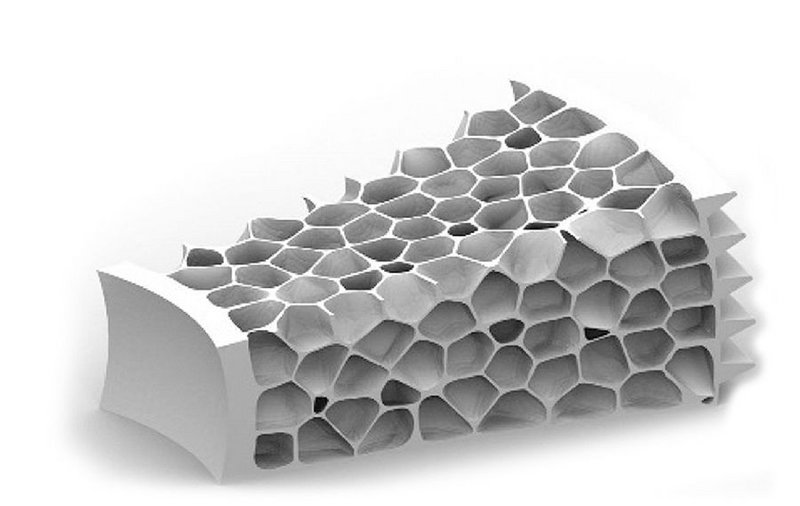 Drawing of the honeycomb printed structure.
HISTORY OF 3D PRINTING
3D printing has a contentious history characterised by different descriptions and names. While the process really kicked off in the 1980s, others have cited much earlier, and obscure, beginnings with the photosculpture method of François Willème in 1860 and Blanther's layering method proposal for producing topographical maps in 1892. The former could capture an object in three dimensions using cameras surrounding the subject. By the 1980s these technologies were called rapid prototyping (RP) or additive manufacturing (AM), and conceived as a fast and cost-effective method for creating prototypes within industry. The first patent application for RP technology was filed by Hideo Kodama of Nagoya Municipal Industrial Research Institute in Japan in 1980. Kodama invented two fabricating methods of a three-dimensional plastic model with photo-hardening polymer, where the UV exposure area was controlled by a mask pattern or the scanning fibre transmitter. In real terms, however, the origins of 3D printing can be traced back to 1986, when the first patent was issued to Charles Hull for inventing stereolithography apparatus in 1984. The technology used a laser to etch a 3D model into a special liquid (photopolymer). Hull went on to co-found 3D Systems Corporation — one of the most prolific organisations operating in the 3D printing sector today.
---