UK universities' ACORN project cuts concrete use with robot-manufactured curved 'thin shell' panels on columns and a raised floor above in quest for net zero buildings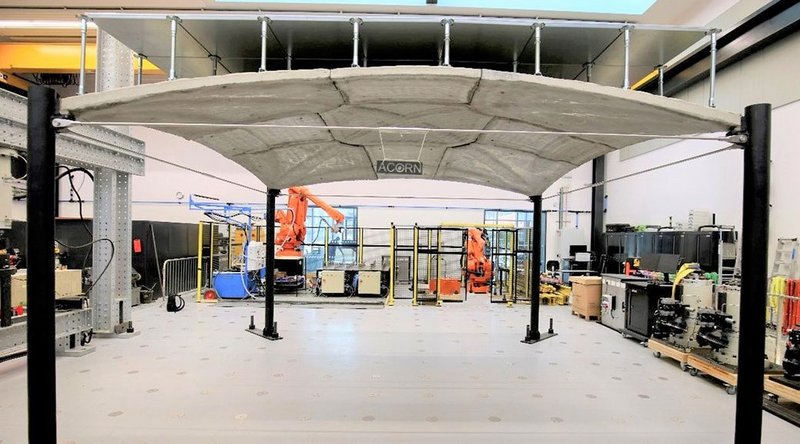 The prototype 4.5m x 4.5m slab installed at Cambridge University
A robot-manufactured 'thin shell' vaulted floor slab with 60% less embodied carbon than an equivalent flat slab could be the secret to unlocking net zero buildings, according to researchers behind the first full-scale prototype.
The segmented structure was developed by ACORN (Automating Concrete Construction), a research project led by an interdisciplinary team of structural engineers, mathematicians and manufacturing experts from the Universities of Bath, Cambridge and Dundee.
The project received £1.5 million of funding from UK Research & Innovation (UKRI) and is backed by a consortium of 15 industry partners including Laing O'Rourke, BRE, Buro Happold, and architects Foster + Partners and Tonkin Liu.
The integrated system comprises a series of curved concrete panels interconnected to create a vault standing on supporting columns. A raised floor above provides a level floor surface.
The structure is designed to resist compression forces as a more efficient and lightweight alternative to traditional floor slabs, which rely on the bending strength of concrete to support loads – resulting in the need for steel reinforcement to resist tension induced by bending.
ACORN claims its approach can deliver slabs with approximately 75% less concrete than conventional RC slabs, with greater savings in embodied carbon possible as processes are optimised. A full lifecycle analysis is under way.
Paul Shepherd, a reader in Bath's Department of Architecture & Civil Engineering and the principal investigator for ACORN, said: 'The elevator pitch is essentially: let's use concrete in compression, let's put it only where it is needed and let's use a lot less of it, which is great for the environment.'
Thin shell floors are impractical to construct using traditional temporary formwork. Instead, an off-site solution was developed involving an automated adaptable mould and a robotic concrete spraying system. Bespoke software optimises floors for a given building design and controls the automated manufacturing system.
Each mould is formed using a grid of computer-controlled pistons that push into a plastic sheet stretched over a timber frame. A six-axis robot then sprays concrete impregnated with reinforcement fibres over the mould in layers to build up the necessary thickness. Thicker ribs are produced across diagonals and around the edges of the vault to stiffen the structure as required.
The structure is connected by reversible joints that enable the floor to be disassembled and reused at the end of the building's life as part of a circular economy.
The full-scale prototype vault erected in the NRFIS Laboratory at Cambridge University measures 4.5m by 4.5m and is divided into nine concrete sections. Larger spans and different sized vault arrangements would be possible in a proper factory environment, said Shepherd: 'It depends on whether you want lots of little domes or a few large ones. If for example, you had a 9m grid and a series of bays, you could have one dome per bay. Or if your column grid is very wide, you could have a sub grid of beams with smaller domes that sit on top.'
He added that services could run along either the ridge line on the underside of the vault, or over the top in the valleys under the floating floor. 'The demonstrator showed we could definitely fit in a 300mm air duct where the false floor is highest. You also could create holes through the vault to accommodate sprinklers, or have the pipework exposed underneath to make a feature of it.'
The three-year research project comes to an end in March and ACORN is awaiting a decision on its application for additional funding from UKRI to take the project into the next stage of R&D.
This would likely see the development of more robust mechanical fixings between panels to enable disassembly and considerations around fire testing, said Shepherd. More details are available on the project website.
Concrete is the world's most widely consumed material after water and its production contributes more than 7% of global CO2 emissions. Other developments working to improve the sustainability of concrete include using geopolymers instead of Portland cement, being trialled by Snohetta, re-using existing concrete sections on this dramatic bridge and hybrid structures using both timber and concrete as explored by Steve Webb.