Sunsquare has developed an alternative to opening hinged rooflights, with an electronic sliding design that offers specifiers maximum flexibility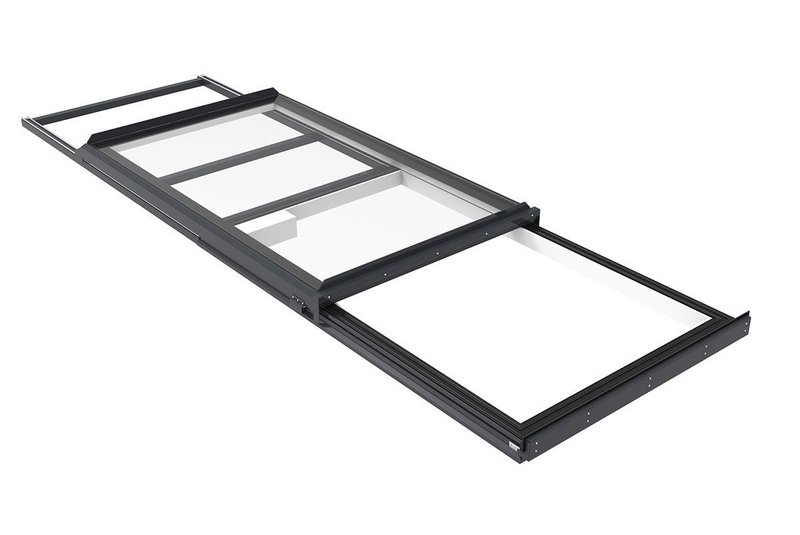 The Aero Glide is the next generation of Sunsquare's electronically-operated opening rooflights and offers ventilation and roof access using a simple press-and-hold touch switch.
Historically, architects working with opening skylights have been constrained by a lack of choice. Until now, there has been little other than conventional, hinged designs on the market: a narrow product spread that has not only limited specification options, but has also left decision-makers having to compromise. The usual trade-off is swapping the high-end looks that clients want for the level of functionality they really need - particularly when it comes to providing access to rooftop areas or much-needed ventilation.
Sunsquare's Aero Glide aims to change all that, not only by giving specifiers something different, but by creating a skylight that delivers the wow-factor and gives customers access to rooftop areas or fresh air, faster. After 15 successful years specialising in flat-roof skylights - and flat-roof skylights alone - Sunsquare offers solutions engineered to overcome the challenges architects face. With a pioneering electronic sliding design, the new Aero Glide model offers swift opening at the touch of a button - with clean lines and a sleek aesthetic to match.
Designed for flexibility
One of the key concerns during the Aero Glide's 12-month development was flexibility of specification. It features a sliding pane that is available in two configurations: either over a fixed pane of glazing (allowing maximum natural light to enter) or over a cantilever frame. This sliding element of the skylight works on a vertical or horizontal axis so it can open across its width or across its length.
For end users convenience is key, so Sunsquare also engineered the Aero Glide to allow glass to move quickly and quietly. Its innovative sliding design offers market-leading opening and closing times as fast as 10 seconds per metre. Its two compact motor gears are hidden within the base frame, keeping noise to a minimum for smooth and discreet opening (operated electronically through a custom-built control panel with an easy-to-use press-and-hold two-button switch).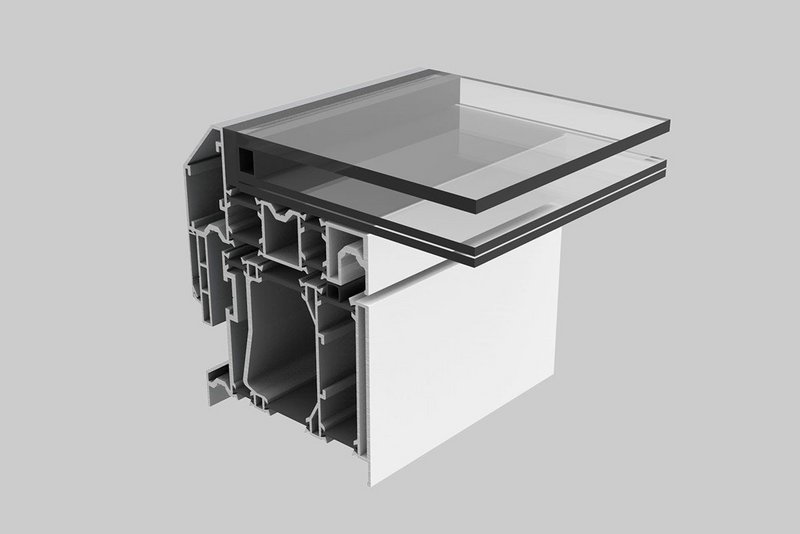 Sunsquare's new Aero Glide sliding skylight features three separate runs of thermal break.
Unrivalled thermal efficiency
Sunsquare rooflights have the most thermally efficient profiles on the market - and the Aero Glide is no exception. Its specially adapted frame contains three separate runs of thermal break, using polyamide insulating sections to create an effective barrier between internal and external temperatures. This guards against cold bridging, which can cause unwanted condensation and potential structural damage if left untreated. The Aero Glide also features argon-filled, soft-coat low emissivity glass to help reflect internal heat and add another layer of insulation.
Safe and secure - no matter what
Anyone who puts glass over people's heads needs to take safety seriously. Like all Sunsquare rooflights, the Aero Glide comes with shatter-proof laminated glass as standard. The safest, most reliable glass on the market, it helps protect end users in the event of damage by catching and holding any broken glass crystals within the laminate. It also provides effective protection from UV rays, while still allowing natural light to stream in.
A skylight for life
Sunsquare designed the Aero Glide to provide architects with more choice, balancing style with functionality. The company is committed to working with specifiers to help breathe life into buildings, pushing the boundaries of what is possible in rooflight design - and continuing to set the standard for safety, efficiency and performance along the way.
For more information and technical support, visit: sunsquare.co.uk
Contact:
01284 848798