Made-in-Britain luxury vinyl tiles offer specifiers a natural looking alternative to terrazzo and marble for their commercial interiors projects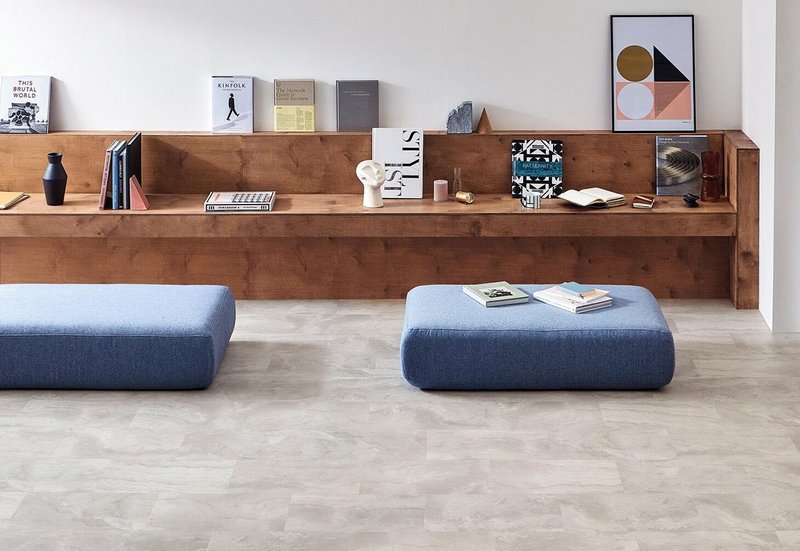 In stock and guaranteed to perform for ten years: Amtico Spacia SS5S2619 Grey Marble luxury vinyl tiles laid in a broken bond pattern.
Amtico Spacia Stones luxury vinyl tiles (LVT) are designed and manufactured in the UK. They create an eye-catching finish and are available in a range of natural palettes and 48 realistic designs.
Bold terrazzo tiles and tonal marble floors look spectacular in commercial spaces of all sizes and, unlike traditional materials, Amtico Spacia LVT is simple to specify and easy to maintain in demanding environments.
Terrazzo and Elemental Terrazzo are Spacia's two latest interpretations and provide architects with a durable and lightweight material that can bring an injection of joy to any space.
Spacia Stones LVT: Terrazzo
Available in six versatile colours, the Terrazzo designs are packed with marble chips, ranging from light and pearlescent Gibson to dark and dramatic Highball - each capturing the decorative detail of terrazzo, but with the hassle-free installation and maintenance benefits of LVT.
From small intimate areas to covering an expansive room, Terrazzo's combination of scale and colour is perfect for transforming a breadth of different applications in commercial flooring design.
Spacia Stones LVT: Elemental Terrazzo
For a bolder aesthetic, Elemental Terrazzo features larger 'marble' pieces, quartz lines and warm marble chips scattered in a mix of dense clusters and sparse areas, all set within a 'concrete' base for a dramatic effect.
To create subtle zoning or change an area's focus, Elemental Terrazzo can be specified with two co-ordinating concretes (Rialto and Villa), which can also work on their own to provide a simple ceramic look.
Spacia Stones LVT: Marble
For a cost-effective and practical alternative to heavy tiles, Spacia's Marble is a new and modern take on the traditionally bold material.
The cohesive palette of soft, organic shades echoes the look of the material, but in a lightweight LVT tile.
From contemporary Rose Marble to classic Black and White, Spacia Marble works in both classic and contemporary spaces and is available in five flexible sizes, including two parquet sizes, for complete design freedom.
Spacia Stones LVT: Combining designs and palettes
Spacia Stones, including Terrazzo and Tones (Spacia's range of subtle flat colours), are designed in complementary palettes that can be specified and installed seamlessly together.
They can also be combined with timber-look range Spacia Woods - something much harder to do if using the real materials, such as marble or terrazzo.
5 reasons to specify Spacia Stones
UK designed and manufactured at Amtico's Coventry factory.
Practical and easy to maintain with an active ingredient that provides antimicrobial protection against MRSA and E.coli throughout the useable lifetime of the floor.
Enhanced with an ionic silver additive, which is applied to the urethane coating during production and has been proven to reduce bacteria by more than 99.99 per cent over 24 hours.
Available in a variety of sizes, including a 36x36in Stone format that makes it easy to transform larger spaces, such as retail and hospitality environments. The tile format is also perfect for Terrazzo and Tones.
0.55mm high density wear layer, ten-year commercial warranty and accreditations, plus M1 building emissions classification.
For more information and technical support, visit amtico.com/commercial
Contact:
0121 745 0800
---