These natural-look, made-in-Britain Spacia luxury vinyl tiles by Amtico offer specifiers a new balanced and holistic approach to commercial interior design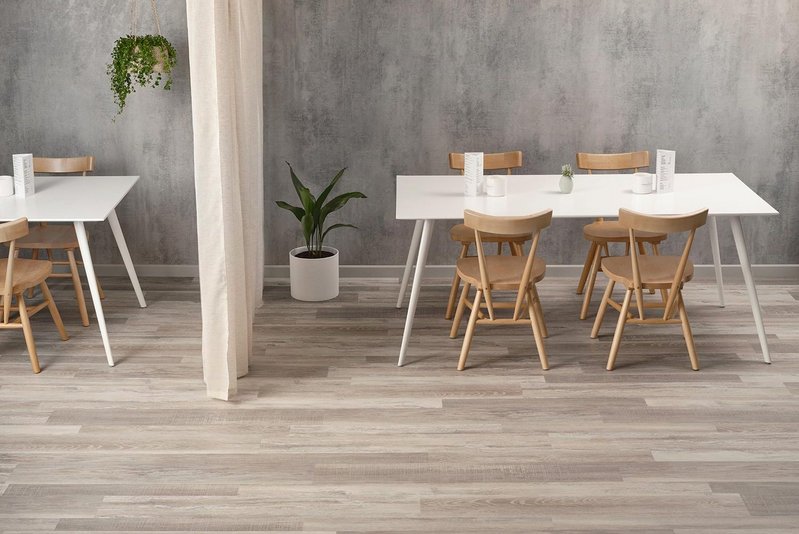 British flooring manufacturer Amtico has revolutionised its popular Spacia luxury vinyl tile (LVT) collection with a fresh look, new designs and highly realistic textures.
Designed and manufactured in the UK, Amtico Spacia was created following more than 100 hours of customer research to help architects and designers meet client briefs and create the sense of calm and biophilia-inspired wellbeing that commercial spaces now demand.
The collection comprises 46 Woods and 48 Stones and has an active ingredient that provides antimicrobial protection against MRSA and E.coli throughout the useable lifetime of the floor, as well as a 0.55mm high density wear layer.
Over 90 Spacia designs can be specified with Acoustic backing or 36+ enhanced slip resistance finish to meet the requirements of the BS EN 13845 standard and allow architects to create aspirational spaces within safety guidelines.
Amtico Spacia Woods LVT designs
Spacia's Woods reflect trends for natural finishes across all sectors. They have been arranged into six versatile and usable palettes, including Warm and the new Golden tones, to provide a variety of texture and colour.
New to the collection is Salvaged Timber, a versatile design that removes the challenges of working with reclaimed materials in commercial spaces. It is brilliant for creating movement, with contrasting grains and tonal variations.
Available in two colourways - Urban and Washed - Salvaged Timber performs beautifully when laid in Large Parquet, Stripwood or Amtico's unique Boardwalk laying pattern, which is a combination of two different sized planks.
Heritage Oaks is another new design, which offers a reclaimed aesthetic with softly worn grains, sawn mark detailing and realistic, in-register surface texture.
Amtico Spacia Stones LVT designs
Spacia's Stones have undergone a refresh to reflect the change in the way people are using spaces.
There is an emphasis on natural designs and palettes that are easy to specify, including three new trend-driven products: Marble, Terrazzo and Tones.
Marble is a modern take on the traditionally bold material, offering organic shades with delicate detailing in four colours, including the blush hues of Rose Marble.
Terrazzo and Elemental Terrazzo feature colourful marble chips. They address the need for pattern and bold colour in commercial interiors, while providing architects and designers with a lightweight, easy-to-install LVT alternative to concrete or resin-based tiles.
The dramatic designs can deliver impact across a range of spaces, from small decorative areas to expansive interiors.
For more subtle introductions of colour, the Tones palette brings together nature-inspired shades with a chalky feel and can be used to create calming interiors with natural colour injections and realistic tones.
Amtico Spacia is designed and manufactured at the company's Coventry factory. The collection carries a 10-year commercial warranty and accreditations, including M1 building emissions classification.
For more information and technical support, visit amtico.com
Contact:
0121 745 0800
---