Discover the luxury vinyl tile collection that provides enhanced slip resistance for the lifetime of the product and comes in a range of impressively authentic designs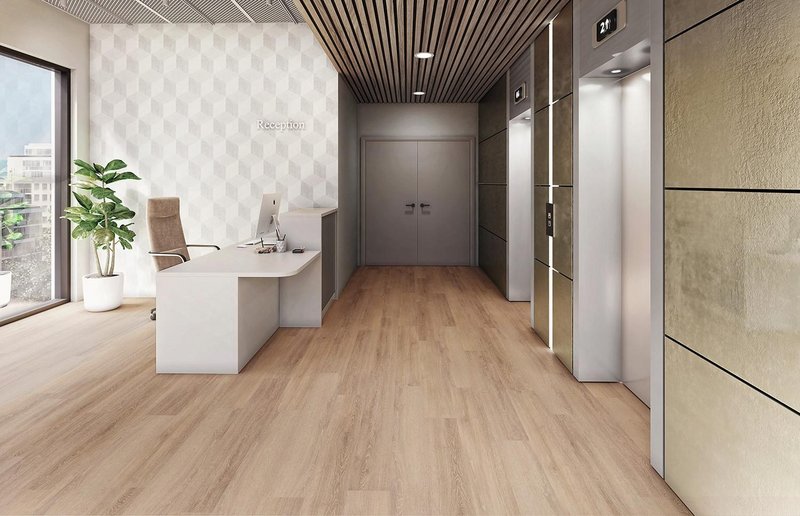 Muted Oak SS5W3312 luxury vinyl tiles in Stripwood laying pattern, Spacia 36+ safety range, Amtico.
The best way to combat slips and trips is to design them out of a building by specifying a reliable, attractive safety floor.
The Amtico Spacia 36+ luxury vinyl tile (LVT) collection is designed and manufactured in the UK.
It offers slip resistance for the lifetime of the product, a 0.55mm high density wear layer and antimicrobial protection - and all available in 42 Wood and 48 Stone designs, including on-trend Terrazzo and Marble.
Spacia 36+ LVT can be specified in a range of flexible plank and tile sizes, including two Parquet options, providing architects with enhanced design options and the freedom to create stylish floors that also meet the BS EN 13845 standard.
Both R10 and 36+ are slip resistance ratings measured 'ex-factory' or 'out of the box', which means the performance is stated at the point of purchase only.
Many standard LVT products will achieve R10 or 36+ when leaving the factory, but they can only be truly classed as safety flooring if they achieve the BS EN 13845 Enhanced Slip Standard, which is measured through abrasion testing.
Amtico's Spacia 36+ performs at the highest level, making the collection suitable for Commercial Very Heavy and Light Industrial Heavy use.
Amtico's unique manufacturing technique distributes slip resistant particles throughout the wear layers, ensuring enhanced slip resistance over the floor's entire lifetime without compromising on the aesthetic.
Planks and tiles in the Spacia and Spacia 36+ collections are enhanced with an ionic silver additive, which is applied to the urethane coating during production.
The active ingredient provides a hygienic surface where bacteria cannot multiply or survive and has been proven to reduce bacteria present by more than 99.99 per cent over 24 hours.
Made-to-order at Amtico's Coventry factory, Spacia 36+ safety LVT combines authentic designs with high-performance slip resistant particles and antimicrobial technology to create a collection that is easy to specify, quick to install and durable.
Whether the space requires a beautiful aged wood or stylish stone feel, Amtico's Spacia 36+ designs mean architects never have to compromise creative vision for safety performance.
The collection carries a 10-year commercial warranty and accreditations, including M1 building emissions classification.
For more information and technical support, or to order a brochure and samples, visit amtico.com
Contact:
0121 745 0800
---