Free-to-use search tool, developed in collaboration with government's MMC adviser, enables practices to showcase their expertise and scope out systems and partners for projects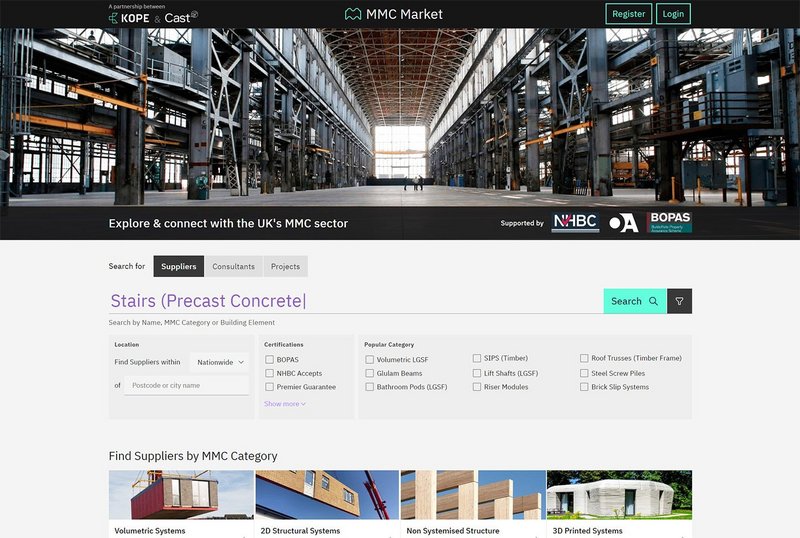 MMC Market enables users to search for specialist suppliers and consultants and investigate best practice projects.
More than 30 architects are showcasing their work in an online directory for offsite consultants and suppliers co-developed by the government's independent champion for Modern Methods of Construction (MMC).
Architects including Grimshaw, HLM, Hawkins\Brown, Chapman Tayor and Stride Treglown have signed up to manage their own listings page on MMC Market, a free-to-use portal where clients and supply chains can search for potential partners and products for offsite projects.
The Google-style tool, launched at the end of last year, was developed through a partnership between the construction software platform KOPE and offsite consultancy Cast. Cast's CEO Mark Farmer was appointed as the government's champion for MMC in housebuilding in 2019.
Construction and 3D content directories are already available online, but it's understood that none are specifically tailored for the MMC sector. Dayle Zielentino, product manager at KOPE, told RIBAJ: 'There is a lack of visibility into the MMC sector so people had to do their own research and compile their own supply chain lists. We wanted to hone in and create the first fully maintained directory dedicated to the sector, which is free to use and, much like Google, doesn't require a log in.'
MMC Market enables users to search for specialist suppliers and consultants and investigate best practice projects. Suppliers (around 300 are currently listed) cover all categories of offsite products, ranging from volumetric units to 2D panellised systems and assemblies. Consultants that specialise in MMC cover architects, engineers and quantity surveyors and there are hundreds of case studies of exemplar schemes.
Suppliers can be filtered by factors such as distance from a site's location, compliance with specific certifications, such as NHBC Accepts or the Buildoffsite Property Assurance Scheme or the sale of specific MMC product types.
Farmer led a government working group to develop the first ever framework for defining MMC, which covers seven definitions of offsite categories. These are all searchable within the tool and mapped to related manufacturers. A zoomable map displays the locations of suppliers and their factories to check proximity to sites.
Designers can list themselves as consultants if they are actively working in the MMC space; others can use the tool to scope out the feasibility of using offsite products and systems on projects.
According to Mark Thorley, co-founder and CEO of KOPE, architects are 'one of the primary users/consumers of the marketplace data,' which can help them understand what manufacturers and suppliers are out there. 'By collaborating directly with manufacturers and contractors, architects can make decisions early in projects to help influence design in a positive way.'
Certain suppliers have uploaded their products into a 'Flex' 3D configurator on the platform, where users can test out product capabilities within the bounds of the manufacturers' intent and assess how they measure up to alternatives.
For example, MMC housebuilder Etopia allows users to visualise its wall panels in 3D, alter their size and sill heights and calculate the number of panels and the weight of a specified wall length. The file then can be downloaded as an IFC model for integration into BIM.
The future roadmap for the tool includes plans to allow project teams to transfer products in MMC Market into their own projects in the KOPE Construct platform to better understand their viability in a real-world context. There are also plans to add data on factors such as embodied carbon, fire and water ratings, and structural integrity.