Ceramics are making quite a splash nowadays on architectural facades, taking a Victorian innovation well into the technological age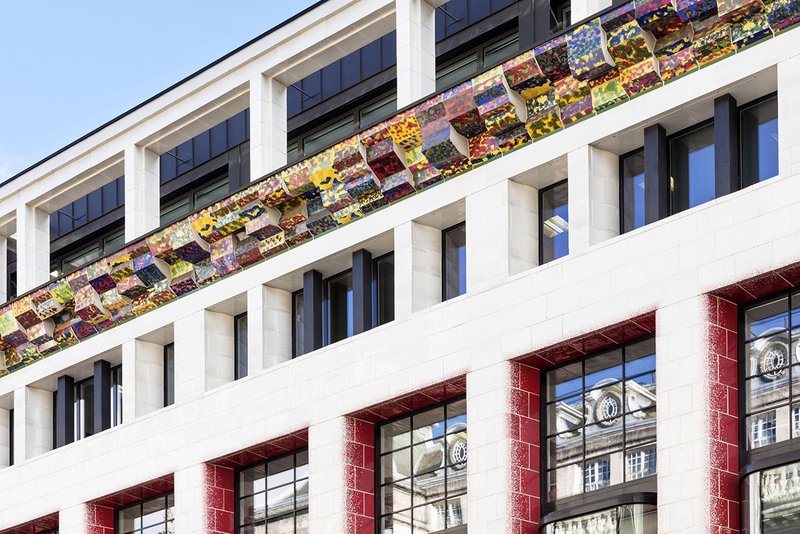 One Eagle Place

Credit: Paul Carstairs. Arup.
No materials are more expressive than architectural ceramics. The versatile shapes that can be formed in clay, and their bright glazed surfaces, are rapidly evolving as artists, architects and engineers work together to push the boundaries of these beautiful materials.
In my experience, few architects have worked with architectural ceramics or are aware of their prevalence, but ceramic buildings are everywhere. Terracotta and faience (glazed terracotta) emerged in Victorian Britain as an industrialisation of the craft of stone carving. By casting clay into moulds, complex architectural features could be mass produced. Terracotta quickly spread across Europe and North America where it became the material of choice for cladding skyscrapers, such as Manhattan's apparently 'stone-clad' Flatiron building. Such is the abundance of terracotta in New York, that historians have an expression: 'Don't take it for granite!'
But far from seeing it as artificial, architects quickly understood the artistic potential of ceramics as materials in their own right – harnessing the beauty of the fired clay and glazes seen in tableware and china, and translating them into stunning Art Nouveaux, and later Art Deco, facades.
The likes of Renzo Piano brought a new wave of ceramic cladding throughout the 1990s and 2000s in the form of profiled extruded terracotta rainscreen, but more recently architects have begun to rediscover the creative opportunities of three-dimensional ceramics – reviving casting techniques for terracotta and faience. Buildings such as A House for Essex by FAT and Grayson Perry, or Amanda Levete's MAAT Gallery in Lisbon, stand out as projects which pioneer a new ceramic architecture.
Good ceramic buildings are truly amazing – but these materials can be unpredictable and the right mix of expertise is essential to success. The best projects include an artist at their core working within the design team, and a facade engineer with specialist experience of clay's idiosyncrasies. On Eric Parry's One Eagle Place in London, artist Richard Deacon was commissioned to design the three dimensional polychromatic cornice, which provides a deeply profound link between the new buildings and their context at the western edge of Piccadilly Circus. Arup's grasp of ceramic materials helped the design team give the building a highly creative facade. Pottery techniques such as the application of glaze transfers around faceted surfaces were used to create the vibrant colours – common in tableware but unprecedented on a building – and a rigorous programme of testing ensured their longevity for its lifetime.
As well as unique forms, the surfaces of architectural ceramics hold great potential. Dutch ceramicist Christine Jetten has made the development of unique glazes for architecture her life's work, and renowned potter Kate Malone has similarly applied her extensive glaze research to buildings. Following a successful public arts commission in Brighton, Malone was given the opportunity to explore ceramic glazes on a major commercial development with EPR Architects for Mayfair's Savile Row. An otherwise ordinary terracotta rainscreen tile provided a plain canvas onto which she applied vibrant black and white glazes, fired at super-high temperatures and then carefully cooled to encourage unique crystals to grow as the minerals reacted. The surface takes on multiple identities in changing lights and stops pedestrians in their tracks.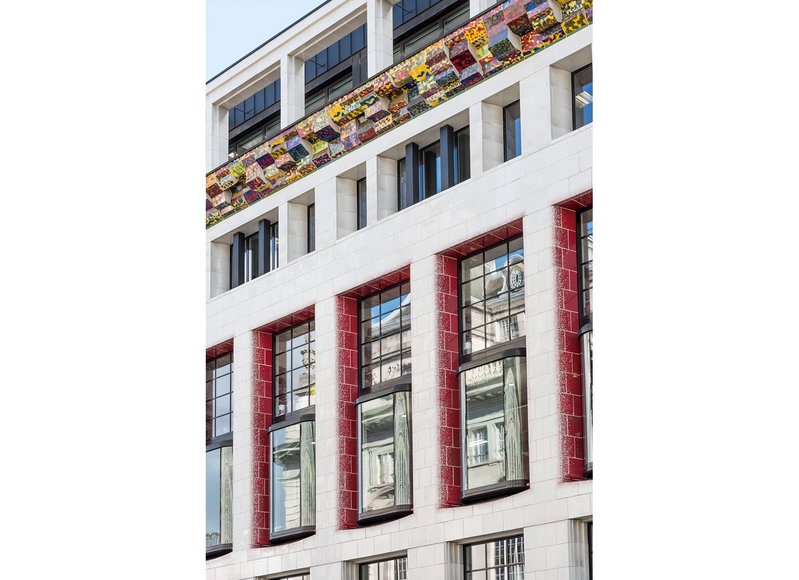 One Eagle Place

Credit: Paul Carstairs. Arup.
Looking to the future, a handful of specialist manufacturers are embracing technology alongside their traditional casting techniques – developments in 3D printing clay and 5-axis CNC manipulation of clay are beginning to break through to commercial use. Traditional craft, contemporary art and digital technology are merging to create exciting new buildings.
Alexis Harrison is a designer at Arup, specialising in clay materials for architecture and design. He provides consultancy to architects, developers, contractors and building product manufacturers, and works on innovative brick and ceramic buildings.