A trio of projects reveals how working with an expert rainscreen systems company can help architects achieve distinctive buildings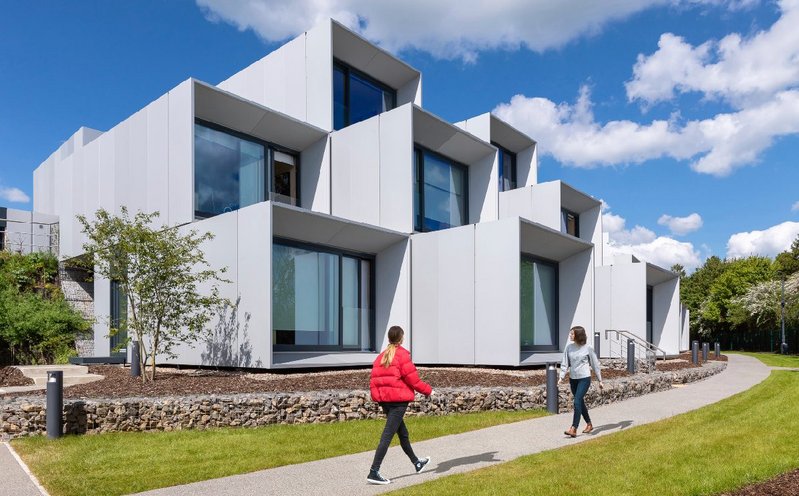 Student accommodation at the Dyson Institute for Engineering and Technology, Malmesbury, Wiltshire. Wilkinson Eyre. The residential pods are finished with Bailey's anodised aluminium rainscreen panels.

Credit: Dyson / Peter Landers
The external facade of a building can play a seminal role in realising an architectural vision, particularly where space and function place limitations on a building's form.
Rainscreen systems company Bailey Total Building Envelope has been working with the architects of three landmark UK projects to create innovative themed facades.
Case study 1: Dyson Institute for Engineering and Technology, Malmesbury, Wiltshire. Wilkinson Eyre
The Dyson Institute combines higher education with commercial research and development and is built on an ambition to become the best engineering university in the world.
Its student accommodation needed to complement the Institute's approach to education and reflect its aspirations.
Dyson's vision was to bring together innovative visual, structural and material solutions that would immerse students in a progressive and dynamic living environment.
The solution was a series of residential pods, finished with Bailey's anodised aluminium rainscreen panels for a clean, modular aesthetic.
The anodised aluminium combines durability and colour stability with low maintenance and is a popular choice for modern facades, featuring a range of gloss levels and metallic finishes.
Case study 2: Telehouse North Two datacentre, London Docklands. Nicholas Webb Architects​
Telehouse North Two in Poplar, Tower Hamlets is a £135 million 11-floor datacentre facility.
The creation of Nicholas Webb Architects, its exterior features a Bailey-manufactured printed circuit board thematic design. The building, which is particularly striking when illuminated at night, has become a modern landmark in London's financial district.
A dedicated project management team at Bailey worked closely with the architect and facade contractor Prater. They provided technical advice from the early stages and assisted in creating workable drawings of the panel design using the latest 3D software.
These drawings were integral to the precise manufacturing process and the correct installation of the complex circuitry pattern.
Bailey also supplied the expanded mesh panels to the rear of the building. These were also modelled in 3D to ensure they fitted into the grid system and allowed for the projection of the steel supports between panels.
Case study 3: Tottenham Court Road Station. Hawkins\Brown
Hawkins\Brown was appointed to design and deliver the over-site development above the Western Ticket Hall of Tottenham Court Road station.
This is where retail and residential space integrates with a new ticket hall, as part of the wider Tottenham Court Road Crossrail station project that stretches west along Oxford Street to Great Chapel Street.
Elements of the design include references to premises that were taken down to make way for the new railway.
Bailey manufactured and supplied the ornamented panels in the Oxford Street block, which are based on the etched glass windows of the Bath House pub that once stood on the corner of nearby Fareham Street.
For more information and technical support, visit builtwithbailey.com
Contact:
01403 261844
---