A tailor-made material inspired by the pearlescence of the sea was the key to a refurbishment project on the Spanish coast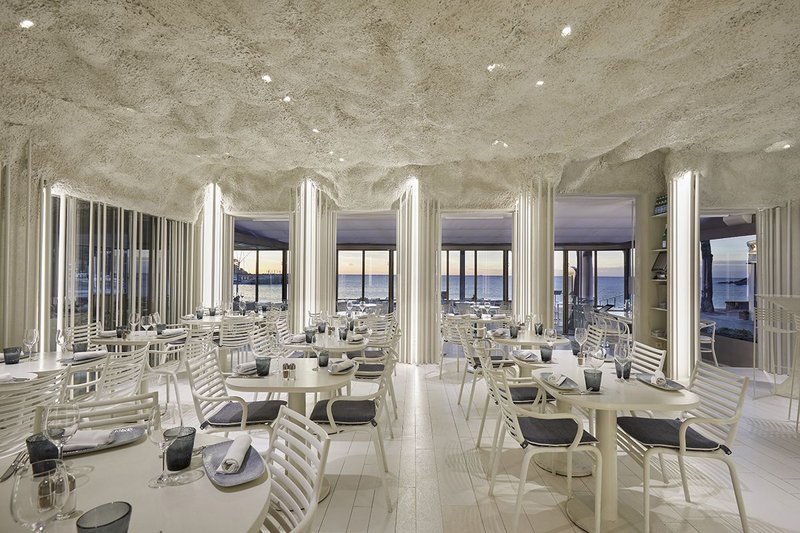 Neolith Sintered Stone on the floors of the Llevant Hotel, Llafranc, Girona. The surface material is super resistant and easy to cut to size and install.
Award-winning architect Pau Llimona was commissioned to redesign the interior of the Hotel Llevant in Llafranc on the Costa Brava. Always fascinated by the mystique of the Mediterranean Sea, he saw the brief as an opportunity to incorporate the link between the local area and the sea into his design concept.
Textured flooring was to be the key component of his new design and he was after something that could recreate the roughness, shine and pearlescence of the sea. To mimic the sparkling reflection of the bright sun on water, he required a surface that would reveal subtle flecks of blue and red when the light hit it.
Llimona approached Sintered Stone company Neolith and it developed a custom-made colour with a textured river-washed finish that became the major design component of the project. Sintered Stone slabs were cut into various sized rectangular floor tiles and laid to create a uniform, but irregular, tessellating effect with a clean finish.
'We chose Neolith because it's one of very few companies that offer bespoke designed surfaces,' explains Llimona, 'and being able to deviate from standard ranges and manufacturing procedures gives architects greater creative freedom.'
Llimona was also keen to recreate the Levantadas - the waves formed by the Levante wind - on the ceilings. To achieve the effect he used layers of stippled plaster punctuated with angled lighting to create the impression of gaps in the froth. Rising up through the hotel from the restaurant to the rooms, the texture of the ceilings becomes smoother with every floor, emphasising the evanescent nature of a wave. The metal rods that feature throughout embody the meaning of 'Levantada' - to lift up.
'Pau has done an incredible job,' say the hotel's owners. 'The interiors offer guests a totally immersive experience - it's like stepping into another world.'
Neolith is a natural, recyclable compact surface made of clays, feldspar, silica and natural mineral oxides with impressive resistance and durability properties. It has near-zero porosity, making it hygienic, easy to clean and impervious to chemicals.
For more on this case study, go to neolith.com/case-studies
For more information and technical support, visit neolith.com
Contact:
01279 454301
---