Natural materials, including Neolith Sintered Stone, balance beauty with practicality at this French property refit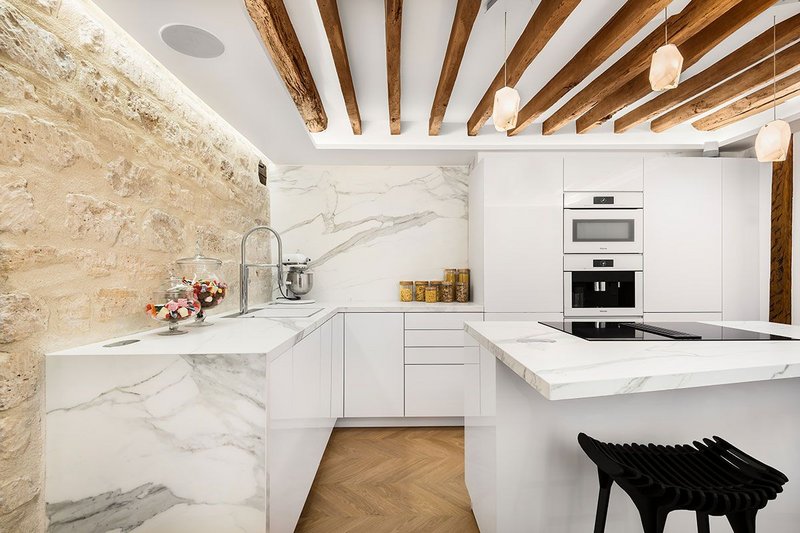 Neolith Sintered Stone Estatuario Silk on the island, worktops and splashback in chef Cédric Grolet's kitchen.

Credit: Francois Guillemin
Neolith Sintered Stone has been specified at the Paris apartment of French chef Cédric Grolet, winner of the 2018 Gault Millau Patissier of the Year award.
Grolet wanted to create a space that made an aesthetic statement while still being practical - essential for his culinary work; a simple and unfussy interior design that utilised the best natural materials available.
Interior designer company J Léger and marble specialist La Marbrerie Contemporaine took on the project and throughout the property combined simple, white marble-type surfaces with exposed stone walls and unvarnished wooden flooring. Grolet was keen to communicate 'a closeness to nature' in the apartment so it was essential the materials were 100 per cent natural in composition.
Grolet considered a range of surfacing options before choosing Neolith Sintered Stone. Neolith is non-porous and easy to clean, an essential requirement for precise pastry work. 'I can knead and roll directly on the surface and it doesn't stain or tarnish,' he says.
Neolith Estatuario Silk was specified for the kitchen island, worktops and splashback. On one side, the island's surface continues out across the wooden floor and up a section of wall, creating an organic continuity within the space. Neolith works in harmony with the kitchen's other elements too, including the exposed limestone walls and pure white cabinetry, to create a relaxed atmosphere that doesn't detract from the room's main purpose.
The apartment bathrooms also demonstrate a careful balance between beauty and practicality. Neolith Calacatta Polished was used to create a minimalist, mounted vanity and wall-to-wall for an impressive wetroom with a waterfall shower.
For contrast, Neolith Iron Frost was used for the guest bedroom's walk-in shower, where the unobtrusiveness of the surface's colour creates a relaxing effect.
Neolith is a natural, recyclable compact surface made of clays, feldspar, silica and natural mineral oxides with impressive resistance and durability properties. It has near-zero porosity, making it hygienic, easy to clean and impervious to chemicals.
It is wear, scratch and heat resistant, lightweight and easy to install, making it suitable for virtually every indoor and outdoor surface, including kitchen and bath countertops, furnishings, flooring and facades. Neolith is available in tile or slab formats and in satin, silk, riverwashed, natural honed and polished finishes.
For more on this Neolith Sintered Stone case study, visit neolith.com/cedric-grolet
For more information and technical support, visit neolith.com
Contact:
01279 454301
---