As well as preventing waste going to landfill, disposers help boost hygiene and functionality in the busiest room in the home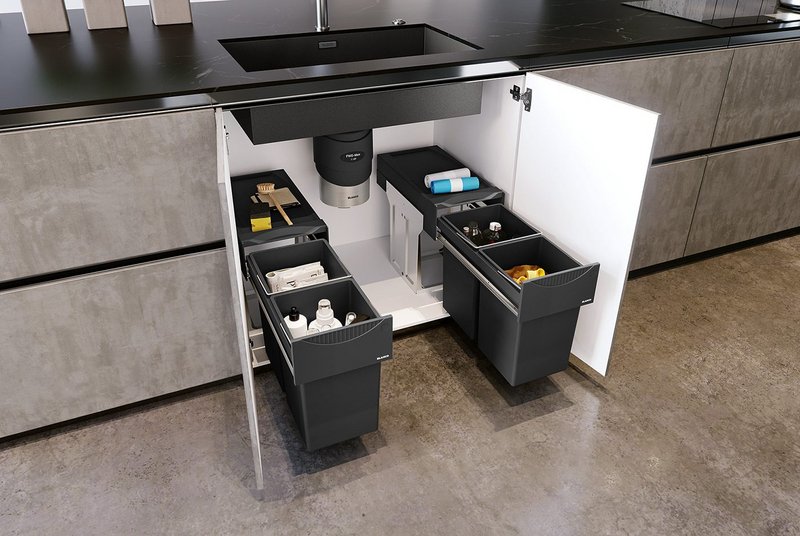 Blanco Unit with Blanco Food Waste Disposer Max: cuts down the amount of waste in the organic waste bin, reducing the growth of bacteria and the likelihood of pests and unpleasant odours.
German manufacturer Blanco's Food Waste Disposer (FWD) offers a quick, convenient and hygienic way for clients to dispose of food waste during meal preparation.
It avoids the unpleasant odours and bacteria growth associated with traditional kitchen bins.
Users turn on the cold tap to flush food waste into the unit where it is ground up and released into the regular waste water drain.
The waste is treated at local water treatment works, usually by converting it into soil conditioner that can be turned into clean energy.
FWDs prevent food waste ending up in landfill and help capture valuable biogas and vital soil nutrients.
Units are installed directly beneath the sink and grind food waste so finely that there is no risk of pipes becoming blocked.
The Blanco FWD doesn't have knives or blades, instead the moving parts within the appliance are blunt. The system is controlled from the top of the sink at the touch of a button.
Food waste disposal units create a cleaner kitchen environment for cooking and reduce the need to travel back and forth from the bin area during food preparation.
They can help kitchen designers streamline available space, making it more functional and practical for their clients.
The Blanco FWD can be specified as part of the Blanco Unit, the all-in-one system with a choice of sink, tap and in-cabinet waste and storage product options.
Three Blanco FWD options are available:
FWD Max with ultra-quiet operation for large households
FWD Medium for average-sized households
FWD Lite for small households
To find out more about Blanco's full portfolio of products and services visit thenbs.com/blanco
For more information and technical support, visit blanco/com
Contact:
Mark Craine, contracts manager
07909 682757
mark.craine@blanco.co.uk
---