The tap, sink, waste and storage space sits at the heart of the hardest working room in the home. Here's how to organise it for joyful practicality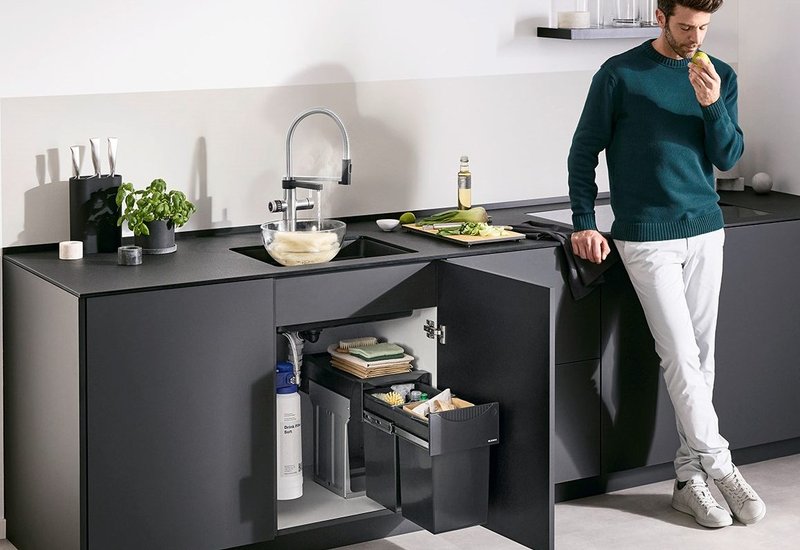 The Blanco Unit provides everything you need, all in one place and brings to life a kitchen's full potential.
German manufacturer Blanco has made a name for itself as the industry leader in the holistic design of what it calls the kitchen 'water place' - the space around the domestic sink where the drinks, food prep and cleaning are carried out.
Its Blanco Unit - an all-in-one system with a choice of stylish mixer taps, multifunctional sinks and in-cabinet waste and organisation product options - offers kitchen designers and their clients a seamless, tailor-made design solution.
Blanco has a laser focus on developing products to make the water place more innovative, functional and aesthetic, helping to transform any kitchen space and bring to life a kitchen's full potential.
The Blanco Unit is designed to maximise available space and the combination of multi-functional parts makes kitchen life that bit easier.
Whether it's washing up, disposing of vegetable peelings quickly, creating drinks easily with fresh filtered water or better tasting tea with a filtered boiling water tap, the Blanco Unit makes tasks simpler.
Plus, that no-go area under the sink becomes fully utilised with storage and waste systems suited to individual setups. Whether it is used to separate recyclables, organise cleaning products or store other items, Blanco has a solution.
We spend 60 per cent of our time in the kitchen at or near the sink, so this communal space can be seen as the heart of the home. This means that selecting a suitable water place setup should be one of the most important decisions when planning a new kitchen. It is integral to delivering a highly functional space that truly works in sync with client lifestyles.
Sinks, taps and bins are among the most used items in the kitchen, but they are often not considered important in the planning phase. The Blanco Unit brings together these three items in a perfectly integrated system where components have been carefully selected to ensure seamless integration with one another, making kitchen life more joyful.
Blanco sinks and taps can be selected in various colours or different materials and finishes to ensure they match the same aesthetics as the rest of the kitchen.
Interior designers can also help their clients add clever sink accessories, such as over-the-sink chopping boards, soap dispensers or matching sink waste kit accessories, to ensure they are building a kitchen space that suits their needs and style aspirations.
Whether it's the inclusion of drinks systems, sinks in a huge range of designs, materials and installation options or additional in-cabinet storage, organisational products, waste management systems and food waste disposers, choosing a Blanco Unit gives homeowners the ability to personalise every detail and upgrade and elevate their everyday kitchen life.
To find out more about Blanco's full portfolio of products and services visit thenbs.com/blanco
For more information and technical support, visit blanco/com

Contact:
Mark Craine, contracts manager
07909 682757
mark.craine@blanco.co.uk
---