Sixty per cent of our time in the kitchen is spent at or around the sink. Paying more attention to how we design our 'water hubs' is crucial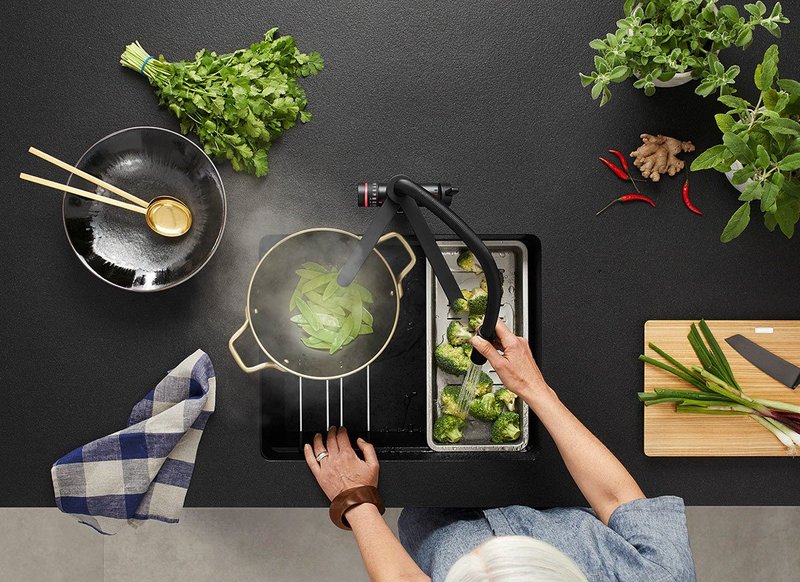 Engineered by experts: Blanco sinks, taps and organisation systems. Everything you need, all in one place.
The kitchen is the heart of the home and data shows that 41 per cent of homeowners value their kitchen more now than before the pandemic [Mintel 2021].
Research shows that consumers spend around 60 per cent of their time in the kitchen at or near the sink and so designing to reflect that should be a top priority in the kitchen refit process.
Although the sink is often an area that is overlooked, this corner of the kitchen triangle is something that specialist German manufacturer Blanco is passionate about. It supplies sinks, taps and organisational systems that work together to create a centralised kitchen 'water hub' for everything clients need to drink, prep and clean.
Blanco has been developing ideas to improve homeowners' water hub experience for over 95 years, producing products and services that combine distinctive and elegant design with smart functionality. Centre to this is its Blanco Unit - a selection of multifunctional premium products supplied in dedicated packs that make kitchen life easier.
Founded in 1925, Blanco is fast approaching its centenary. In that time, kitchen layouts, functionality, consumer usage and the industry have changed, but one constant remains: the kitchen is still the centre of the home and a priority for consumers.
Blanco manufactures in Germany, has subsidiaries in Europe, North America and the Asia-Pacific and a presence in over 100 countries worldwide. This gives it a strong overview and understanding of changing global demands and trends.
It is able to harness these insights to benefit its trade customers through a core range of products and smart new innovations.
With the increase in homeworking and more people cooking from scratch at home, more time is being spent in the kitchen. Data shows that consumers have been investing in their kitchens through refits and updated layouts and features.
Creating a functional, aesthetic space should be a priority for any kitchen designer and Blanco is passionate about helping to make that a reality.
To find out more about Blanco's full portfolio of products and services visit thenbs.com/blanco
For more information and technical support, visit blanco/com
Contact:
Mark Craine, contracts manager
07909 682757
---