Bluesky Design was tasked with specifying an unobtrusive visitor management system at 2 Hardman Street, Manchester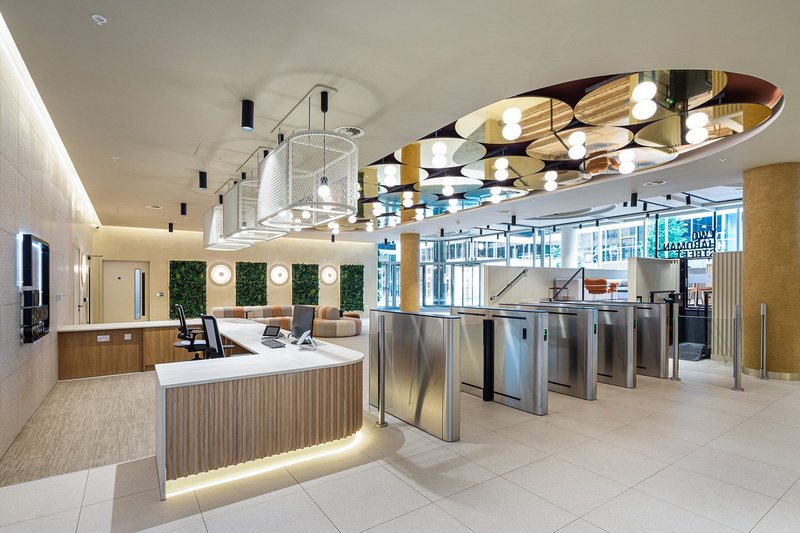 A four-lane Boon Edam Speedlane Compact entry system was specified by Bluesky Design for its 2 Hardman Street project.
2 Hardman Street is a newly refurbished Grade A office building in Manchester's Spinningfields development.
The building offers 22,000 sq ft of modern workspace across seven storeys.
Interior designer and architect Bluesky Design was charged with creating a welcoming environment and a relaxed atmosphere while prioritising sustainability and the wellness and connectivity of its occupants.
Bluesky collaborated with main contractor ADT Workplace to refurbish and fit-out the office building.
Where first impressions count: Designing the entrance
Bluesky appointed Boon Edam to replace the existing security turnstiles - original Speedlane 900s it had installed back in 2006 - with a more modern and efficient solution.
As Boon Edam was already familiar with the project, it was keen to deliver a bespoke security product a second time around.
The project scope was to deliver a reliable and good looking entrance control solution for the newly refurbished foyer.
The reception is a shared space for all building occupants and everyday visitors so the client required security turnstiles with tailgating detection to prevent unauthorised users from accessing the lift area and other floors within the building.
The specification also called for third-party access control integration to mitigate risk and to ensure that only authorised card access is granted.
Open and welcoming; safe and secure: Finding a design solution
Boon Edam supplied and installed a bank of four Speedlane Compact turnstiles consisting of three standard 615mm lanes and one 915mm wide access lane for wheelchair and delivery access.
The positioning and configuration of the turnstiles enable quick and convenient entry for authorised users, while forming a physical barrier in front of the lift area to protect against unwanted intrusion.
The space-efficient Speedlane Compact combines modern aesthetics with state-of-the-art technology, including anti-tailgating and safety sensors as standard.
With generous space in each cabinet, it was easy to integrate proximity card readers to provide a high level of authentication.
The turnstiles were installed near the reception desk so staff can easily operate the lanes and grant access to authorised visitors when needed via the BoonTouch access control system panel.
Reception staff can remotely control the four lanes using the BoonTouch and are immediately alerted of unauthorised breaches.
To complement the contemporary interior, Boon Edam created bespoke Speedlane Compacts with a tapered cabinet design, satin stainless-steel finish and black glass tops
Area sales manager Mike Burton joined Boon Edam in 2005 and 2 Hardman Street was one of the first projects he managed.
'It was a shame to see the old Speedlane 900s being replaced after 15 years,' he says, 'but it was great that the architect and client specified the Speedlane Compact as their preferred security solution. It met every requirement within the specification, from functionality to aesthetics.'
Boon Edam collaborates with designers, architects and building managers across the UK and beyond to provide futureproof entry solutions.
For more information and technical support, visit boonedam.co.uk
Contact:
01233 505900
---