A set of sleek Lifeline Speedlane Swing turnstiles guides workers and visitors into the Stiff + Trevillion office refurbishment above London Cannon Street Station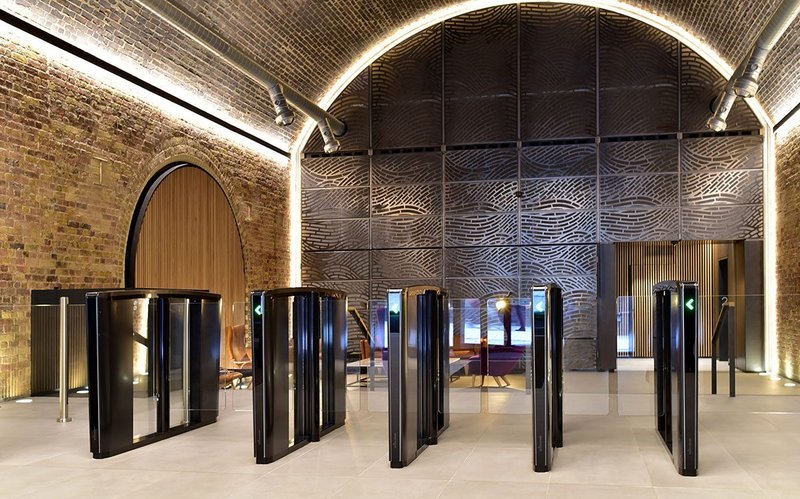 The Boon Edam Lifeline Speedlane Swing system at The River Building, which has been renovated to utilise a once void entrance. It is now a self-contained office space with a contemporary industrial design.
Boon Edam's Lifeline Speedlane Swing access solution has been specified at Stiff + Trevillion's River Building refurbishment for the Blackstone Group.
Unmodernised since the 1990s, the office space runs above the rail lines and between the two towers of London Cannon Street Station adjacent to the Cannon Bridge House building.
Renovation work included an upgrade of the southern building elevation, redesigned entrances, a new glass link between buildings and glazing improvements for more natural light. The offices and their one-acre roof garden provide panoramic views across the River Thames and London skyline.
The Lifeline Speedlane Swing system was chosen early in the process thanks to its specification on previous Stiff + Trevillion and Blackstone Group projects.
At the time, The River Building had an occupancy density of 1:8 so required a comfortable entry system with a wider lane configuration. A 615mm lane width allowed the use of two swinging glass wings instead of one. A double glass wing increases the opening speed and adds to the feeling of openness.
Wide setup lanes allow large groups of building users to pass through and provide wheelchair, pram and luggage access. The Lifelines intuitively guide users through the lanes via remote control Boon Touch technology. Control can be given to authorised users who do not have to leave their workspaces.
The design of the access point needed to feel open, bright and elegant to match the overhauled building entrance in Cousin Lane. In keeping with the naked brick walling, warm halo lighting and dark tones of the atrium, the Lifeline Speedlane Swings were finished in RAL Black.
Boon Edam's Boon Select process allows design teams to generate, analyse and formulate the perfect entry system for their individual project by working through seven key considerations. These highlight every aspect of entry design and enable better, more sustainable decision making around layout and product and feature choices.
For more information and technical support, visit boonedam.co.uk
Contact:
01233 505900
---