The two-part refurbishment of an office and retail space on London's Finsbury Circus features slimline security gates and a bronze sliding door by Boon Edam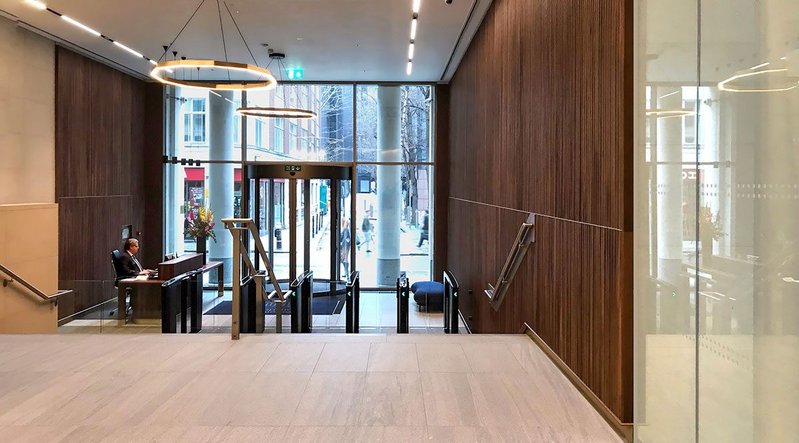 Inspirational workplace design: The Eldon Street entrance at Park House, remodelled by John Robertson Associates and, later, by Stiff + Trevillion.
Park House on London's Finsbury Circus features 195,000 square feet of office and retail space positioned around a full-height open atrium.
It has a Grade II listed facade and has been refurbished twice in recent years: in 2008 by John Robertson Architects (JRA) and in 2019 by Stiff + Trevillion.
Located close to Liverpool Street Station and Moorgate, Park House has enviable frontages and entrances on Eldon Street and Finsbury Circus.
Stiff + Trevillion were faced with a common entrance dilemma: opposite directional traffic stemming from the many transport links surrounding the area. However, having a double entrance helped alleviate peak building use times, allowing access and egress through two different areas of the building.
Two banks of Boon Edam Speedlane 900s had been specified in the earlier JRA refurbishment, creating a line of defence near the lift area. These were replaced with Lifeline Speedlane Swings. A much thinner cabinet design allows for more lanes or a wider passage.
Additional cantilevered barrier work creates a seamless defence line recessed into stainless steel channels mounted into the floor, which are secured between the gates and walls of the reception area.
Mild steel sub-floor base plates were installed between the finished floor and structural slab to add extra reinforcement. Their width helps to stabilise the lanes, increasing their longevity.
JRA specified and installed a Boon Edam Circleslide curved sliding door in 2008. With the Eldon Street entrance sitting near a busy pedestrian area, the design is the perfect DDA-compliant solution that acts as both a fire escape and a means of controlling the entrance lobby environment.
The door incorporates the design features of a revolving door with the functionality of two sets of sliding doors. Customised with a bronze anodised finish, the entrance mirrors the overall feel and design of the interior office entrance space.
A double set of bi-parting doors were also fitted. The external doors open first, leaving the interior doors closed to keep the reception area a comfortable temperature.
Two bronze card readers are located inside and out and house external access control technology for entry in out-of-office hours.
For more information and technical support, visit boonedam.co.uk/en-gb
Contact:
01233 505900
---