Tiles cut from bricks offer architects easier installation, less expense and a fine, hard-to-tell-from-the-real-thing finish for exterior cladding and internal applications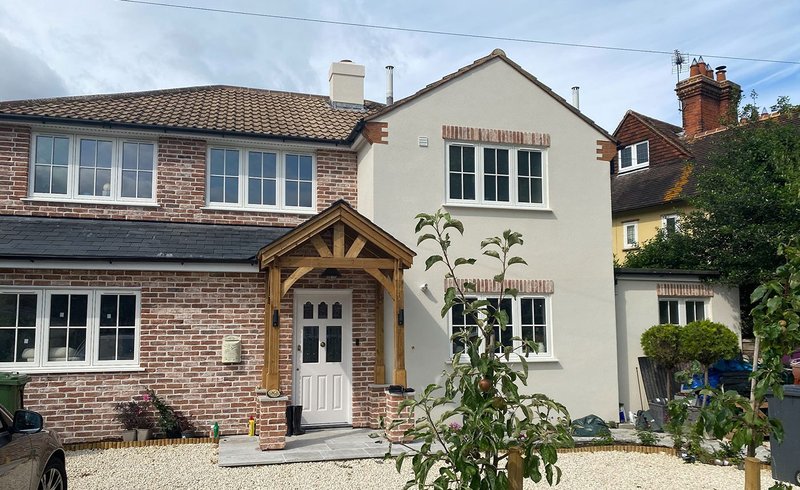 Blend 4 from The Brick Tile Company's Reclaimed Collection: 'A classic red brick slip. It has white and darker shades throughout to provide a unique variation in colour along with a slightly creased texture'.
The Brick Tile Company is the UK's leading supplier of brick slips - tiles cut from full clay bricks that offer a versatile and simple way to create the look of interior or exterior brickwork.
Brick slips have grown in popularity over recent years and are now being used for interior decor, such as feature walls, clad fireplaces and splashbacks and wall finishes in kitchens and bathrooms.
They are also being specified externally to clad new-build properties and extensions. Tiling brick slips onto blockwork, cement board or ICF is a quick and easy way to create aesthetically pleasing and realistic looking brickwork.
With corner tiles available too, there should be no noticeable difference between brick slips and bricks once the installation is complete.
Whether the project is internal or external, The Brick Tile Company has a range of stocked brick slips, plus the adhesive, mortar, primer, spacers and sealant (where required), available for order.
The Brick Tile Company has three collections of brick slips:
The Reclaimed Collection Rustic, weathered and unique.
The Contemporary Collection Smooth, sleek and consistent.
The Traditional Collection Characterful, familiar bricks that sit aesthetically between the rustic and the contemporary.