Bronze screens and windows are being specified to divide living spaces and allow light to flow from room to room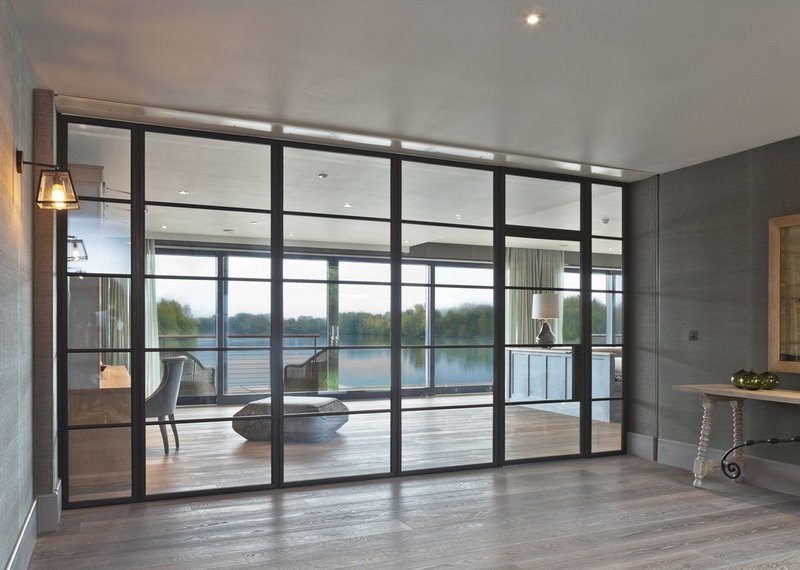 Architectural Bronze Casements' large bronze screen with single Slimline door in a lakeside new-build. Light flows, bringing the view into the hall. Hamilford Design architects.
Architects and designers are increasingly specifying glazed screens to create partitions in interior spaces and between rooms.
Designing living and working spaces that make the most of natural daylight can have a beneficial impact on well-being. With double-glazed units housed within the framework, internal screens can also help to retain the heat generated in individual spaces.
Bronze screens offer designers an alternative to steel and aluminium. They can be used for internal and external purposes, including doorways, large glazed units and multiple side lights that form a screen.
Architectural Bronze Casements makes bespoke bronze screens. All sections are extruded from a high tensile manganese brass alloy termed architectural bronze, which is extremely strong and long lasting.
Bronze frames are available in a choice of two colour tones, Mid Bronze and Dark Bronze, and two glazing bead options, Traditional and Contemporary, to suit the style of individual projects. The robust nature of bronze, together with its incredible colour tone, can bring a unique richness to any space.
To request a brochure, call 0845 600 0660.
For more information and technical support, visit: bronzecasements.com
Contact:
0845 600 0660
---