It's simple, says BMA co-founder and former RIBA president Angela Brady: architecture must be grounded and humane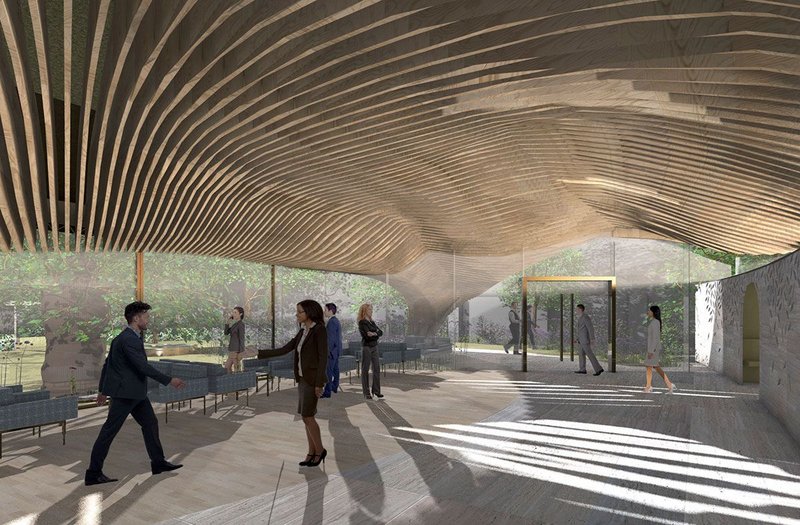 Making the most of nature with the Garden Pavilion, West London, in planning 2019. The timber interior fit-out is designed to be a sensory experience.

Credit: Brady Mallalieu Architects
Deep in the Crypt of St Martin-in-the-Fields, a lively crowd of architects gathered to hear Angela Brady, co-founder of Brady Mallalieu Architects (BMA) and past president of the RIBA, talk about the small matter of how and why we need to build better buildings. Inside the oak-panelled lecture hall, designed by Eric Parry as part of his revamp of the church complex, Brady argued that, by pushing the envelope of client briefs, architecture should be delivering more for the environment, communities and individuals' emotional and physical health.
Refreshingly unburdened by highfalutin concepts and architectural jargon, her plea was for buildings that are sociable, egalitarian, green, sensory and light. This might sound like Architecture for Beginners, but, as we all know, so much of modern development falls short of these fundamentals. With reference to her practice's many built projects, Brady demonstrated with joyful colour photos why we must fight for an architecture that comes up to scratch - and that it is possible after all.
Stressing the importance of a sense of belonging and human contact, Brady talked about why housing projects must be sociable. Pointing to two of BMA's London residential developments, Brickworks and Underwood Road, she demonstrated how well designed, shared spaces can create opportunities for residents to meet their neighbours. Clever site planning, greenery, high quality materials and detailing are deployed to create generous outdoor spaces that encourage people step outside their private spaces. The design of more formal community areas should be an equally careful and judicious exercise. BMA's Brickworks Community Centre was programmed in close and meaningful consultation with existing residents and includes a roof terrace, recording studios and sports facilities, ensuring it is relevant and designed in a way that gives users a feeling of ownership.
Brady explained that another vital part of the social potential for architecture is making sure that mixed communities are designed in an egalitarian way (the 'poor doors' campaign bringing national attention to the fact that much contemporary development falls short of this). At another of BMA's London residential projects, Laycock Street, there is a mix of private and social housing that costs between £2 million to buy and £200 a week to rent. But, looking at the scheme, you can't tell. It is important for Brady that all homes, regardless of tenure, have an equal quality of light and the same relationship with green spaces - something that careful massing exercises enabled BMA to achieve here.
Another theme was on the role of nature in well-being. Talking about Japanese shinrin-yoku, the practice of forest-based therapy, Brady explained that just being around trees and greenery can enhance our quality of life. BMA's proposed Garden Pavilion, a function room for a hotel in West London, bleeds into the garden through its organic roof, creating a space where individuals can be immersed in the surrounding landscape.
Pointing out the compelling statistic that working next to a window enables an individual to get 46 minutes' additional sleep every night, Brady reminded us of the science behind the maxim that architects must be masters of light. Constraining sites should not be used as an excuse. BMA's Islington Central Medical Centre is a GP surgery and, despite being sunken into the ground, has been cleverly detailed with generous light wells that illuminate the basement floor.
Audience questions in the Q&A centred around the issue of how easy it is to persuade clients to invest in this kind of grounded and humane architecture when the bottom line weighs so heavily and legislation is so lax.
Though there was perhaps too little given away in this regard, there are some clues in both the way Brady spoke (articulate and convincing) and, more interestingly, how she described her own process. Describing why art is important for well-being, she described how in one project the building needed a splash of colour to liven it up. Brady, herself an artist, suggested she might have the solution - and went on to hand-paint dozens of bright canvases to adorn the walls. This kind of personal, intuitive and perhaps unconventional approach to delivering projects speaks loudly through her work and goes a long way to aiding projects to be better buildings.
This talk was held on 14 May 2019 in the Crypt at St-Martins-in-the-Fields as part of a series of 'architectural evenings' hosted around the UK by VMZINC
For further information please contact vmzinc.uk@vmbuildingsolutions.com or call 020 3445 5640.
---