The original adjustable pedestal company has engineered five ranges with features and accessories that ensure there is a compliant solution for every outdoor project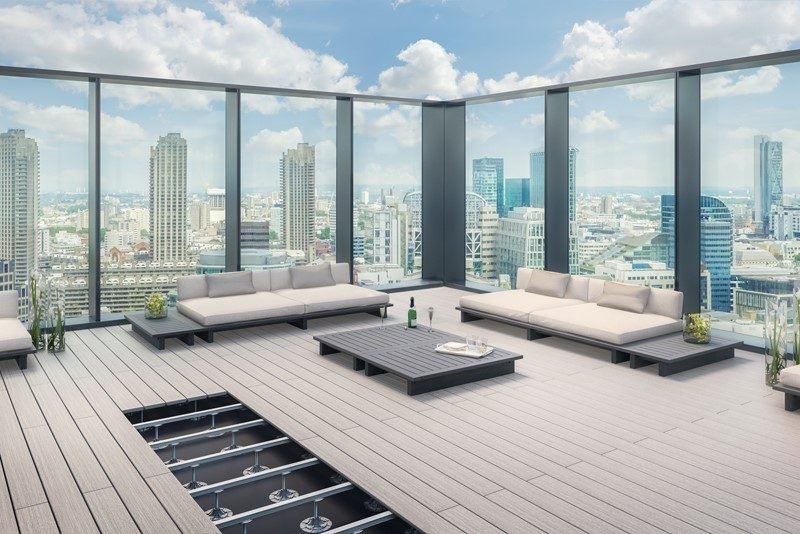 Buzon: Projects at height must be compliant with the appropriate fire regulations, making correct specification of all materials essential.
Outside space is a must-have feature for most new and retrofit schemes, from high-rise residential balconies to commercial roof terraces and podiums.
All offer opportunities for exciting design but, when it comes to specification, product choices must meet a wide range of criteria while still delivering on aesthetics. Fire safety compliance is one of the most important.
The purpose and location of the external space will determine which fire regulations apply. Residential balconies will require class A-rated components, roof terraces will most likely need a BROOF(t4) certified build-up and commercial spaces are typically class B rating or higher.
Buzon is the original raised flooring adjustable pedestal company and has decades of supply and installation experience.
It has engineered five ranges with features and accessories that ensure there is a pedestal solution for every project, including those with fire-rating requirements.
Buzon's A-PED is the most advanced A-rated pedestal on the market, with integrated slope correction and a suite of non-combustible accessories, alongside its B-rated BC-FR range.
Certified BROOF(t4) systems featuring Buzon pedestals with specified build-ups and finishes, such as 20mm external porcelain, decking and artificial grass, make great off-the-shelf solutions for roof terraces.
Buzon supports architectural projects, offering site-specific advice at every stage.