Ireland's open plains inspire Grimshaw's expansive rethink of the grandstand roof at The Curragh racecourse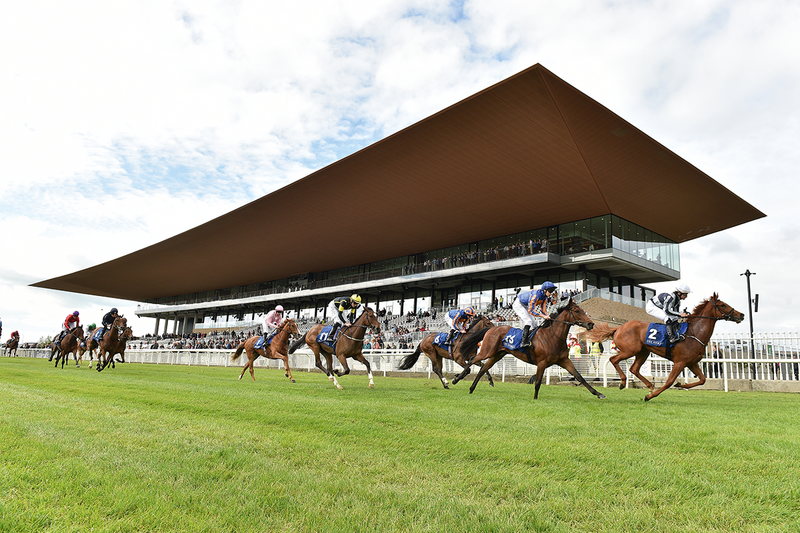 There are 34 primary trusses in the roof structure.

Credit: Matt Browne / Sportsfile
People have been horseracing in the Curragh since before 1727 when the first recorded event took place. It is one of the pre-eminent flat courses in the world, with fantastic drainage and the base for many international horses.
When Grimshaw answered the open call competition to redesign the visitor experience, however, the racecourse's buildings didn't match its global reputation. The grandstand comprised two basic mid-century shed-like structures with sight-blocking columns holding up a tinny roof, while the pre-parade and parade rings stood in a line along the track. This left them constrained and the whole area congested, particularly on derby days. The site needed to function for up to 3000 people at normal capacity events but also be enjoyable for 30,000 visitors on busier days too. Grimshaw's approach, therefore, was to re-plan the site, moving the rings away from the track to free up space for spectating. The centrepiece is, of course, a new grandstand.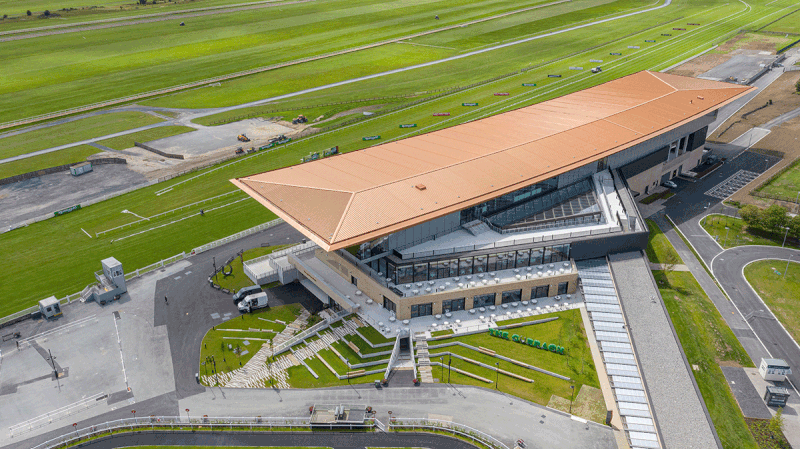 The roof also cantilevers over the rear to protect spectators of the parade ring.

Credit: Gareth Byrne
Whereas many grandstands become quite vertical around the finish line, Grimshaw wanted to create a single uniting horizontal building that would be becoming of the course's surrounding open plains. It opted for a three-tier structure that gently curves to focus sightlines on the track. As well as open-air 1,366-seat spectator terracing, the solid brick base contains the tote halls, jockey changing facilities and back-of-house areas. The central glazed section offers new bars and VIP hospitality suites and an external viewing platform for racing patrons. This is topped by a huge soaring cantilevered horizontal roof designed to visually hover above the landscape and protect most racegoers from the prevailing elements while offering unobstructed views of the track.
In section the roof is an irregular pentagon, with one long leading edge over the seating terraces. The trusses and cantilever follow the curved grid and then tie to a series of pier columns at the back. These in turn are supported by the concrete raker beams of the lower terraces. A 42m by 175m structure, the deepest cantilever stretches 45m. As spectators are positioned so close to the roof, it is both over and underclad to create crisp finished edges, accentuate the floating effect and leave no truss exposed. This technique also means the plant can be hidden in the attic space.
Inspired again by the building's natural setting, Grimshaw selected a copper-coloured cladding for top and bottom. The underside uses a panellised undulating perforated aluminium. Joints are placed in the seam to reduce their visual impact and enhance homogeneity. The transparency adds a lightness. Meanwhile, the roof is standing seam aluminium also in copper-colour. Rainwater is dealt with by perimeter guttering inset into the roof and directed back on itself vertically down through the building.