The smallest room is wielding unexpected influence on building design and fitout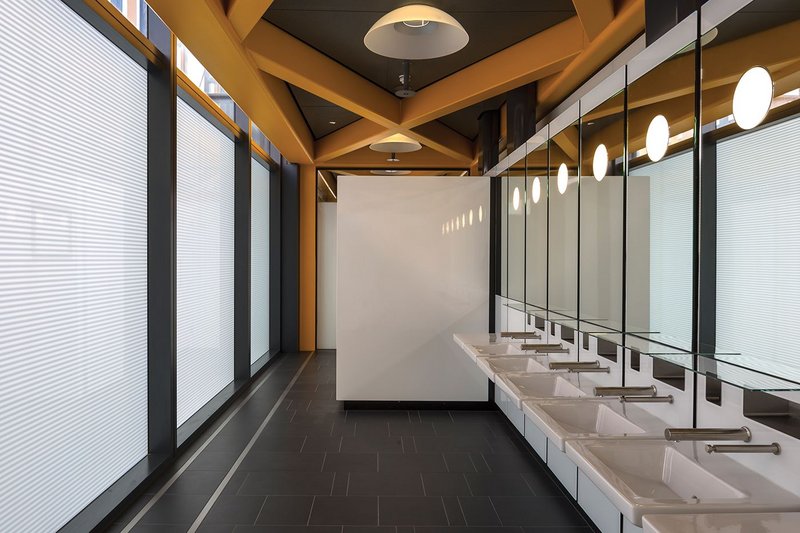 Washrooms in the Leadenhall tower by RSHP: a bringing together of natural light, building structure and bespoke fittings sublimating the washroom to an embodiment of the value of the whole development.

Credit: Paul Raftery
Can a great loo seal the deal on a big city let? Developers and architects are certainly upping their game on the smallest room in response to increased expectations from the market.
At the Leadenhall Building, Maurice Brennan of Rogers Stirk Harbour + Partners says the naturally-lit washrooms are the best the practice has ever designed for commercial offices, and they certainly feature prominently on the hoardings outside; developer British Land obviously thinks they're a selling point and with more than half the space let already, they are probably right.
Developers have more than ever to think about for such small spaces as washrooms become valuable marketing assets rather than neutral facilities: Are superloos with integral sinks the answer? Should washrooms be unisex as is the fashion in Europe? How much prefabrication is possible? Where should the showers go? Should taps be sensor-activated? Dryers or hand towels? What about maintenance? And of course they have to look great too.
'Quality has gone up massively… Having the wrong person making decisions on washrooms can be a game changer,' says Phil Sullivan, senior projects director at Argent, who says the rising popularity of cycling has prompted a new focus on more and better showers and bike-related facilities. 'Expectations for the quality and specification of washroom spaces is rising, and good architects now respond by thinking themselves into the lifestyle of the future occupier, including the journey to work.'
Washrooms are becoming a key expression of the building aesthetic.
'Loos are an important part of the building. It's where you come very close to the building fabric around you. They are a very intimate, personal space and you can't just change the level of quality from the rest of the building aesthetic,' says Benjamin Lesser, development manager at Derwent London. 'For us the whole experience from street to desk – lobbies, lifts and loos – has equal focus and attention to create the right impression of quality that lifts the spirits.' He adds that Derwent favours the unusual and looks to architects and designers for inspiration to lift washrooms out of the ordinary. Make, for example, is working on a design for it where lighting indicates whether a cubicle is occupied.
'It's the small touches that make the difference,' he says.
From a practical point of view, Derwent is looking for durability – kit should last 5-10 years – and, crucially, unobtrusive ease of access for cleaning, maintenance and re-fitting.
For major new builds, prefabrication – whether with bespoke or standard units – is increasingly in demand.
'It's definitely the way the trend is going to modularise everything, especially in the high volume commercial market,' says Dougie McGowan, who installed the washrooms at 10 Brock Street and now runs Modular Interiors. As well as ensuring close quality control prefabrication saves 30-40% labour time on site, he estimates.
Washrooms aren't immune to trends. Superloos are increasingly common but there is still a demand for these to be gender segregated.
'Feedback is really mixed on whether people prefer a superloo or a more conventional arrangement. I do think that women in particular want loos badged male or female,' says Argent's Phil Harrison.
Showers are a more pressing issue for developers, both on the lower levels and on the main office floors.
'With the next generation of offices we're building flexibility for tenants to bolt on additional washroom or shower facilities to the end of the core, or use it for office space or meeting rooms,' says Harrison.
This is also the case at Leadenhall, where tenants have the scope to introduce extra shower rooms on the office floors in addition to the generous provision in the basement. Showers are by far the most common extra requirement on top of the basic fit-out, adds Ian Cowell, head of design at JLL's fit-out business Tetris. He agrees that clients favour gender-segregated facilities and that washroom expectations and standards in general are increasing.
'The world is full of people who'll judge how good a place is by the toilet.' He puts particular emphasis on ease of cleaning and sufficient, but not too harsh, lighting.
While agents are sometimes accused of encouraging conservative attitudes to such spaces, times and tastes are evidently changing as demonstrated in Leadenhall's naturally lit washrooms. Their popularity with tenants could well have a knock-on effect, hopes RSHP's Brennan.
'We'd like to think this will begin to change perceptions and some of the early advice given by letting agents in the future.'
---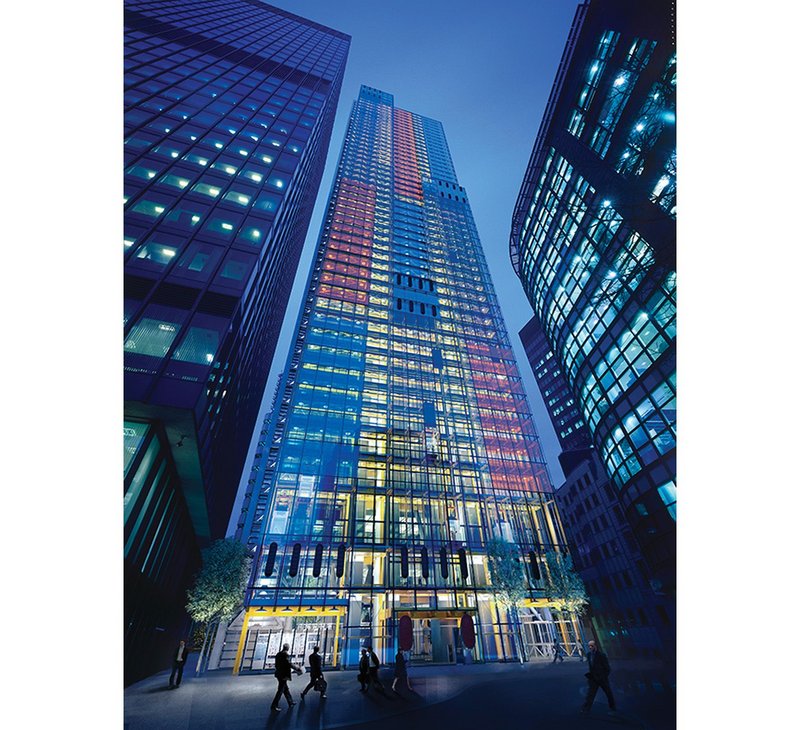 RSHP's Leadenhall tower: prefabricated toilet modules in red and blue are a key feature of the north service core elevation.
Leadenhall Building
Architect: Rogers Stirk Harbour + Partners
Client: British Land
The washrooms at Leadenhall are the most prefabricated RSHP has ever built. Contractor Laing O'Rourke encouraged the design team to maximise prefabrication throughout and this extended to the modular 10.6m by 3m washrooms, which were factory made in cassettes by Ruddy right down to the installation of sensor-activated taps, sinks and pipework, before being embedded in the main services in situ.
Male and female washrooms are arranged alongside the lift shafts on the north core, moving with the shafts themselves through the building. They share the same zone as the lift lobbies – except on the transfer floors – and the same finishes. These include Domus porcelain tiling on the floors and, above, the expressed yellow-painted steel floor structure and bespoke iGuzzini shades. To admit as much natural daylight as possible, the washrooms have mainly translucent outer walls through the use of a semi transparent interlayer and a blue (male) or red (female) frit. Those at the ends of the lobbies have slots of clear glazing to give great views.
Lifts are visible as moving shadows where they pass just 45mm away from the translucent washroom walls. Facilities vary according to their position in the plan with scope for up to six cubicles. Each pod component is 2.4m high with widths of 90cm (cubicle), 70cm (urinal) and 60cm (basin). These square sinks were custom made by Ideal Standard in the profile of the Leadenhall building with smooth undersides and no plug or overflow. Where fewer sinks are needed, these are replaced by flat 'blanks' without basins, that act as handy shelves. Panels below the sink swivel to give access to the bins and soap dispenser. Behind the mirrors is access to the paper towel dispenser. A cleaner's cupboard and sink are concealed behind another locked mirror unit. There is scope to change configuration and finishes easily if a future tenant wanted to, with no disruption to the fabric of the building.
Cubicles have white lacquer doors and white laminate interiors with a back-painted glass rear panel. Jasper Morrison designed the pans and urinals for Ideal Standard.
'Loos are a very strong selling point for buildings. The fact there's daylight is quite unique,' claims RSHP's Maurice Brennan.
Now everyone can get a bit of the Leadenhall vibe – Ideal Standard has decided to manufacture the sink for its regular ranges.
---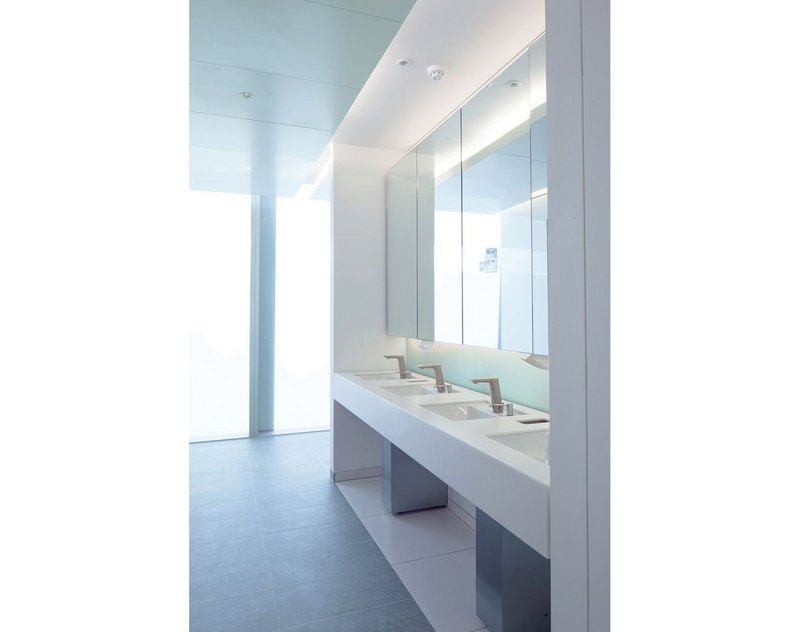 Wilkinson Eyre's Brick Street. High spec, pared back symphony of Corian and dichroics.
10 Brock Street, Regent's Place, London
Architect: Wilkinson Eyre
Client: British Land
Wilkinson Eyre's design of the washrooms at 10 Brock Street offices picks up on the iridescent character of its facade.
'We wanted to take that theme back into the washrooms,' says senior architect Melissa Clinch, adding that the firm aimed to flow the aesthetic of the other communal spaces through into the washrooms.
Often, she says, there isn't much scope to be creative in these spaces with clients reluctant to move away from the typical round basin with two taps. But much more was possible at 10 Brock Street, where a full-size mock-up was used to test design and installation of the prefabricated washroom.
'For a commercial developer, toilets are an asset, so it was prepared to spend the money to do the mock-up. Otherwise, if you couldn't test it, you'd have to take a more conservative approach,' says Clinch.
Instead, the architect introduced square sinks within a glacier white Corian vanity unit which, she says, resembles a sugar mouse in its slight translucency. This is combined with the dichroic splashback, which forms the main feature of the washroom and was the subject of particularly close attention. Clinch says they spent a lot of effort making sure the right amount of light came through by trying different combinations of layers and back-painting. The final solution was back painted glass with a layer of dichroic film and a layer of acid-etched clear glass on top.
Dichroic panels are used behind the Villeroy & Boch basins, on the flush panels in the cubicles and above the urinals as well as in the disabled toilets. They lend a rare splash of colour to the otherwise whites and grey palette. Cubicle doors are lacquered with a white high gloss finish. Two shades of textured ceramic floor tiling are used – white beneath the vanity counter and grey elsewhere. Taps are by Hansgrohe with a custom brushed nickel finish and sensor control. 'It's all tones of white – some glossy, some frosty,' she says.
One male and one female shower cubicle are provided within the main washrooms, as well as in the basement, where there are a further seven near the cycle store.
---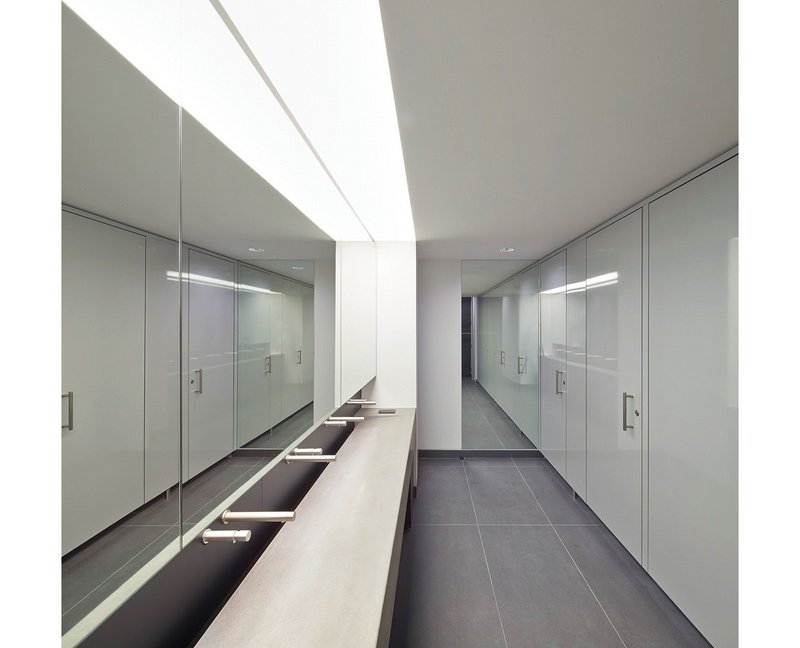 Buckley Gray Yeoman's concrete troughs and restrained pallette of materials reflects the slightly industrial aesthetic of the original brick building in Clerkenwell.

Credit: Hufton + Crow
Buckley Building, Clerkenwell, London
Architect: Buckley Gray Yeoman
Developer: Derwent London
Buckley Gray Yeoman created new washrooms with cast concrete troughs as part of a retrofit of the 1930s Buckley Building for Derwent London, which fully let the offices within six months.
This industrial flavour gives a consistent aesthetic throughout the six-floor building.
'The bespoke cast troughs pick up on the cast concrete in reception and other areas of the building and slopes back so that water disappears down the back, and you can't see the trap,' says director Matt Yeoman.
Towers and soap dispensers are concealed beneath the mirrors, with provision to install driers instead if required. Bins are incorporated into either end of the troughs, which were made by Lowinfo. Sensor-operated taps, now generally the norm in commercial washrooms, are by Dolphin Dispensers.
Cubicles opposite the trough are by Thrislington Cubicles, with white lacquered doors and white laminate interior. Although new build washrooms are increasingly prefabricated, the retrofit didn't allow it.
According to Yeoman, the design level has been raised considerably for these spaces: 'Generally standards are improving massively not only in male and female washrooms but in showers and ancillary facilities such as lockers, which weren't ever in office buildings before. Everyone wants a gym quality to their washrooms.'
---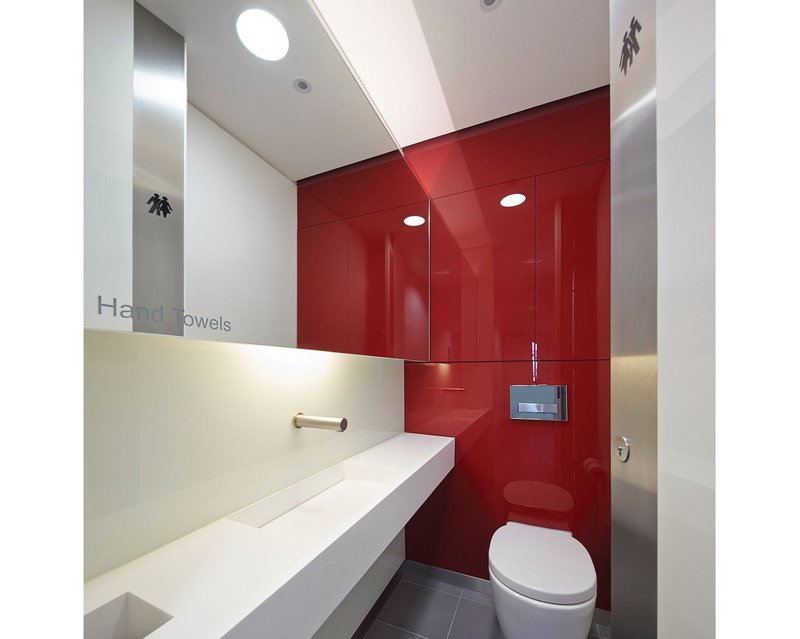 John Robertson Architects' superloos: Space, privacy and finish that evokes boutique hotel rather than commercial office.

Credit: Hufton + Crow
One Southampton Street, London
Architect: John Robertson Architects
Client: Aviva Investors
Unisex superloos provided a space-saving washroom solution in John Robertson Architects' refurbishment of an eight-storey end of terrace office on the corner of The Strand.
JRA extensively reworked the 1920s building, removing a central lightwell and repositioning the core into the middle. With a tight typical floor place of 315m2 NIA, four unisex superloos including one disabled cubicle were installed near the core on each floor, with standard units measuring 1.90m wide and 1.57 deep. This saved space by needing only one access corridor, and also by the reduced provision required for unisex facilities.
According to JRA associate Charlotte Mockridge, one of the main priorities for unisex superloos was privacy, with full height to slab cubicle walls. Fittings are an Ideal Standard toilet set into a back-painted glass wall with stainless steel skirtings, and a solid surface counter with integral basin and concealed stainless steel trap. This bespoke item was mocked-up to test dimensions and drainage.
'We wanted something very sleek and crisp. It's shallow but gives you the illusion of space,' she says.
Each cubicle has a different accent colour inside to contrast with the white and grey access corridor.
'Superloos give the feeling of a boutique hotel rather than an office, which some of the developers like. But we're still doing a lot that is more traditional. It's a nice option to have,' she concludes.
---