A strongly collaborative approach to school building has worked wonders for IID Architects, Wates and Arnold Hill Academy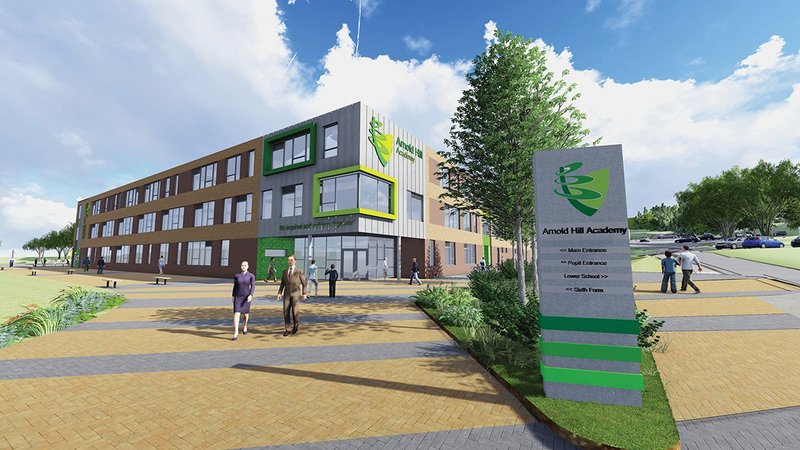 Visualisation of the completed school.

Credit: iid architects & ares lasndscape architects
Under the tight budgets of school building programmes today, partnering has obvious efficiency benefits for main contractors and suppliers. But what does it mean for architects?
Richmond-based IID Architects found out for itself when working for contractor Wates on the design of Arnold Hill Academy in Nottingham, part of the government's Priority School Building Programme (PSBP). The £14 million project included a 3,640m2 flat roof, designed in collaboration with supplier SIG, which is working in partnership with Wates across several schools.
'It was a very collaborative process for us, which was critical given the speed of the PSBP programme' says IID Architects associate David Moore 'We were able to benefit from lessons already learned and gain efficiencies by working with a team like SIG, which had already worked on similar projects as one of Wates key supply chain partners.'
Old colleagues
The new school building is a three storey superblock incorporating all major teaching spaces. It uses Wates' ADAPT modular steel system, which IID was familiar with through its work on other Wates-built schools. The system includes typical construction details for dealing with roof junctions which can be tailored to suit each project.
'We worked very closely with SIG and Wates,' says IID director Richard Matthews. 'We'd used SIG products before but not with this much collaboration, which arose from the batch nature of the framework appointment and speed of the programmes. On traditional one-off contracts or D&B we wouldn't normally get this level or speed of input.'
At an initial meeting, IID discussed its design intent with SIG and shared drawings. SIG then developed detailed drawings of the roof installation, drawing on its specialist experience of similar, but not identical, flat roof projects for Wates.
Once architect, supplier and contractor were happy with the design, SIG finalised details for manufacturer, and produced its own 1:5 drawings of the installation for the specialist contractor. According to the architect, build-ability for early weather-tightness and removing crossover of trades at roof level was key in adjusting the detailing to suit the sequence of site operations.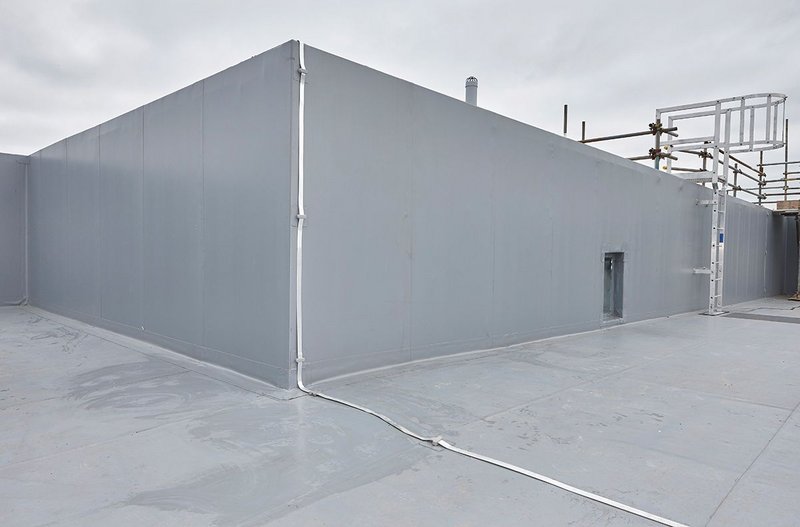 Single ply was used to cover a storey-high change in roof height at Arnold Hill, removing the need for a render finish
Efficient and satisfying
'It's a very good, streamlined process – everyone knows what they're doing. The benefit for us is how quickly the programme moves forward without delays during procurement… It saves a lot of time as you get to the solution more quickly,' says Moore.
The installation by Advanced Roofing used mechanically-fixed IKO Amourplan P single ply waterproofing on top of 140mm thick IKO Enertherm ALU PIR rigid insulation board. This sits on a IKO Spectravap PE vapour control layer, which in turn rests on a concrete plank and metal deck roof structure. SIG designed all the interfaces with protuberances – such as sun-pipes, roof lights and air handling ducts – as part of its guaranteed system to ensure that waterproofing was maintained throughout the installation. While IID was more involved in detailing the parapet, there were no interface complications with the rest of the building.
This teamwork approach and resulting swift design solution was essential since the flat roof was an early package in the programme in order to make the building watertight as soon as possible.
'They were very keen to get the roof deck on so that the building was substantially watertight and they could start on the internal metal stud partitions,' says director Richard Matthews, adding that the collaborative nature of the partnering arrangement meant the architect had peace of mind in knowing that the installation would turn out as designed.
Arnold Hill was IID's first secondary school using the Wates ADAPT approach, and it would like to use the experience it has gained on more projects with the contractor.
The new school building will be complete in time for the start of the autumn 2016 term.
---
SIG Design and Technology provides certified roof build-ups to meet BB93 requirements
---
To find out more and download additional resources visit http://bit.ly/SIGRoofLines7
---