Architects will never tire of the diverse textures, colours and forms made possible by the humble metal shingle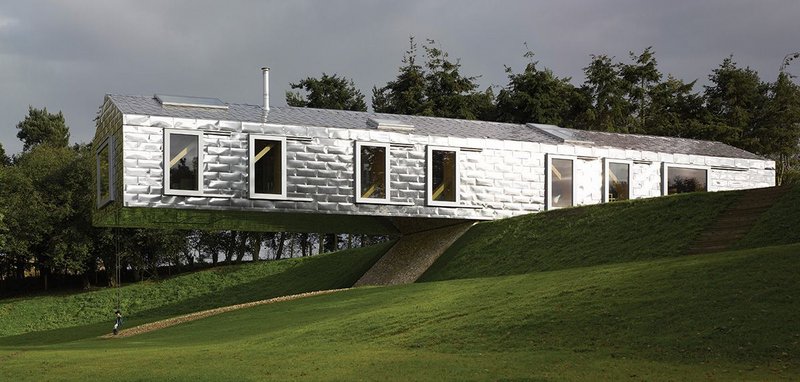 MVRDV's stainless steel shingle clad Balancing Barn brings reflective drama to its context.

Credit: living architecture
Metal shingles may be traditional in origin, but today they can be manufactured in almost any size, orientation and texture, giving architects great flexibility to express building volume and skin, and adding new depth and interest to roofs or facades.
Interesting recent examples include the Amphibious House by Baca Architects, a family home on the banks of the Thames in Buckinghamshire designed to float on rising floodwater. The building is sheathed in a homogenous grey cloak of titanium zinc diamonds, a scaly lizard-like skin that reflects the river's shimmering water.
Meanwhile, the Balancing Barn holiday home in Suffolk, by Dutch firm MVRDV, features a highly reflective cladding of brick-shaped stainless steel shingles, a playful futuristic aesthetic that changes appearance in response to the seasons.
Spain's Casa del Acantilado's zinc shingles adapt to every curve of the building's roof form
Multiple colours
SIG Zinc & Copper supplies a range of zinc, copper, stainless steel and aluminium shingles in finishes such as natural or weathered zinc, copper alloys, tin plated stainless steel, and colours including green, gold, bronze, red, brown or blue.
All shingles are manufactured and supplied ready to fit, produced in standard versions by NedZink in the Netherlands, elZinc in Spain, Aperam in the UK or KME TECU in Germany. Bespoke versions are made by SIG partner companies in the UK.
Simon Walker, category manager at SIG Zinc & Copper, comments: 'It is possible to achieve vastly different aesthetics using shingles in different shapes, sizes and materials. We see it as part of a move by architects to contemporise older traditions, for example taking the small fish tail-type shingles seen on historic French mansard roofs or chateaux and opening up the spec to create a modern effect.'
The variety of shingle sizes and shapes gives scope to create continuous surfaces over complex curving or angular geometries, in a way not possible with a standing seam.
This effect can be seen on the Casa del Acantilado in Spain, by GilBartolome Architects, where bespoke elZinc Natural shingles give texture and definition to an undulating amorphous roof punctured with complex curved window openings. A more crisp contemporary effect was achieved on the West Durrington Campus building at Northbrook College (see p.65) in Worthing, where NedZink NOVA zinc shingles continue
around walls and soffits.
The smaller the shingle, the smaller the radius that can be covered. Shingles from SIG Zinc and Copper are available in sizes from 600x1200mm down to just 142x240mm, or 72-90 shingles per square metre.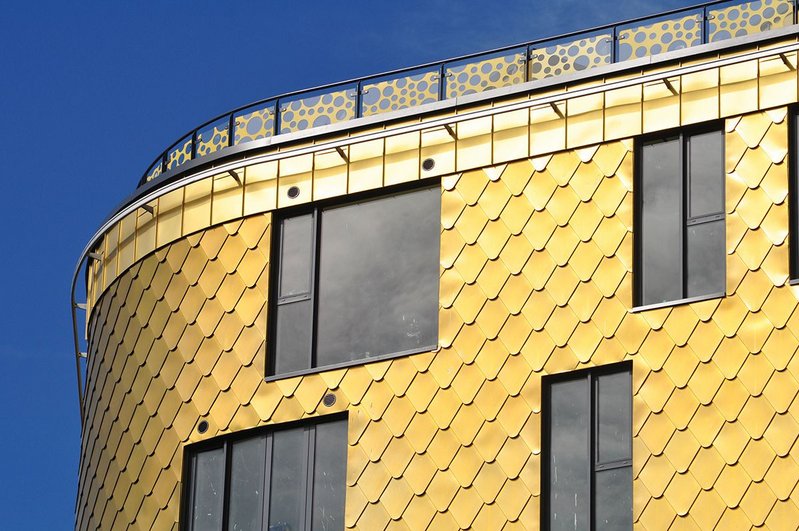 Studio Egret West The Fold, Sidcup with it's KME TECU gold shingles.
Sustainable choice
Zinc, copper and stainless steel shingles score well on sustainability. Each offers a minimum 40 years life expectancy, and as natural non-ferrous metals they have a patina that protects the product, requiring zero maintenance, and no coatings or paints. All are fully recyclable, and, on average, 20% to 30% of zinc shingles include recycled material. That means strong BREEAM and general environmental credentials.
Shingles are most commonly installed on a vented plywood wall build-up, fixed over a breather membrane to an 18mm-thick plywood substrate with a clip.
Subsequent shingles overlap and interlock. Behind the plywood layer is a 50mm ventilated cavity, then another layer of breather membrane, a layer of insulation and a vapour control layer.
Installing one shingle at a time is a fairly labour intensive process which can result in higher labour costs when compared, for example, to running a 500mm-wide aluminium sheet from ridge to eave.
The cost of zinc, copper and stainless steel shingles also depends on such factors as metal choice, finish, size and orientation. Using fewer large shingles means less manufacture than a large number of smaller ones, and bespoke shapes and sizes can be more expensive than standard off-the-shelf units.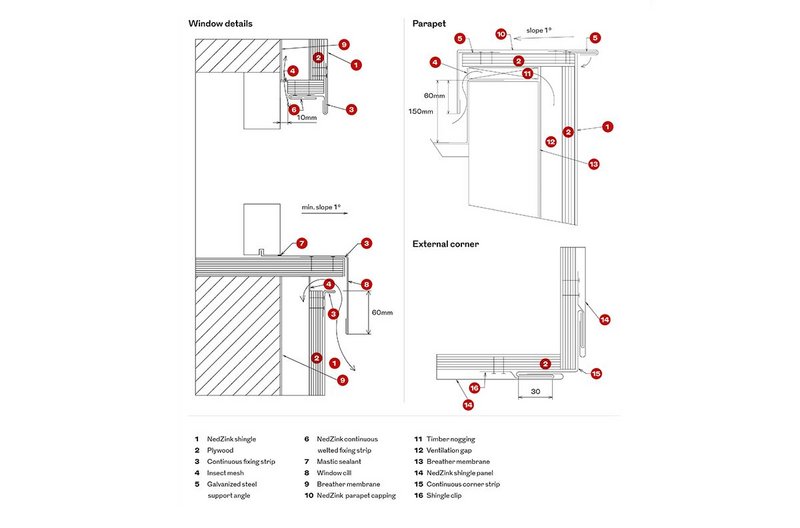 Avoiding waste
Architects should consider shingle dimensions and material wastage, says Walker: 'They like to see clean lines run through a building: for example a vertical line across a door frame that continues to coincide with the edge of a window. But asking for very specific dimensions late in the design can mean a lot of discarded material.'
A 500mm wide piece of zinc will produce a standard 430mm-wide shingle (70mm is lost in the joints and folds), but a 228.4mm shingle would still have to be cut from the 500mm-wide sheet, resulting in wastage that must still be paid for. For those going the bespoke route, it is key to engage with SIG's designers early, says Walker: 'Shingle modularisation, wastage and cost effectiveness are key concerns. It is important to achieve the desired aesthetic within some form of modularisation if you don't want your QS to have a heart attack.'
SIG Design & Technology offers a complete and impartial design and supply service, covering all eight steps to help create the perfect roof and/or cladding. It first works with the architect's aesthetics and budget to develop several options. The preferred design is then developed into a full project proposal including a 3D build-up demonstrating how elements fit back to the substructure, the specification and detailed drawings.
'We take a lot of the laborious work away from the architect because shingles are often not a specialist subject for them,' says Walker.
Guarantees of up to 30 years are available, if shingles are installed by SIG-approved contractors. Installation is relatively simple, but edge detailing, penetrations and so on are more tricky. A range of edging details is available, including for ridge, verge, penetrations, eaves, parapets, the base of cladding and more. If SIG Zinc and Copper is involved in the design and supply of the substructure then extended warranties are available for the full build-up.
---
To find out more and download additional resources visit http://bit.ly/SIGRoofLines7
---