Researchers produce compressed wood which is as strong as steel – but six times lighter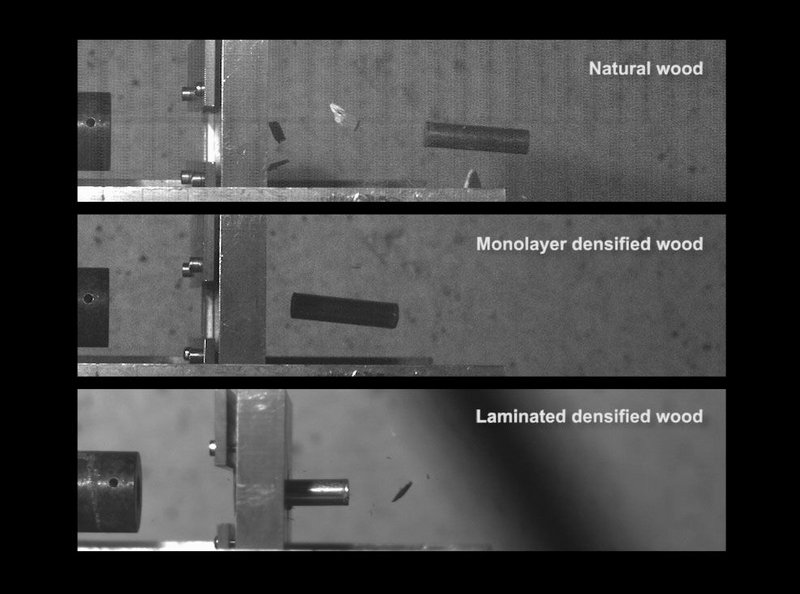 Ballistic test
For once, news of bullets being fired isn't a cause for concern. This time it's researchers in lab coats at the University of Maryland that are firing at inanimate planks of wood. The University's department of materials science has 'battle-tested' a new form of super-wood that is 12 times stronger than natural wood and 10 times tougher. They claim the substance is so strong, durable and cheap to produce that it could become a viable competitor to steel or even titanium alloys.
Using a ballistic air gun used to test the resistance of military vehicles, bullet-like projectiles were fired at five laminated layers of the material. These were stopped in their tracks, while those fired at natural wood passed through with relative ease. Teng Li, co-leader of the team, said in a statement: 'It is both strong and tough, a combination not usually found in nature. It is as strong as steel, but six times lighter. It takes 10 times more energy to fracture than natural wood. It can even be bent and moulded at the beginning of the process.'
The discovery, described in the latest edition of Nature magazine, involves a relatively straightforward treatment process. First the wood is boiled for seven hours in a bath of sodium hydroxide and sodium sulfite, to remove certain compounds that surround cellulose in the wood to create additional space within it. Then the block is then compressed at 100°C for an entire day to reduce it to one fifth of its original thickness and increase its density threefold.
The supreme strength is a result of crushing the cellulose tubes that bind the wood together to the point where they interlock. Scientists found it was crucial to remove approximately 45 percent of the compound lignin from the wood (a type of polymer that binds the cellulose) to prevent it from becoming too brittle and to achieve the correct density. The process will work on any kind of timber, potentially making softwoods more viable in construction.
Liangbing Hu, assistant professor at the department of materials science, said: 'Soft woods like pine or balsa, which grow fast and are more environmentally friendly, could replace slower-growing but denser woods like teak – in furniture or in buildings.'