Lobbies offer the ideal opportunity to promote a company and its values, but they are also the areas where dirt is traipsed into a building. An effective flooring system is essential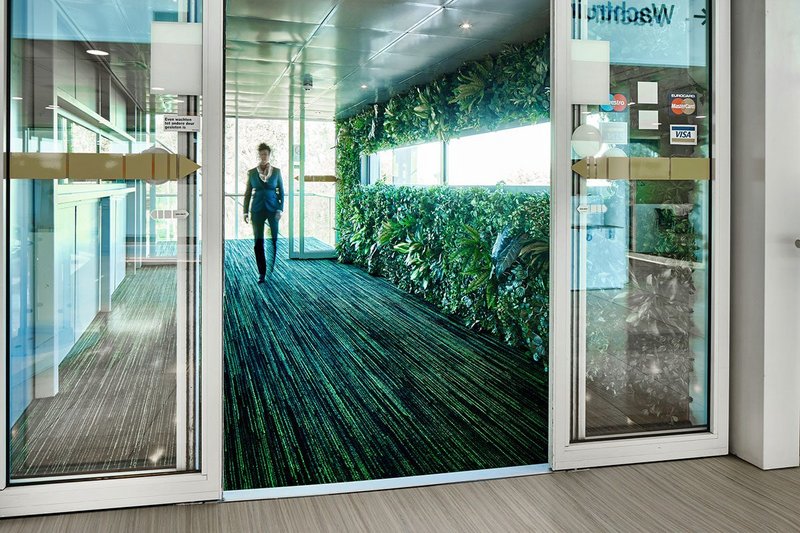 Forbo Coral Welcome entrance flooring.
According to the Health and Safety Executive, slips and trips account for 31 per cent of the most common accidents in work. Health and Safety legislation and the Equality Act impose a duty of care on those who own and manage public buildings to prevent interior floor surfaces from becoming hazardous. They advise against the use of loose-lay mats and coir in favour of a well designed entrance system.
Entrance flooring can stop up to 95 per cent of dirt and moisture being walked into a building, minimising maintenance costs, protecting the interior flooring and reducing the potential for slipping. It should scrape, wipe and retain soil, making contact with the shoes of people entering a building and, in the case of wheeled traffic, the circumference of the wheels, releasing dirt easily when cleaned.
The industry recommendation is to use at least three metres of an entrance flooring system for light use areas and up to seven metres for busier spaces. The general rule is the more matting used, the more effective the entrance flooring system is at preventing dirt and moisture from entering a building. If effective measures are not taken, the repair and maintenance costs of a typical floorcovering over its lifespan could be nine times the cost of the original investment.
In addition to their practical benefits, entrance flooring systems can make a great lasting first impression as they are available in a variety of patterns, shades and formats, reflecting the latest design trends. Forbo Flooring Systems' Coral entrance flooring delivers superior performance in the toughest environments. Whether facing rain, snow, sand or soil, Coral keeps the outside from getting in.
There are eight individual design ranges within the Forbo Coral collection, including Coral Welcome, Coral Brush, Coral Duo and Coral Classic.
Coral Duo offers maximum dirt removal, unrivalled dirt retention and exceptional moisture absorption, all in just a couple of paces. It is the best choice for smaller entrances. Research shows that taking just two steps on Coral Classic's moisture-absorbing yarns is enough to soak up half of the foot-borne moisture that would otherwise be carried inside on the soles of people's shoes. Coral Classic's solution-dyed yarns help maintain performance - and appearance - throughout its lifespan.
For more information and technical support, visit forbo-flooring.co.uk/coral
Contact:
01773 744121
---