The latest vinyl floorcoverings to mimic wood, stone and ceramics offer specifiers all the beauty of the real thing with the added benefits of easy cleaning and lower costs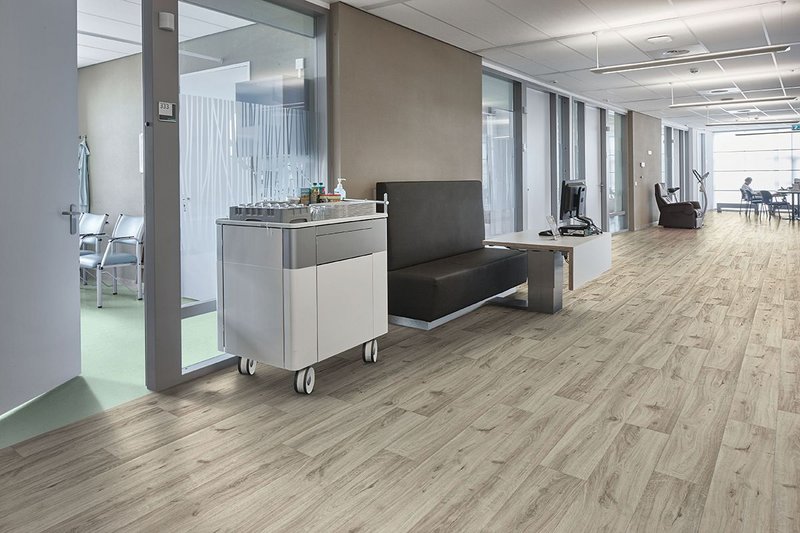 Forbo's new Eternal collection offers an extensive range of finishes, all with realistic wood effects, stone and abstract designs. Eternal Colour in Aqua 40562 and Eternal Wood in Cream Oak 10842.
Choosing floorcoverings that match clients' expectations and budgets can be difficult - especially if they want beautiful real wood, stone or ceramic floors. Recent product innovations and design developments now offer specifiers the same authentic looks in vinyl, with outstanding functional performance at a more cost-effective price.
Specifying a real wood, stone or ceramic floor brings a natural beauty and timeless appeal to interiors, but installing a natural floor might not always be a practical or cost-effective option. Modern vinyl floorcoverings provide an alternative that offers convincing, authentic designs with excellent functional performance.
The flexibility, ease of installation, cost of maintenance and overall performance of the latest natural-look designs are making vinyl floorcoverings a desirable option. Vinyl manufacturers are leading the way with technological advancements and product innovations that give specifiers a wide choice of on-trend colours, designs and formats that fit the practicalities of everyday life.
State-of-the-art manufacturing processes are making hi-tech wear layers and finishes possible, ensuring that products retain their 'as-new' appearance even after years of intensive use. While convincing designs with a unique identity and a natural look are key, other elements, such as consistent and dimensionally stable construction, colour fastness and unique embossing, make individual vinyl collections stand out.
Forbo has recently updated its Eternal collection - the 'go-to' general purpose sheet vinyl collection for over 17 years. It now includes colours and designs that reflect the latest trends, including terrazzo and marble with improved digital printing.
Split into three categories, Wood, Material and Colour, the Eternal collection has been refreshed to align its colour palette with other ranges in Forbo's portfolio, allowing specifiers to create contemporary, integrated flooring schemes for a wide variety of applications.
Within the Wood category, there are now 31 realistic designs to choose from, 15 of which are new. This includes a colourful plank option for the wood-effect Gymfloor and a new Hungarian Point design that follows on from the popular herringbone design in Forbo's Allura LVT range. Forbo's large print rollers are able to produce authentic wood-effect flooring that has no visible pattern repeats.
The Eternal Material portfolio also features new designs, including PUR Concrete for a true-to-life look that is easy to clean and maintain, and sleek and contemporary marble and customisable terrazzo options that reflect the move towards more natural interior finishes.
Forbo has now introduced over 30 new shades to its Eternal Colour collection, creating a broad palette of hues to choose from, including two customisable designs: Rainbow and Paint.