Finding a durable, long-lived and sustainable roofing solution for the windswept Tregenna Estate in St Ives, Cornwall was challenging enough - even before the G7 summit arrived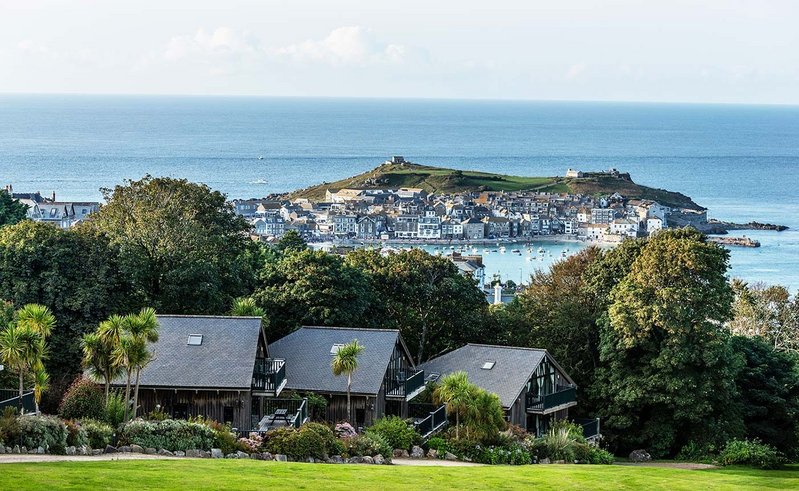 Cupa 12 natural slate roofing by Cupa Pizarras at the Castle Approach lodges on the Tregenna Estate, St Ives, venue for the G7 Summit in June 2021.
Cupa Pizarras slate roofing tiles have been specified across a new development and refurbishment at Tregenna Castle, the 29 ha resort overlooking Carbis Bay in St Ives, Cornwall.
The company's products were selected for their ability to endure extreme local weather and provide a long lifespan.
The Castle Approach Estate is a new collection of lodges built in the grounds of the historic resort. It offers spectacular views of the St Ives coastline.
Roofing contractor Summit Roofing Solutions utilised a number of Cupa Pizarras' products for the project and the company's natural slate was also specified to complete a renovation of Tregenna Castle's original roof.
The lodges and castle are subject to difficult coastal conditions, including extreme winds and sea spray and the project team needed access to roofing solutions that could deliver long-lasting, durable performance.
Given Tregenna Castle's Grade II listed status, the team also had to ensure that any selected products were able to achieve a traditional aesthetic, while still providing modern performance.
Cupa Pizarras' 400x200mm Cupa 12 natural slates were specified for the roofs of the Castle Approach Estate lodges. They were fixed using 100mm stainless steel hooks, also produced and supplied by Cupa Pizarras.
Summit Roofing Solutions was able to install the natural slate as a closed mitred hip system. This ensured all slates lined up perfectly with one another.
This was particularly important on the lodges, where sections of roof were stepped down in certain locations and visible from ground level.
In June 2021 the Tregenna Estate played host to key stakeholders attending the G7 Summit in Cornwall, including the prime minister and US president Joe Biden.
The enhanced security provisions put in place on the site made the logistical side of the project more challenging. But with its extensive distribution network, Cupa Pizarras was able to devise a well considered delivery plan to ensure that supplies could reach the project team at critical times.
Cupa 12 is a high quality, dark grey slate with a smooth finish. With a lifespan of more than 100 years and very little maintenance required, natural slate is a durable, weatherproof product, unmatched by artificial alternatives.
Cupa 12 has received approval from Snowdonia National Park as a Welsh Slate alternative and has been certified by BRE Global as A+ for its quality, transparency and sustainability credentials.
For more on this case study, go to cupapizarras.com/uk-tregenna