Cupa Pizarras tiles achieve a traditional look with a difference at a property adjacent to the Gleneagles Hotel in Auchterarder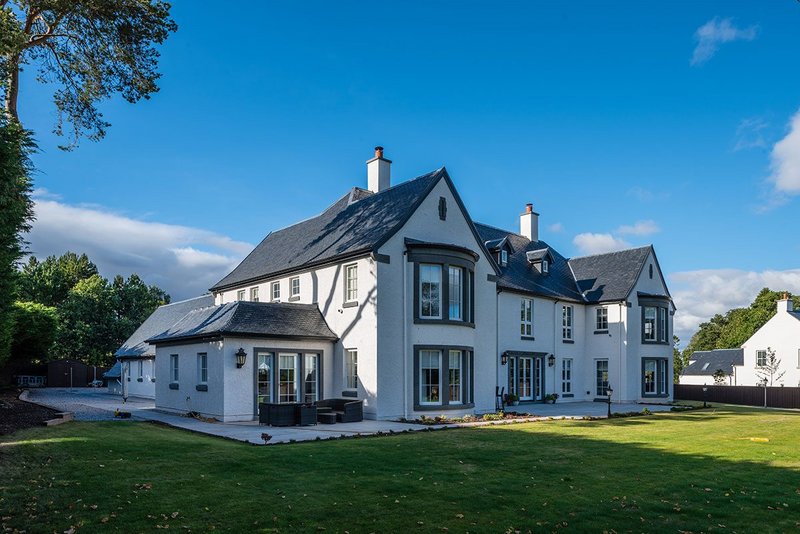 The Pines, Auchterarder. 'Slate was our first choice as it was familiar locally,' says architect Fiona Robinson.
Cupa Pizarras Heavy 3 natural slate has been specified at a new-build family home adjacent to the Gleneagles Hotel in Auchterarder, Scotland.
The arts and crafts-inspired house was designed by Thomas Robinson Architects and, while slate is not a typical choice for the architectural period, the Gleneagles Estate was keen for the project to work in harmony with the local area, where it is widely used as a roofing material.
The 680m2 diminishing course natural slate roof features a 50-degree pitch with each course getting progressively shorter in length towards the roof's ridge. Heavy 3 natural slate provides a traditional look along with the high-performance, hardwearing finish needed to withstand the unforgiving Scottish weather.
Blue-black Heavy 3 slate is supplied in a 300x200mm format and, unlike artificial products, the colour and properties stay unalterable through time with no maintenance required. Split to an average thickness of 7 to 9mm and featuring non-rusting metallic particles and thin laminations that form a riven surface, the finish is well suited to traditional architectural styles.
The property features a combination of warm and cold roof construction. The specification of the warm roof generally comprises 245mm-deep timber rafters built up with a 190mm thickness of insulation, a 50mm air gap, traditional sarking boards and a layer of Proctor Roofshield Breather Membrane.
The Heavy 3 slates are fixed with copper nails combined with complex leadwork detailing, which includes lead soakers and wood roll verge detail. This creates a robust, cohesive weatherproof system in line with Scottish building regulations.
The roof includes mini dormer windows to break up the expansive roof space, giving a fine detailed edge to the appearance of the house externally and creating a pleasing effect from the inside.
The Thomas Robinson Architects' project won The Herald Property Awards for Scotland 2017 in the Individual New Build or Small Development category.