Lightweight Cupaclad 101 Logic rainscreen cladding adds a striking finishing touch to WHAT_Architecture's quirky Peckham project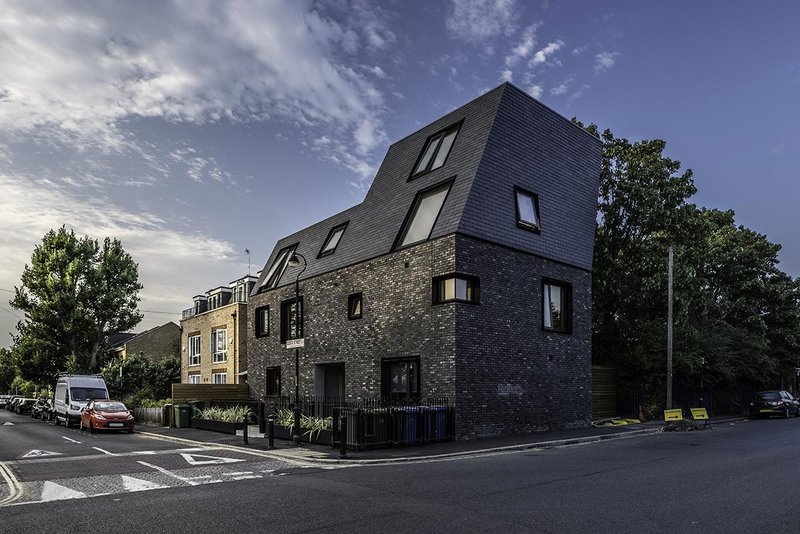 Cupa Pizarras Cupaclad 101 Logic natural slate rainscreen cladding at the Costa Street housing project in Peckham by WHAT_Architecture.
London-based WHAT_Architecture has specified Cupa Pizarras' Cupaclad 101 Logic as the rainscreen cladding system for a new and unusual housing block in Peckham. Crucial to this decision was the system's ease of installation and its natural aesthetic, which helped the contemporary design to complement the surrounding and traditional urban landscape.
Located on the corner of Costa Street, the project is part of a wider scheme to regenerate the Peckham area. The unusual housing block has been designed to look as if it is falling. It is constructed with a cross laminated timber interior superstructure, while the form of the upper half of the building is a leaning mansard, angled towards the adjoining garden at a 72-degree angle - creating a truly striking aesthetic.
WHAT_Architecture looked at a variety of materials during the planning process before selecting slate. A completely natural material, slate provided imperfections and rough edges, which suited the design of the housing block. In addition, the slate helped to reflect the character of the surrounding, more traditional buildings.
'We have used slate here to do things that brick just could not do,' says Antony Hoete, director of WHAT_Architecture. 'The brick components of the building weigh about 150kg per square metre, whereas the slate comes in at just under 30kg per square metre. By using lightweight slate, we have been able to create the leaning effect we desired with an incredibly robust building material.
'The metal-bracketed Cupaclad system allowed us to hide the services behind the cladding and also reinforced our idea of connecting the contemporary with the traditional.'
Cupa Pizarras' Cupaclad 101 Logic slate rainscreen cladding uses a single aluminium fixing system with self-drilling screws designed to ensure an optimum cladding installation while remaining invisible to the eye to avoid impacting the overall design. The 7.65mm slate used is a robust and weatherproof roofing material, which has passed the BBA certificate for impact testing, ensuring that the slate has long-term durability and will remain watertight.
'Cupaclad is a modern and easy installation system. We chose the Cupaclad 101 Logic as its design layout also reflects that of the brick base without actually using brick,' says Diana Kulacka, project architect at WHAT_Architecture.
Terry Collins, specification manager at Cupa Pizarras commented: 'When approached to help find a solution for Costa Street we started by undertaking a site visit and survey to ensure we would absolutely understand the architectural vision and how to make it a working reality with slate.
It is important to us to have a close and collaborative process as this helps to ensure the finished project is exactly as desired. Helping us to achieve this is our London showroom, which is a valuable space where architects can view the materials and talk to our experienced team.'
Quarried from Cupa Pizarras' own quarry in northern Spain, the slate used on Cupa Pizarras' Cupaclad systems requires no chemicals or heating involved in its extraction, making it a sustainable material choice as well which, combined with the modern aluminium cladding system, is capable of redefining the aesthetics of facades.
Taylor Maxwell is now the exclusive UK distribution partner for Cupaclad. When specifying this innovative cladding solution, architects will not only have the support of natural slate experts, but also from a team with over 60 years' experience in supplying external facade solutions to the UK construction industry.
For more information and technical support, visit cupapizarras.com/cupaclad
Contact:
0203 904 3001