The Delta MS500 Fire Type C cavity drainage membrane for basement projects is Euroclass B-s2, d0 rated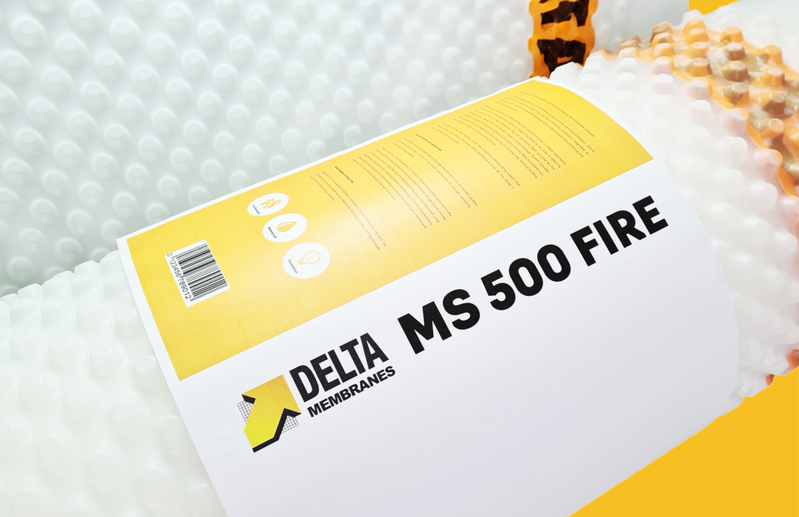 Delta MS 500 Fire retardant membrane is a cavity drain membrane used for waterproofing on walls, floors and vaulted ceilings, above and below ground over a contaminated or damp background.
Architects working on basement projects can now specify a Type C cavity drainage membrane that offers protection in the event of fire as well as defending against water or vapour ingress.
The Delta MS 500 Fire retardant membrane is made with Deltasafe, an innovative fire-retardant property that helps the product achieve a B-s2, d0 Euroclass rating in accordance with EN 13501-1:2018.
A cavity drain membrane system allows moisture or running water to travel behind the membrane within a controlled drainage system. It requires minimal preparation and disturbance to an existing substrate.
A Type C cavity drainage system is a maintainable basement waterproofing solution suitable for new-build basements, refurbishments and retrofit projects. It comprises a cavity drain membrane, drainage system, submersible package pump and control system. It is designed to combat water ingress and can be used up to habitable grade 3 in accordance with BS 8102:2009.
The Delta fire retardant Type C cavity drainage system is the safest form of waterproofing system available, offering complete protection from water or water vapour and fire retardant protection. It meets the building requirements of today and tomorrow without the need to radically alter specifications.
Delta Membranes works with architects and trades alike, putting construction considerations at the forefront to ensure buildability, functionality and maintainability of waterproofing systems. The result of its singular approach is a consistent, complete and quality design.
The Delta Membranes Technical Team can offer advice, support and practical help with individual projects.
For more information and technical support, visit deltamembranes.com
Contact:
01992 523523
---