A reformulation with newly improved opacity and whiteness and better oil stain resistance makes this the go-to durable, sustainable paint option for designers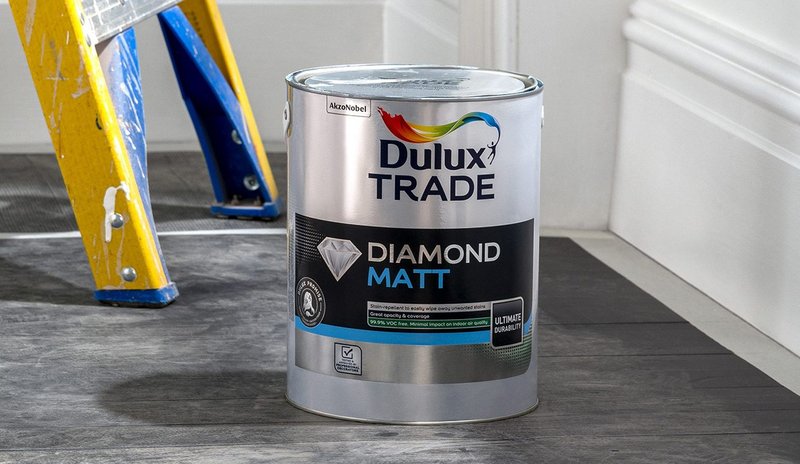 Dulux Trade Diamond Matt: Durable. Sustainable. Premium.
Dulux Trade has reformulated its popular Diamond Matt range in line with customer feedback to deliver durability and improved sustainability credentials, helping the industry move towards a more sustainable future.
The video below shows a visit to the AkzoNobel research and development lab and tells the story of the new Dulux Trade Diamond Matt and how it came to be.
Durability
Dulux Trade Diamond Matt delivers ultimate durability. It is compliant with BS EN ISO 11998 Class 1 and BS 7719 Class C and can withstand 10,000 scrubs (the equivalent of five hours non-stop scrubbing).
It can therefore be repeatedly cleaned, ensuring that unwanted stains can be easily removed without damaging the paint film on the wall - making the professional finish last even longer.
Dulux Trade Diamond Matt already contained a hydrophobic surface that repelled water-based stains such as red wine and coffee. Thanks to new binder technology in the upgraded formulation, the product now delivers additional resistance to oil-based stains, such as food or cosmetics. This helps to stop stains from being absorbed into the surface and makes them easier for the end customer to clean off.
Sustainability
Dulux Trade has reformulated Diamond Matt so that it is 99.9 per cent VOC free - based on in-can VOC content, measured in accordance with ISO 11890-2:2013.
This means it has lower impact on indoor air quality and the carbon footprint of a project when compared with the previous Diamond Matt formulation. This has been achieved by replacing the semi-VOCs found in the previous formulation with innovative binder technology that forms a film even at very low temperatures, maintaining quick drying times.
The paint also includes a new latex that doesn't require coalescing solvents and has switched to completely VOC-free versions of additives. As a result, Dulux Trade Diamond Matt is now proudly 99.9 per cent VOC-free.
'Dulux Trade Diamond Matt is compliant with BREEAM, LEED and WELL environmental standards,' says Peter Rhodes, national sector manager for building design at AkzoNobel,. 'It's the clear sustainable choice for a diverse range of projects. We're confident these enhancements will reassure architects and specifiers that Diamond Matt should be the go-to durable, sustainable paint option that will provide winning results for their customers.'