C-shaped washbasin, vanity unit and washstand variants seamlessly integrate ceramics and furniture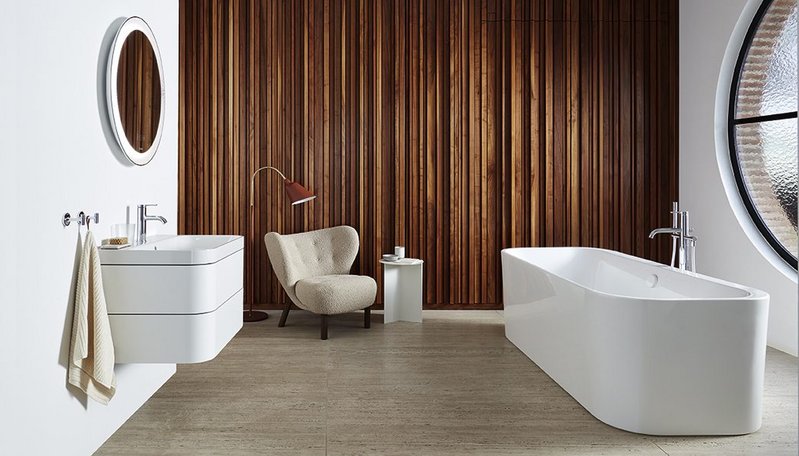 Happy D.2 Plus bathroom with C-shaped washbasin and vanity unit in a White Satin Matt surface, free-standing bathtub, C.1 tap and Starck T accessories.
Bathroom solutions company Duravit has extended its Happy D.2 Plus series to include new washbasin, vanity unit and washstand options.
'C-shaped' builds on Duravit's 'C-bonded' technology - which bonds ceramic basins to their vanity units and consoles seamlessly - to create elegant, streamlined bathroom furniture with no protrusions or recesses.
Happy D.2 Plus C-shaped washbasins are available in lighter or darker tones; a glossy white outer edge in combination with a vanity unit or a metal console in chrome, or with a new, rounded outer edge in the same colour as the vanity unit or to match the metal console in Black Matt.
All washbasins have a narrow, typically flat edge, an integrated tap platform and a white acrylic cover that conceals the fittings. They are finished in robust, easy-to-clean ceramic glaze DuraCeram and are available in three widths (575mm, 775mm and 975mm).
Wall-mounted vanity units with drawers are available in a choice of 11 carcase surfaces, from luxury wood to matt surfaces in light or dark.
The floor-standing, metal consoles are height-adjustable, have an integrated towel rail and an optional shelf or built-in drawer. It is also possible to add a seat with an integrated drawer to either the left or right of the console. The cushion is made from a woven fabric specifically suitable for wet rooms.
The new patent-pending C-shaped technology variants are designed to work with all elements of the Happy D.2 and Happy D.2 Plus ranges. Monochrome colour concepts can be maintained throughout with toilets and bidets available in Glossy White or Anthracite, and bathtubs in Graphite Supermatt to harmonise with the black metal console and dark furniture surfaces.
The Happy D.2 and Happy D.2 Plus series were created in collaboration with Sieger Design and the C-shaped options will be available from July.
For more information and technical support, visit pro.duravit.co.uk
Contact:
020 7253 3559
---