The multiple colour options and pleasing curves of the updated classic Duravit range are the result of a close collaboration with Sieger Design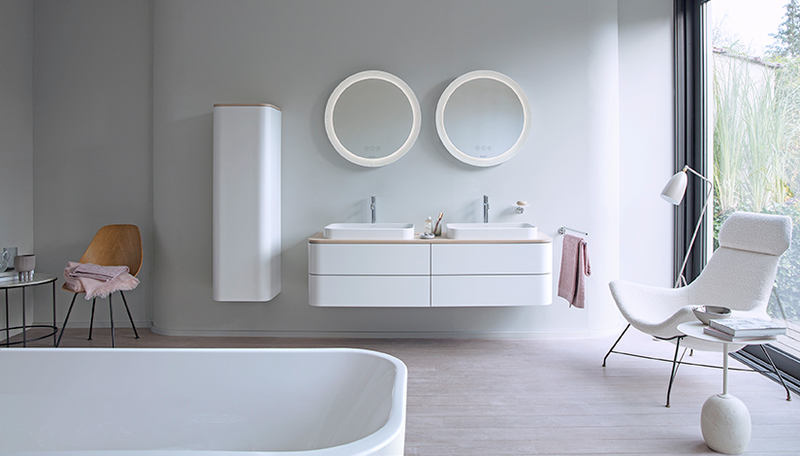 The light tones of Happy D.2 Plus. Double washing area with two mirrors, two above-the-counter basins, console in Mediterranean Oak, console vanity unit and tall cabinet in Nordic White Satin Matt.
Duravit has teamed up with Sieger Design to create Happy D.2 Plus, a designer bathroom range that brings together light tones, dark shades or a combination of the two for an elegant, harmonious washing area.
Inspired by the original Happy D design classic, with its open oval format, the new series includes bathtubs, above-the-counter washbasins, consoles and matching semi-tall cabinets. The furniture has gentle curved edges with handle-free fronts and circular mirrors provide the finishing touch.
Elegant above-the-counter washbasins feature a slender, characteristically flattened rim and are available in three widths, two of which have a tap platform incorporated into the design.
The colour combination options make the Happy D. 2 Plus washbasins a flexible choice for any bathroom. Choose Glossy White for a bright classic look, draw the eye with the darker tones of Anthracite Matt or combine the two - a Glossy White inner with Anthracite Matt on the outside.
This colour combination extends to bathtubs too: Glossy White inner with a darker surround or a Graphite Super Matt bathtub. Bathtubs can be freestanding, back-to-wall or left or right corner installations. Toilets and bidets are available in Anthracite Matt with interiors finished in Glossy Anthracite for optimum hygiene.
Furniture has rounded contours and handle-free fronts. Vanity units come in four widths and provide additional storage, including practical racks in the door of the semi-tall cabinet. Optional interior lighting is available for the pull-out compartments and drawers on all bathroom furniture.
There are 11 outer surfaces to choose from, including wood or matt, in light or dark shades. The Graphite Super Matt variant also comes with an anti-fingerprint coating to prevent smears and smudges. The Happy D.2 Plus console panels are available in six finishes, enabling specifiers to design unique looks for individual projects, including totally monochrome finishes, harmoniously tone-on-tone styles and bold contrasting schemes.
The circular mirrors have all-round lighting strips available in two finishes: a graphic-radiating Radial option and a 'bionic-geometric' Organic solution. There are a variety of mirrors to select from, including those with sensor switches, dimmable lighting and optional mirror heating for fast and effective demisting. One mirror with icon control on the surface also has an ambient light mode and a switching function for coloured light. With a luminosity of more than 300 lux, the light colour can be adjusted from warm to cold, depending on the quality and brightness required.
For more information and technical support, visit pro.duravit.co.uk
Contact:
020 7253 3559
---