Bring a sense of drama to washtime with basin and furniture combinations featuring back-lit glass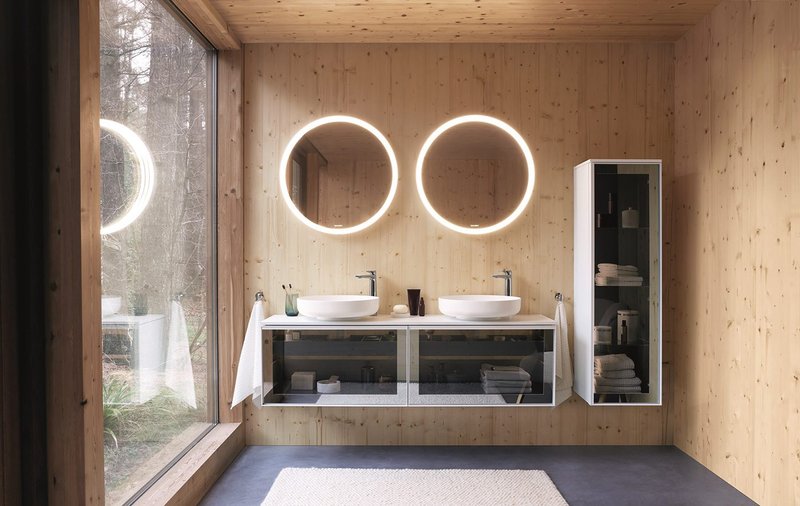 Bathroom furniture-turned-display case: Christian Werner's Vitrium vanity unit, semi tall cupboard and washbasins for Duravit.

Credit: Duravit AG
Designer Christian Werner lives and breathes bathroom design and, having worked with Duravit on six furniture projects, he has now designed his first washbasins as part of the Vitrium series.
The washbasins are made from a material called DuroCast UltraResist using the mineral cast process.
The range has interesting visual and tactile qualities. For example, the console vanity unit comes with a fine metal frame and a choice of fronts made from backlit glass, wood or various decor finishes. The result is a natural-looking ensemble that radiates warmth.
The DuroCast UltraResist matt surface features an applied lacquer that makes the washbasins easy to clean and comparatively resistant to scratches and dirt.
There are two washbasins available: a round above-counter basin and a rectangular, seamlessly integrated c-bonded version with a refined outer edge.
The round washbasin projects slightly beyond the edge of the furniture, while the rectangular version, which is available in five different sizes, blends seamlessly into the furniture.
The furniture is available in two different variants. One has back-lit, translucent fronts made from Parsol glass, which gives the furniture an airy, almost floating appearance - like a decorative display case.
They infuse the interior with warmth and, according to Christian Werner, 'provide a stage for special everyday items, cosmetics or accessories, which they transform into something special'.
The other variant consists of fronts made from wood and single-colour decor in eight different hues.
A horizontal handle integrated into the metal frame rounds off the pared-down furniture with a pull-out compartment. An additional internal drawer provides subdivided storage.
Matching semi-tall and tall cabinets fitted with hinged doors and glass shelves are also available.
For more information and technical support, visit pro.duravit.co.uk

Contact:
020 7253 3559
london@uk.duravit.com
---